Every fashion season in New York there's a hectic clamor to be the unofficial "official" party that launches Fashion Week, but only one usually comes out on top. This season, that party was without question.
Wednesday night, Vogue.TV and my good friend, Elettra Wiedemann, celebrated the launch of Model.Live, an online series of videos that follow three newbie models across four countries up to and during fashion week on their quest for international stardom.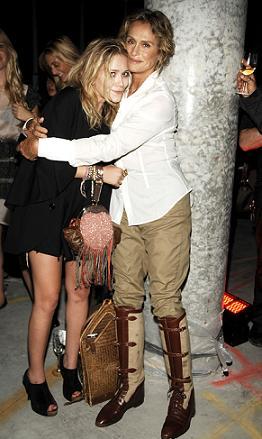 It wasn't long after we walked through the doors at Gemma at the Bowery Hotel that we were blowing air kisses to Euan & Lucy Rellie, Patrick McMullan, Jennifer Missoni, Zani Gugelmann and menswear designer John Varvatos (who, coincidentally, just had a little baby something or other...too busy to remember right now. Sorry, John!)
I couldn't stay long because I was already uber-late for the party at the Grace building in midtown to celebrate Vanity Fair scribe Matt Tyrnauer's film, The Last Emporer, which documents the final days of Valentino's 40 year reign as the King of Italian fashion and which is part of Samsung's Imagination Icon Series.
I was meeting up with Liv Tyler, Alan Cumming and power publicist Bianca Bianconi at the party, and when I finally found them, they were giving interviews and smiling for the cameras on the red carpet. The arrivals scene was mobbed with tourists trying to get a photo of Mary J. Blige and Vivica Fox so we headed into the exhibition showcasing Valentino's couture gowns behind glass and Matt's movie on loop on Samsung flatscreens.
While admiring an intricately sequined champagne colored gown, I ran into the designer and asked him about the partnership of his movie with Samsung. "There is something very interesting about technology and fashion coming together to represent the imagination of designers in such a dynamic, innovative way," he said.
I was REALLY trying to focus on him and his words, but I hadn't eaten since breakfast, so I made a break for it and dashed over to a waiter who had what I thought was ahi tuna on his tray. I was very mistaken. Let's not talk about it.
In bed by 2am. Up at 6am.
On Thursday, after an entire day organizing front row seating for Sunday's Y-3 show while simultaneously on the phone with celebrity publicists, agents, stylists (and my mother), we headed over to former Sean John design director, Heather Thomas' launch party for her new line Yummie Tummie. The party was over the top and featured 60 exotic dancers gyrating on stripper poles. If you've ever been to the SubMercer with me, you'll know NEVER to get me near a stripper pole. Can you say broken rib? I quickly headed for the door.
I hopped into a cab and made my way downtown to what is going to be the most iconic addition to Manhattan's skyline when it opens this November...the Standard New York hotel which that night was hosting Interview's celebration of "A New Look", the reincarnation of the magazine under the direction of Editorial Director, Glenn O'Brien, and Creative Director, Fabien Baron.
In a city where publicists and event producers are cut-throat about throwing the most streamlined parties in town, we were blown away by what we laid our eyes upon.
The entrance to the party was the hotel's future beer garden, but at that moment, it was still a total construction site with piles of concrete slabs behind caution tape, wooden base boards serving as walkways and coils of aluminum wiring scattered throughout. The scene was bizarrely majestic -- completely lit up in red lights that shone up to the soon-to-be Highline Park and the hotel through which the park runs.
Bartenders donned hard hats and served champagne and go-go boys in red and white striped satin boxers shook there money makers in our direction all while guests including Diane von Furstenberg, Tommy Hilfiger, Mary Kate Olsen, Lauren Hutton and supermodel Stephanie Seymour filed in one by one...and this was only the reception on the ground floor!
I made my way through the brightly fluorescent-lit hotel kitchen only to hear my friend and menswear designer Victor Glemaud scream, "Get me out of here! You can see my pores!"
Six elevators shot all the guests up to the penthouse floor that boasted incredible panoramic views of New York City and the Hudson River. I rode up with the Standard hotel mastermind, Andre Balazs, and just as soon as my jaw dropped after the view slapped me in the face, I overheard him say "Andy [Warhol] loved high and low, north and south, and no one can see the Empire State Building and the Statute of Liberty quite like they can from up here. This is where Manhattan reveals herself."
I was about reveal MYSELF with excitement over the scene at that moment. Fashion legends Lydia Hearst, Angela Lindvall and photographer Terry Richardson were chatting up Top Chef's Padma Lakshmi, Gossip Girl's Taylor Momsen and art world infatuation, Terence Koh.
I caught Donna Karan eyeing me up and down, most probably being inspired for her next collection, so I walked over and asked her what she thought of the room to which she replied, "THIS is New York...but just higher up!"
I had found the winner of the unofficial official launch party (and it was 1am), so I had to go. On my way out, I congratulated Glenn O'Brien on an amazing night and asked him why he chose the Standard hotel for the big night. "Andre is a very good friend, and no one has yet seen the inside of the Standard, so where else would we have the party?"
I can't think of anywhere.

FOLLOW HUFFPOST