We finally made it out to Top Notch Beefburgers in Beverly this week, and are glad we did. This place serves the best no-frills, classic burger in the city, easily besting our previous favorite old-school dive, Muskie's in Lakeview. Nothing against Muskie's, but its excellent char-burger can't quite compete with the formula that TNBB has been perfecting since 1954. Here are our full reviews of these two joints, and be sure to visit us at www.ChicagoBurgerBible.com for more than 70 (and counting) Chicago burger reviews.
We've been plotting a trip to Top Notch Beefburgers from the day we started our quest at www.ChicagoBurgerBible.com. This classic Beverly diner is far from the el and can be a difficult trek from downtown, but no self-respecting burger enthusiast should pass up this wood-paneled greasy spoon.
As the name suggests, Top Notch Beefburgers' long-standing reputation is built on their superb classic burgers. They achieve greatness through strong execution of the basics, something many pricier burgers fail to do. The beef they're working with might not be of the same trendy quality of many steakhouse and gastropub burgers, but Top Notch outdoes the majority of better equipped chefs and offers a ridiculously delicious burger at a cheap price.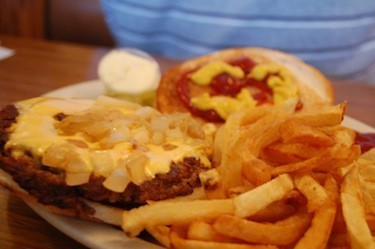 Top Notch serves ¼, ½, and ¾ pound burgers with your choice of melted cheeses, diced onions, pickles, lettuce, tomatoes, and the Holy Trinity (ketchup, mustard, and mayo). The ¼-pounder is an exceptional option for those looking for a thin patty in this city dominated by 10 oz. heart-stoppers. The patties maintain a charred, greasy spoon flavor without dripping too much grease. The cheese has a sticky melt and the diced onions contribute well to the whole, simple package. The buns are perfectly toasted, with a crisp toast on the outside and a soft texture inside. The ½ pound burger was served on a sesame bun while the ¼-pounder sat on a plain white bun.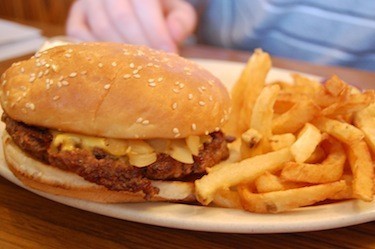 It was no surprise that the fries are simple and delicious. They don't screw around with any fancy aioli sauce or sexy spices, just a pure potato interior with a light crisp shell. We would eat as many of these spuds as they put in front of us. And to get the full Top Notch experience, we were wise to make room for some Oreo and chocolate shakes. We would recommend that you do the same.

Beverly
$5 - $10
Tier 2, Ranked #12
This old-fashioned red-and-white-striped hamburger stand on North Lincoln Ave is exactly the type of place that would catch the eye of any burger junkie: small, rundown, and boasting "The Original Char-Broiled Hamburgers." The focus is clearly on what is important.
Muskie's offers a solid burger -- cheap, greasy and delicious. The 1/3 lb. patty is pressed relatively thin, in the traditional char-burger style, and the meat relies on the fire-grilling for flavor -- not much seasoning here (and not much needed). The bacon and other toppings (the patty sits on top of a traditional offering of lettuce, tomatoes and onions) and are up to standard (again, nothing unique here -- just unabashed backyard burger). The bun is slightly better than your typical white bread bun thanks to its light toasting. The fries are tasty, small and a little crispy with great flavor.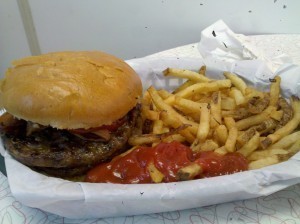 This classic joint knows what it does, and does it well. However, Muskie's still falls short of Top Notch for our favorite thin patty, and we consider it a "B+" version of Top Notch (but still well worth a trip).
Lakeview
$3.25-$4.75
Tier 2, Ranked #24
SUBSCRIBE AND FOLLOW
Get top stories and blog posts emailed to me each day. Newsletters may offer personalized content or advertisements.
Learn more