We burger fanatics recently indulged in the burgers at Davanti Enoteca, Hackney's, and Rocks. Having reviewed 75+ burgers, we thought Hackney's and Davanti Enoteca had some very good qualities; however, they did not top our list of Chicago's Best Burgers. Read the reviews below to see why. Also, visit www.chicagoburgerbible.com to read the Rocks review as well as to find out which burgers top the list of Chicago's best.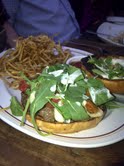 A handful of tips from our disciples led us to this potential hidden gem burger in Little Italy, the Davanti Burger at Davanti Enoteca. We were fortunate to dine with a large group as it allowed us to taste most of the menu (highly recommend the truffle mushroom pizza, rigatoni with sausage and tomatoes, and the truffle egg toast). It would have been easy to overlook the burger given the impressive selection of Italian cuisine.
The Davanti Burger boasts a unique combination of toppings with its bacon jam (always a nice touch), roasted tomatoes, cheese curds, arugula, and roasted garlic mayo: an exquisite formula on paper. It was very good indeed, but there were some shortcomings that prevented this burger from contending with the city's best. The patty was a respectable sized slab of juicy quality beef, but could have benefitted from more seasoning. The tomatoes added a good flavor to the package, but they were very wet and quickly turned the bottom bun to mush. In all, the burger is tasty (particularly the bacon jam-garlic mayo-arugula combo), but just don't expect Elite meat. The fries are shoestring style, not much potato but very crispy and tasty.
We highly recommend a trip to Davanti Enoteca, but advise you to indulge in the stellar Italian food while you're there and look higher up the BurgerBible rankings when you're in the mood for a great burger.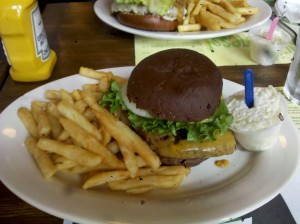 Having served Chicago since 1939, Hackney's undoubtedly does a handful of things the right way. One of them is the "Original French Onion Strings," a hot loaf of crispy onion strings in the form of the deep fryer basket. The burgers were pretty good although not amazing; it is likely this place is renowned more for its history than its patties. However, it's definitely worth a trip.
We visited their South Loop location on Dearborn (they have five suburban locations including the original in Glenview). A quick look at their burger list had our mouths watering and we quickly decided on "The Famous Hackneyburger" and the "Inside-Out Burger." The Hackney Burger has been around for over 70 years, so there are no surprises here. A quality patty with standard toppings on a dark rye bun, the Hackneyburger is the perfect option if you're in the neighborhood and looking for a sure thing. The "Inside-Out Burger" is a half-pound patty filled with bacon and cheddar. The patty had good flavor although it was inconsistent due to an unequal distribution of bacon and cheddar throughout. These imperfections did not stop the burger from being tasty. The buns got pretty soggy. The fries were what we would expect from this joint, but no match for the superior onion strings.
For our next trip there, we're eyeing the bison burger and feta lamb burger.
FOLLOW HUFFPOST