Arizona Senator John McCain lead the "drill-baby-drill" mantra to expand offshore oil drilling along America's coastlines during the 2008 presidential campaign.
"I believe it is time for the federal government to lift these restrictions and to put our reserves to use," McCain said in a June 17, 2008 speech in Houston.
During the same speech he made another bold assertion: "As for offshore drilling, it's safe enough these days. Not even hurricanes Katrina and Rita could cause significant spillage from the battered rigs off the coasts of New Orleans and Houston."
Two months later, McCain told the Dallas Morning News that "we need oil drilling and we need it now offshore."
And with the election fast approaching and then Senator Barack Obama's lead widening, McCain told AFP on Oct. 24, 2008 that what oil companies need "is lower taxes and less government regulation of their business."
McCain's damn-the-torpedoes attitude toward effective regulation of the oil industry and shameless promotion of the long coddled and heavily subsidized industry is now providing powerful fodder for a video released this week by my grassroots campaign to unseat McCain from the Senate seat he has held since 1986.
McCain and too many other elected leaders are stubbornly clinging to a 19th Century discovery built on an expensive and dangerous 20th Century infrastructure. The 21st Century will be powered by clean, renewable energy. Either the United States will lead the way and remain the world's dominant economy, or it will follow and forfeit its position to another country such as China.
To maintain America's stature and to spur economic recovery from the Great Recession, the country needs a grand scale national effort similar to John F. Kennedy's challenge to reach the moon by the end of the 1960s. This county has the ability and resources to create a renewable energy-based economy by the end of this decade.
The technology is already here.
What is needed is a new generation of elected leaders who embrace the future rather than cling to the past.
For ingenious and industrious Americans like Gene Cosmano of Phoenix, renewable energy is second nature.
A World War II veteran, Cosmano's business card states, "When Freedom Called, I Answered".
Sixty-five years after the end of WWII, Cosmano is still answering America's call for freedom.
Cosmano built his first solar powered electric vehicle in 1993. He's built seven more but still drives his prototype vehicle. I saw his bright yellow pickup truck with a "No Gas" vanity plate over the weekend when I was returning used oil from my pickup to an auto parts store.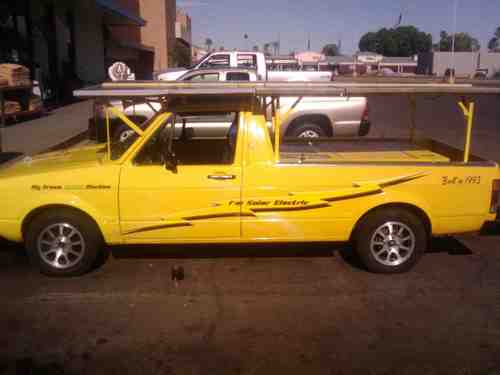 Cosmano's gem is powered by eight solar panels and a batch of lead-acid batteries secured in the truck's bed. The electric motor has 180,000 miles and not a spot of grime. His garage built rig has a range of 75 miles and a top speed of 82 miles per hour--more than enough to meet the needs of the average commuter.
Cosmano said he's invested more than $40,000 in the his truck, but he hasn't bought a dime's worth of unleaded in 17 years. He says he is willing to sell it for $24,000 because he wants to buy one of the new electric cars that will go on sale this winter.
The end of Big Oil's dominance is on the horizon, thanks to determined Americans like Gene Cosmano.
SUBSCRIBE AND FOLLOW
Get top stories and blog posts emailed to me each day. Newsletters may offer personalized content or advertisements.
Learn more