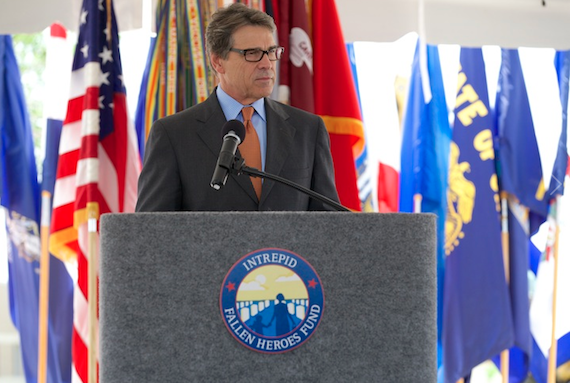 In reading a recent piece in The Washington Times, you might think that Texas Gov. Rick Perry -- he of the hip new eyeglasses -- is deeper than his gun-toting persona would lead you to believe.
In the article, Ralph Z. Hallow, The Washington Times' chief political writer, noted: "Unknown to most people outside his state, he is something of a culture maven." In other words, the Texas governor is a connoisseur of art, music and the other finer things in life.
That reference is debatable, but here's what Hallow quoted Perry as saying on the subject of culture in Texas:
There is no question that 10 to 15 years ago folks might have had a point in saying we were culturally and intellectually a backwater. Al Gore once said the air is brown here. Well, today, we have won that battle, both in perception and substance. The cultural arts here have exploded. From zoos to music to museums to theater. In Houston, we have more theater seats than any other city in America except New York.
In an op-ed piece published earlier this year, Perry not only praised Houston's theater scene, but Austin's music scene, Dallas-Fort Worth's art-gallery scene, and San Antonio's state-history and fine-music scenes.
In a piece that appeared in March in The Weekly Standard, Perry, who's prepping for a 2016 presidential run, also touted the vibrancy of the arts in Texas. The article pointed out how wives of Boeing executives expressed concern in 2001 about a perceived lack of cultural opportunities in Fort Worth compared with Chicago. At the time, Boeing was deciding between the two cities for its headquarters; Chicago won the contest.
Now, Perry "lists off with ease how the arts have come to Texas since Boeing decided not to," The Weekly Standard reported.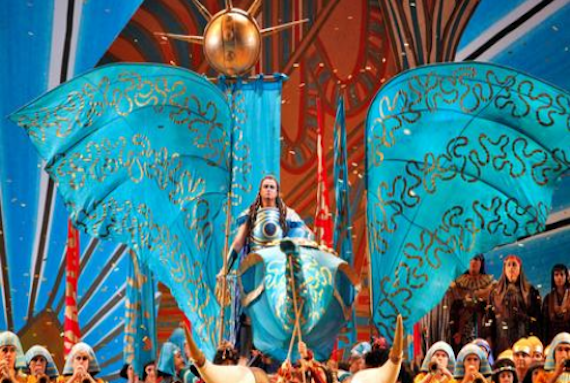 Perry's stance on cultural spending belies the mantle of "culture maven," however.
In a 2011 letter, for instance, Perry blasted federal spending for the Corporation for Public Broadcasting, the National Endowment for the Arts and the National Endowment for the Humanities. These three federal agencies have helped bolster the cultural arts "explosion" that Perry referenced.
Perry cited funding for these and other federal agencies as part of a pattern of "reckless and irresponsible" spending in Washington, D.C., that will jeopardize the future for our children and grandchildren.
At the state level, the Texas Commission on the Arts survived an attempt in 2011 by Perry to abolish the agency, but it did get half its funding cut, according to the Dallas Morning News. The agency provides money and support for arts groups across the state.
On the flip side, Perry made the case for the arts in Texas in a 2008 op-ed piece, against the backdrop of economic development:
Texas must stay the course in its pursuit of growing the arts, not only because of the income the industry generates through tourism, but because it attracts other businesses to our state. The presence of a comprehensive arts scene is a significant factor in companies' decisions to relocate and remain in Texas. The state has taken significant strides toward this objective in efforts to make the arts industry a substantial economic force.
Back to Perry's gun-toting persona for a moment: A 2012 profile in The Washington Times emphasized that the governor "loves all kinds of guns." But his favorite is a LaRue Tactical OBR (Optimized Battle Rifle). Perry calls the rifle, made by Leander, Texas-based LaRue Tactical, "a work of art."
"One of my favorite hobbies is going to target shoot at LaRue Tactical just outside of Austin," Perry said.
Perhaps he heads to the target-shooting range after checking out the latest exhibit at Austin's Blanton Museum of Art?
Photos via Texas Governor's Office and Cory Weaver/Downtown Houston Marketing Initiative
SUBSCRIBE AND FOLLOW
Get top stories and blog posts emailed to me each day. Newsletters may offer personalized content or advertisements.
Learn more