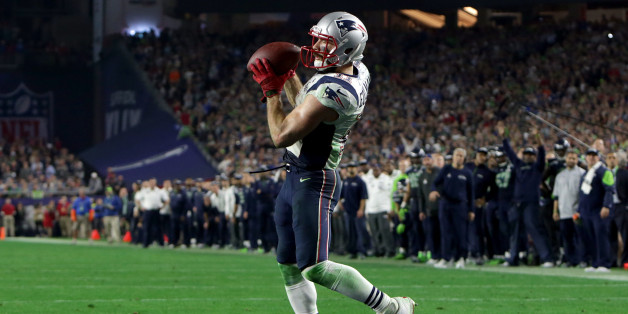 To highlight the Live ScoreCaster, we took our in-game technology, Live ScoreCaster, to the next level to review the game-changing plays from the Super Bowl and what the game would have looked like if the plays had turned out differently.

Click the header for each game to view the Game Breakdown for each matchup.
Tom Brady and Bill Belichick are Super Bowl Champions once again. New England rallied from a ten-point deficit to defeat Seattle 28-24, capturing the Patriots fourth Lombardi Trophy.
Brady, Super Bowl XLIX MVP, threw four touchdown passes eclipsing Joe Montana for the most touchdown passes in Super Bowl history. Despite Brady's heroics, the Patriots needed a goal-line stand in the closing seconds to win.
The Seahawks could have won if...
Trailing 28-24 with just over a minute to play, Russell Wilson found Jermaine Kearse who made an amazing David Tyree-like catch. The 33-yard gain set Seattle up first-and-goal from the New England five-yard line and increased the Seahawks' expected win probability from 18 percent to 66 percent.
On the ensuing play Marshawn Lynch picked up four more yards on the ground to pull the Seahawks within one yard of reclaiming the lead. Facing second-and-goal from the one-yard line, with one of the best running backs in the league in the huddle, Seattle decided to throw the ball.
Russell Wilson's pass was intercepted by rookie Malcolm Butler ending Seattle's bid to become the first repeat champion since New England a decade ago.
Had that pass fell incomplete, the Seahawks would have been 57 percent likely to win with two chances to punch the ball in from the one-yard line.
If Seattle calls Marshawn Lynch's number on the second down play (instead of a pass), Lynch averaged 4.3 yards per carry against the Patriots in the Super Bowl, and Beast Mode scores a touchdown, Seattle becomes 80 percent likely to win leading 31-28 with less than a minute to play.
The Legion of Boom goes out with a whimper
It is easy to criticize Seattle's decision to have Russell Wilson throw the ball from the Patriots one-yard line because the play resulted in a game-clinching turnover. But Seattle's defense failed in the fourth.
Fifteen minutes from repeating and with a ten point lead, Seattle was 94 percent likely to win. The Seahawks were No. 1 in defensive rush efficiency and No. 2 in defensive pass efficiency. Yet Brady carved up the Legion of Boom completing 13 of 15 fourth quarter attempts for two touchdowns.
Seattle twice had New England in third-and-long before the Patriots first fourth quarter touchdown. The first third down was from the New England 28-yard line. Brady found Edelman for a 21-yard gain to extend the drive. An incompletion likely leads to a punt with over ten minutes to play. Seattle would have become 98 percent likely to win with possession and a 24-14 lead.
The second third down (3rd-and-8) was also converted with a 21-yard gain on a pass from Brady to Edelman. An incompletion on that play likely leads to a field goal attempt as New England was at the Seattle 25-yard line. In a 24-17 game (assuming a successful Stephen Gostkowski field goal), Seattle is 92 percent likely to win. Instead the Patriots capped the drive with a touchdown that increased their odds of winning from 5 percent to 26 percent.
For more GameChanging notes from this game click here.
GameChangers, a look at plays that impacted the outcomes of games around the NFL. If you have a suggestion for a GameChanger please direct all ideas via Twitter to @johnewing.
SUBSCRIBE AND FOLLOW
Get top stories and blog posts emailed to me each day. Newsletters may offer personalized content or advertisements.
Learn more