This is the second installment in a series of stories about my experience on the campaign trail with Fred Karger, an openly gay candidate for the Republican presidential nomination.
Fred Karger and I met during my Laguna years. He had grown up in the Chicago suburb next to mine, and we shared a hometown camaraderie. So when I received his first email blast in 2006 about the sale and imminent closing of Laguna Beach's anchor gay bar, The Boom Boom Room, I gave it a dutiful read.
The Boom and Laguna had played pivotal roles in my own life. The first time I visited the town was during spring break of my freshman year at Stanford. I was with my very straight and very SoCal best friend from Pasadena, and we were on our way to visit his high school girlfriend at her parents' beach house.
The moment we swung off the 405 onto Laguna Canyon Road in his yellow pick-up, I knew I was somewhere special. It was still a two-lane road back then, skirting strawberry fields close enough to touch and emerald hills made possible by the record winter rains of that January. I looked out at the Pacific from the living room perched on the bluff above West Street beach with absolutely no idea of just how important to me this place would become.
Tucked 400 miles away in Palo Alto, the news that year of Robert Gentry's victory in Laguna as one of the country's first openly gay elected officials seeped into my fraternity boy consciousness and gave me a sense of hope and possibility I hadn't realized I lacked. So when I relocated to Los Angeles to pursue my master's at USC's School of Cinematic Arts, Laguna became my go-to weekend destination of choice and its gay heart -- the Boom -- the iconic bar of my youth. I found friendship amongst its sandy, tattered pool tables and rambling, open-air rooms. I even met one of my first boyfriends there and with him made my first feature film, Defying Gravity. The name we chose for our production company was Boom Pictures.
But my relationship with Laguna was only just beginning.
The youngest of seven children, I had come to California to chart my own course. But my mother, nearing 70, had been diagnosed with COPD, and she could no longer take Chicago's brutal winters or humid summers.
At first I resisted, then embraced, her move to Laguna Woods' Leisure World. Surrounded by the familiarity of my youth, it became my refuge from L.A. and the place I could still be my mom's baby as her breath grew shorter. Heading out for a Saturday night, I can still hear her calling after me, "Where you going, honey? The Boom?"
When she passed six days before my 35th birthday, I took comfort in being able to be with her, holding her hand as she took her final breath, and we said good-bye for the last time. I remember sheepishly setting the pine box holding her ashes on the table next to me at the Zinc Café on Ocean Avenue for one last meal together before heading north on PCH. I took the long way home that day.
It would be five years until I saw Laguna again.
When I bumped into Fred a few weeks after receiving his email about the Boom, it had been a long time. I was at the Los Angeles Log Cabin Republicans' annual dinner. They were honoring Governor Schwarzenegger, and I was curious to see how the Log Cabins would negotiate the issue of gay marriage. They firmly endorsed it, and yet the governor had already vetoed a bill that had been passed by the state legislature that would have made it legal.
Attending that dinner was no big deal, or so I thought. But I did something that was very out of character for the tousled preppy that I used to be. I went to Fred Segal that day and dropped three grand on new threads -- belly of the beast thing, I guess.
Whatever it was, I felt fine, and I found my way into the VIP room, hobnobbing it with the governor and Maria.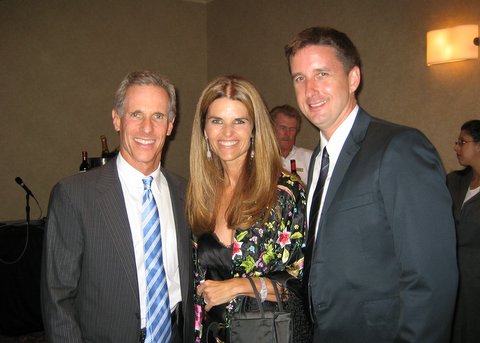 Fred Karger, Maria Shriver, and John Fitzgerald Keitel
I conveyed to him my regrets about the Boom. It was another sad passing. But in my regrets, Fred heard resignation, and if you get to know Fred, you know that's not a good answer. It surprised me. What I remembered most about Fred Karger is what I didn't know about Fred Karger. He had a way of saying absolutely nothing about himself in spite of being the life of the party. And here he was -- in a room filled with conservative pols -- going on out loud about Harvey Milk, civil rights, and saving the Boom.
Huh? We're talking about a gay bar, right?
His pitch went on, but he didn't need to twist my arm. Before I knew it I was heading down the 405, my camera in tow.
It was Fourth of July weekend, and I was back in Laguna.
SUBSCRIBE TO & FOLLOW TRUMP'S FIRST 100 DAYS
How will Donald Trump's first 100 days impact YOU? Subscribe, choose the community that you most identify with or want to learn more about and we'll send you the news that matters most once a week throughout Trump's first 100 days in office. Learn more