The following is a transcript and audio mp3 clip from my presentation to the Business Marketing Association's annual conference (June 2, 2011) Download the complete mp3 (7:21)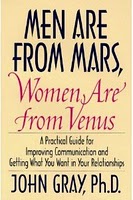 I know my bio says I've been a marketing consultant for the past 14 years, but in reality I get hired to play the role of John Gray for my clients' marketing department.
(John Gray is the Men from Mars, Women from Venus gender relationship expert).
Somehow, some way, out of the clear blue, people like you wake up one day to the stark reality that you're spending most of your waking hours in a relationship with your sales counterpart that feels a whole lot like an arranged marriage.
Unfortunately, you didn't have a lot to do with the selection of your "Partner" and you've got to find a way to make it work.
Because of my background, I tend to be one of those go-to-guys to help marketers navigate to calmer waters.
While the analogy goes just so far, it's interesting that a lot of the telltale signs of a troubled marriage apply to sales and marketing. Arguments over finances (budget), loss of respect (trust), not agreeing on common goals, etc. A lot it stemming from bad communications.
Speaking for the marketing department, I think it's kind of funny that we're the half of the relationship responsible for "communications" and yet we use words like sales and marketing "alignment" without thinking about it much. I've been happily married for 29 years (to the same woman) and I don't think I've ever told Ruth, my wife, that we have an alignment problem. It sounds and feels formulaic and stuck in the 1950's with Ward and June Cleaver's assigned roles and responsibilities.
I could do whole seminar on this, but if you want to unleash your sales force, the FIRST thing that has to happen is that they've got to see you and your marketing as relevant. You know the old term, if you're not part of the solution, you're part of the problem. Well, if your front lines don't see you as a relevant, contributing factor to the solution, they're going to see you as part of the problem.
If you want to take a really bold step, hire an independent 3rd party to ask this question of your front line team: "Is our marketing relevant to you?" It might be a humbling experience, but it could be the most important first step you can take.
In the case of your sales team, rather than focusing on alignment, for example, set a different goal. Set a course to become their secret weapon. And rather than following some formulaic advice you got about roles and relationships, figure out who is "best at what." You may find out, for example, that your best copywriter is a guy in inside sales.
So, how do you know if your marketing department and all the fine work they produce is relevant to the sales team? Here are 5 statements that will ring true of your marketing.
Your marketing is relevant IF:
Sales reps BELIEVE Marketing is their "secret weapon."
Marketing actively contributes in the weekly revenue meeting.
Marketing automation (e.g., pardot, marketo) installed, being used, generating reports, contributing to deal flow.
Campaigns don't end at the click.
Marketing collateral (marcom, et al) is created solely to solve a sales process problem.
Each of my five statements indicate an attitude or relevancy. They're big, boulder-size milestones in your arranged marriage with Sales.
What about some baby-steps? What can you do -- today -- to get on the right track? Here are 5 simple questions you can use as your guide to assess your progress and provide a 30-day roadmap for getting on the road to relevancy.
What are the names of your customers responsible for 80% of your revenue? Bonus if you know the name of the buyer.
What are the questions customers most frequently ask sales reps, customer service, tech support?
Do you have Google Alerts set for your top customers?
If 10 of your sales reps gave your pitch, how similar would the presentations be to one another?
What would Marketing have to do so sales reps could connect with one additional prospect each day?
© 2011 John M. Fox. All Rights Reserved.

John Fox is the Founder and President of Venture Marketing, a B2B consulting firm that helps business owners get their sales and marketing un-stuck. For more, follow John on LinkedIn
This Blogger's Books and Other Items from...
SUBSCRIBE TO & FOLLOW THE MORNING EMAIL
The Morning Email helps you start your workday with everything you need to know: breaking news, entertainment and a dash of fun. Learn more