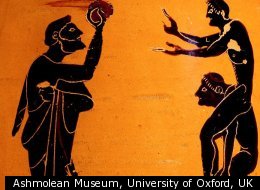 "Why do we play ball?" That was the heady question my then 7-year-old son tossed out to me one day during an innocent game of backyard catch. As a father, anthropologist, and sports fan, I couldn't resist the call of duty to set off in search of an answer. Who threw the first pitch, kicked the first goal, sunk the first buzzer beater? And how did the ball, a simple child's toy, come to stake such an unrivaled claim on our time, our money, and our lives?
Against a pretty dismal modern backdrop of steroid use in baseball, NFL and NBA lockouts, and vote-selling and corruption in World Cup soccer, I wanted to peel back the layers of scandal and excess to expose the warm, beating heart of the game - uncovering the true reasons we play the games we play.
My globe-trotting investigations, captured in The Ball: Discovering the Object of the Game [HarperCollins, $14.99], took me far afield in both space and time: to a French palace, an Indian reservation, a remote Scottish isle, the Amazon rain forest, and to small-town playing fields and gyms from Ohio to Massachusetts.
Here are some of the things I learned along the way about the ancient roots of our modern sports:
Ephe-what? Although the evidence is murky at best, it's likely that the idea of playing ball first began with our Paleolithic ancestors killing time between hunts. After all, the typical toolkit of early hunters - spear, club, rock and net - would have supplied the basic prototypes for a decent sporting goods store. But the earliest ball game to appear in the historical record was an odd form of people polo first recorded in the Sumerian Epic of Gilgamesh, ca. 2500 BC. Apparently more than a passing fad, this wacky parlor game, which involved tossing a ball back and forth from the shoulders of teammates, was played from ancient Egypt to classical Greece - where it was known as ephedrismos (pictured above on a Classical Greek vase). Warning: don't try this at home.

The great-great granddaddy of every form of "football" played today - soccer, rugby, and American football - was a brutal game played by mobs of peasants in the villages and fields of medieval England and France. Played on special feast days with a ball made of leather wrapped around a pig's bladder (the first "pigskin") or stuffed with hemp or wool, mob football pitted parishes and villages against each other. The massive scrums were so damaging to people and property that English kings banned the game nine times in the 14th century alone. But the "people's game" would not be squashed. A vestige of these mob games, pictured above, is still played at Christmas and New Years on the remote Scottish isle of Orkney. Fast-forward to 2010 when 3.2 billion people gathered to watch the World Cup. Long live football!

The "sport of kings," as it became known, began, strangely enough, as the sport of priests. Seven hundred years before Federer and Nadal first faced each other over a net, a French game called jeu de paume ("game played with palm of hand") was all the rage on the monastic circuit, played in medieval cloisters with balls stuffed with beard hair. Soon, the game caught on with French and English royalty. Shakespeare mentioned the game six times in his plays. Lawn tennis as we play it today was a newfangled variety invented by a Welshman in 1872. But jeu de paume, also called "real" or "court" tennis, is still played on just 40 or so courts in the world - each of which mirrors the architectural form of the medieval cloister.

While Europeans were swatting at hair balls, across the Atlantic the Maya and Aztec civilizations were into their third millennium playing with superior balls fashioned from a substance the world had never before seen: rubber. This game, known as ullamalitzli, or ulama, was a fierce athletic contest played by warriors in spectacular stone stadiums throughout Mexico and Central America. Games, focused on knocking the heavy ball through a stone ring, were steeped in symbolism, conjuring the movement of the sun and the fertility of crops. And, as the conquering Spaniards learned, the losers of these ceremonial games (or unlucky war captives) were sacrificed, their hearts offered up to the gods (giving "sudden death" new meaning!). Today, a few villages in West Mexico still play ulama. But hearts remain, thankfully, in chests.

Deyhontsigwa'ehs. That's what the Onondaga Iroquois of New York State call lacrosse, a Native American sport that's swept prep schools and college campuses like a wildfire. It translates, fittingly, as "they bump hips." Before the arrival of Europeans, lacrosse was played by tribes from the western Great Plains to New England and as far south as Florida. Like ulama, it was a warrior's game steeped in ritual. As depicted in this mid-nineteenth-century painting by George Catlin, inter-village games were played with wooden sticks and deerskin balls across vast open fields. When White society appropriated the game in the late 19th century, Indians were excluded. But they've since reclaimed lacrosse as their own. For them it remains sacred: "The Creator's Game."

The invention of America's national pastime has been variously ascribed to Polish glassblowers, Berber tribesmen, Egyptian pharaohs, and, most commonly, to Civil War hero Abner Doubleday. None of these, it turns out, has a legitimate claim on the game. Doubleday was a hundred miles away at West Point in 1839 when he was, according to the legend, supposed to be tracing out a baseball diamond in a cow pasture in Cooperstown, NY. The first mention of "base ball" actually appears in an English children's book published in 1744 (illustrated above). In truth, no one really invented the game that Ruth, Mantle and Mays made famous. It evolved over time from a variety of children's sandlot games. The kids, it turns out, still love it.

If baseball evolved over a century or so, basketball was invented in a two-week period in 1891 in a YMCA gym in Springfield, Massachusetts. James Naismith, a young theologian and sports fan, was directed by his boss at the YMCA Training School to come up with a sport that could be played indoors and would keep the school's difficult students fit and out of trouble through the long New England winter. Naismith gave up the ministry to pursue physical education, believing that sport had the power to lift us up and shape not just our bodies, but our whole selves - mind, body and spirit. It's no coincidence that basketball cleared the lane for the disenfranchised of the time - especially women and African-Americans - to rise up and claim their rights.