Three years ago, Bebe Zahara Benet made a bit of TV history when she became the first winner of RuPaul's Drag Race. Bebe was born Nea Marshall in Cameroon, Africa and was raised between there and France. She brings her own brand of fierce international flare to this season of RuPaul's Drag U as she helps deserving women connect with their "inner Queendom."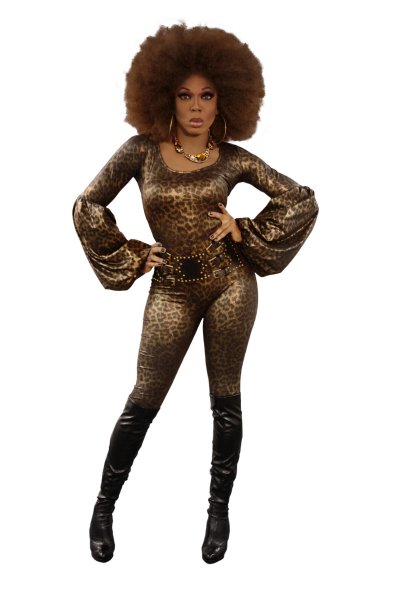 JG: On your very first Drag U assignment, you had quite a handful with your pupil, Randi. She seemed to fight you every step of the way. How did you ever manage to finally get through to her? Her transformation into Vanessa DuJour was fantastic!
Bebe: Tell me about a handful pupil! I knew that in order to deal with a person like Randi, I had to be patient, firm, thoughtful and understanding. Also taking in consideration that this was all new to her and she was just very excited being in a place where she could play dress up.
JG: During the same episode, "Nominated by Loved Ones" you asked Randi about bad habits. Does Bebe or Nea have any bad habits?
Bebe: Oh yessssssss, Bebe breaks a lot of hearts! Nea eats lots of sweets especially very late at night, now you know what that can do (laughs).
JG: Speaking of loved ones, how much of your family remains in Cameroon?
Bebe: Well my parents are back in Cameroon, as well as a lot of my external family, which I cannot be specific on here as the list will go on and on.
JG: Do you get to speak to or see them?
Bebe: I speak to my parents all the time, and to the rest of my family, a few times a month.
JG: Your homeland is an undeniable part of Bebe's character. What do you miss most about Cameroon?
Bebe: I miss the sun setting, beautiful landscapes, nature, the wild-life, sitting around the fire and hearing our elders tell us stories, cultural celebrations, family... should I continue? (laughs)
JG: Which role has been more challenging: contestant on Drag Race or professor on Drag U?
Bebe: Definitely being a contestant on RuPaul's Drag Race only because you are competing under so much pressure, but with RuPaul's Drag U you get to enjoy the moments with these ladies. It is more laid back and you know, it is not about winning, but rather empowering these women and making them feel special.
JG: You've released two singles since winning Drag Race, "I'm the Sh*t!" and "Cameroon." Any new music in the works?
Bebe: Oh yeeeeeeeeees, I am working on my next single coming out in the Fall, which I am very excited about, as well as a future album project.
JG: You also created a theater piece called Queendom. Can you tell us a bit about it?
Bebe: Queendom, tells the story of my journey from Africa, to Paris, to America, my experience on RuPaul's Drag Race as well as after living in New York City and trying to find my own rhythm. It is all live original music, more in the pop, house, disco, R&B, alternative forms, but fused with African rhythms, amazing costumes, great singers and dancers all mixed in. But at the end of the day, the lesson is about each one of us finding our own inner Queendom and Kingdom and accepting it.
JG: Any dream stage roles Bebe or Nea would love to play?
Bebe: Bebe would love to play the life of Josephine Baker, Grace Jones or Diana Ross on stage. Nea would love to play the lead role from the movie Kinky Boots.
JG: How has reality TV changed your life?
Bebe: It has given me the opportunity to connect and experience so many people in such a short amount of time, which probably would have taken longer if not of the show. It definitely has given me another platform to share my story and my art to a larger and cross-over audience. It has educated me a lot about the ins and outs of the business, but most of all it really assured me that the sky is the limit and anything is possible, as long as you work hard and create your own path. I am grateful.
SUBSCRIBE TO & FOLLOW THE MORNING EMAIL
The Morning Email helps you start your workday with everything you need to know: breaking news, entertainment and a dash of fun. Learn more