In 2006, with a Grammy nomination and a mini-tour with Prince already under her belt, Támar Davis was gearing for the release of her debut album Milk & Honey. Támar had not only gained a following of Prince fans, but garnered much attention due to memorable appearances (also with Prince) on shows like SNL and Good Morning America. Everything seemed in place for Milk & Honey to make the biggest commercial/critical splash of any Prince-propelled debut since perhaps Sheila E.'s "The Glamorous Life." Unfortunately, the much-anticipated album was suddenly canceled. (It is now, however, a widely circulated bootleg... or so I've heard.)
Lesser artists might have thrown in the towel, but Támar Davis is as driven as she is talented. The charismatic songstress has taken the wheel and is re-introducing herself with a solid radio-friendly (new) debut album titled My Name is Tamar.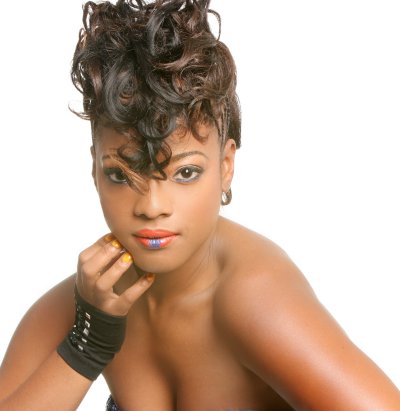 JG: The intro to your album is about taking charge and making things happen for yourself... is it a tongue-in-cheek reflection on the cancellation of your first debut album, Milk & Honey? Are you at any liberty of discussing why that album was never officially released?
TD: It is not necessarily a reflection on the cancellation, which was out of my jurisdiction, but a result of internalizing and understanding that I, with God, determine what happens in my life and time waits for no one. My desire is to be the best, ultimate recording artist ever and I can't make excuses for time going by without working towards my numerous goals. The termination was out of my jurisdiction. Prince departed from the label and everything that he brought with him, left with him. The relationships, all around, are all intact and that's what remains important today.
JG: How has the experience of having to start over from scratch after so much hard work and effort influenced you?
TD: Starting over was nothing new to me. The difference was that no one was telling me what kind of songs to sing, not saying that was bad, it's just I was always used to someone being in the studio with me assisting me along the way. This time, I was on the road and working after performances and using my own monies. I did my own studio location research and I shook more hands and met with people more than ever. That was something new to me: striking and negotiating opportunities. I feel like the CEO of this journey.
JG: What does My Name Is Támar offer that Milk & Honey did not?
TD: My Name Is Támar is more rock edge-meets-pop. Milk & Honey was more of an 80s album. When I listen to it, I just smile. My Name is Tamar makes me cry because some songs remind me of where I was when I recorded them and what I was feeling emotionally. My Name is Tamar discusses the subconscious part of who I was and am.

JG: What have you found to be the biggest obstacle of this business?
TD: The biggest obstacle is when people tell me what I should do but don't actually help or understand that my journey is unique. I am constantly learning that when God gives you something, its not meant to be shared with any and everyone. It's a constant learning process of knowing when to share my ideas and when to just be quiet.
JG: Describe a typical day in the life of Támar Davis.
TD: I wake up around 9 am and if I have nothing immediately scheduled, I watch The Price is Right. It's my favorite game show ever. Then I am off to Bikram Yoga. I may go and get a great breakfast or come back home and cook a simple meal. Then there's constant work: emails, follow-ups, and reading a lot about my industry to see where things are. If I am in TX, I speak with parents once they get in from work and on the weekends, its all about my two-year-old nephew. I can't remember the last time I went out socially because I value my family time.

JG: You've already earned a faithful "purple" following. I say "earned" because while I'm sure working with Prince has opened some doors, you've proved your chops and powerful stage presence time and time again sharing the stage with arguably the best performer in the business. Would you be interested in working with him again?
TD: I would be more than honored to share the stage with Prince again. Words cannot express the energy between us so yes, most definitely.

JG: Speaking of faithful followings... don't tell anyone I told you this, but if you release some fierce mixes of "Red Carpet" along with a sickening video, you'll also have the gays buying your record and singing along at your shows. Once you get us, Támar, we stick with you forever! How about it?
TD: You know that I am already working on that idea. Do you know any investors (laughs)?
JG: A video for "Red Carpet" would have to involve some fabulous runway stompin'. How's your walk?
TD: My catwalk is fierce, honey (laughs). I would get some of the most amazing upcoming models and let's see this happen Texas-style. Thank you so much for that. It means so much that you are supporting this album and my career!

JG: You're very welcome. It is well deserved. While we're talking "red carpet", who are your favorite designers?
TD: Oooo-weee fashion, I looooove fashion! Alexander McQueen, Zac Posen, Ralph Lauren, Valentino, Balenciaga... I have tear sheets from six years ago from all of the above designers.

JG: Will you tour to promote "My Name Is Támar"?
TD: I am gearing up for a tour and getting ready to head to Atlanta for a performance for a high-end fashion showcase so I am super geek-ed. I am slowly but surely booking but definitely looking forward to going back to perform in the international market because the album is selling like crazy in France, Belgium, the Netherlands, UK, and Japan.
JG: You've done some Tyler Perry plays and I imagine quite a bit of other theater work. Any dream roles?
TD: One of my dream roles would be to star in a musical remake of Mahogany or in a revival of Cabaret or Funny Girl. To be able to showcase all talents on the big screen would be phenomenal. And Broadway has always been a desire!
JG: If you weren't a singer, what would your career be?
TD: If I weren't a singer, I would be a music teacher or ballerina. I love teaching and helping and I was one of the only African-American dancers in the Houston Ballet when I was a little girl.
JG: What is the next single/video?
TD: What's funny is that I am torn between "Static" and "Love Speaks." And now "Red Carpet."