If "Drag U" were to introduce an elective course, "Sassy Wit 101," to their curriculum, Jujubee would be the one to teach it. Her perfect blend of sexy and funny took her all the way to the "RuPaul's Drag Race" finals and landed her a teaching position at RuPaul's esteemed institution. This season, she's back for another semester of teaching the fine art of inner fierceness, and we can't get enough of her workplace rivalry with Raven. Surely the pair keeps the HR department at "Drag U" on their toes!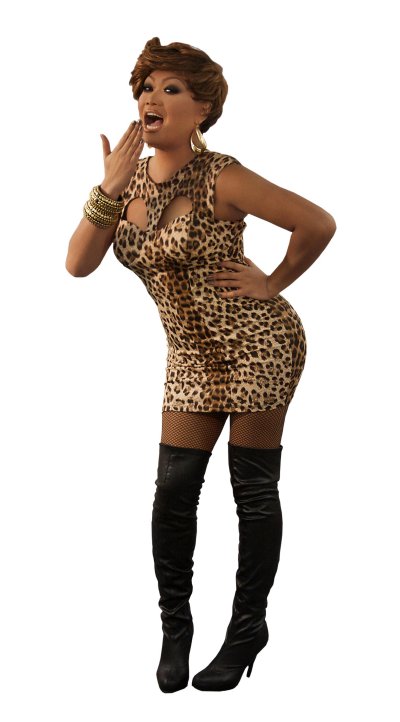 John Gascot: If LOGO were to produce an all-Asian remake of "Charlie's Angels" (and they should) starring you, Manila and Ongina, who would play which role, and why?
Jujubee: Manila would have to be Jill Munroe [Farrah Fawcett]. That girl can pull off gorgeous blond hair like no other! Ongina would have to be Sabrina Duncan [Kate Jackson]. We all know Miss Thing can fight and take charge. I'd love to be Kelly Garrett [Jaclyn Smith]. She's a brunette and ready to work!
JG: And if LOGO were to produce a remake of "What Ever Happened to Baby Jane?" starring you and Raven (and they should), who would play which part, and why?
Jujubee: This one is too hard to choose! I think we deserve both parts! Maybe we can film it twice! We'll both have the most makeup on ever and read each other to filth by the minute. Good times, good times!
JG: I'd watch both versions! OK, one more: if LOGO were to produce a movie of the week about your life (and yes, they should, duh!), what Hollywood starlet would win her Emmy playing you?
Jujubee: Brenda Song! She is stunning, Asian and a firecracker! I love her style and that gorgeous smile. "And the Emmy goes to... Brenda Song as Jujubee in 'Girl, I Forgot My Lash Glue!'" Sounds fabulous!
JG: What is the best part about being a "Drag U" professor?
Jujubee: The best part about being a "Drag U" professor is the fact that I get to work with such beautiful women and show them how beautiful they really are. It's a touching experience.
JG: Has your sister continued to tap into her inner diva after her "Drag U" experience?
Jujubee: Susan has definitely continued to tap into her inner diva after "Drag U." She's much more outgoing and open to being beautiful! I'm very proud of her.

JG: You schooled her well in the art of drag and self-confidence. What has your sister taught you in return?
Jujubee: Susan has always taught me to be more patient. Both my sisters are wonderful women, and I'm glad I get to be their older brother.
JG: You've helped virgins and lesbians during this season of "Drag U." Is there a specific type of woman you'd like to work on transforming in the future? And don't say lesbian virgins.
Jujubee: Grrr! I was totally going to say lesbian virgins! How about left-handed, lesbian virgins from Maine? Better yet, right-winged, opinionated ladies from Iowa with no means of fact checks... [coughs] Michele Bachmann. Score!
JG: Are there any other famous women you'd like to enroll in "Drag U"?
Jujubee: We should do an episode with the ex-members of Destiny's Child! LeToya, LaTavia and Farrah will never be the same! Beyoncé could be a guest judge! Ooh, ooh, ooh, that would be juicy!
JG: What inspires you most about women?
Jujubee: Women give life! That on its own is inspiring. I like to think of myself as hypersensitive, and women have this sixth sense; they can understand that. Besides, women are prettier than men. [Laughs.]
JG: Has reality TV changed your life?
Jujubee: Most definitely! "RuPaul's Drag Race," "RuPaul's Drag U" and LOGO have helped me achieve some of my dreams. I'm definitely ready to work even harder to stay on this ride. It's amazing, and I'm very blessed to be a part of this movement. We betta do it! Muah!
Visit Jujubee's website and like her on Facebook!
Watch "RuPaul's Drag U" Monday nights 9 p.m. ET on LOGO.