If Helen of Troy had "the face that launched a thousand ships" Ms. Mariah Paris Balenciaga has the one that made them all change course and head straight for Atlanta, Georgia! But this legend of the "Ballroom" circuit is much more than just a gorgeous face (and killer legs!) Mariah returns to Logo's Monday night line up, full of sass and sensuality, as mentor to women in search of their lost inner-divas, in Rupaul's Drag U.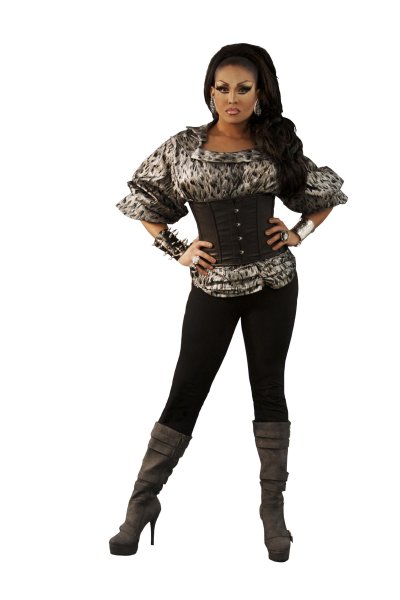 JG: Your personality really shines as a Drag U professor and makes me wish you'd remained in Drag Race longer. Were you surprised when asked to join the "falculty"?
Mariah: Any and everything that has come as a result of my participation with RuPaul's Drag Race has been a pleasant surprise, but being asked to be on RuPaul's Drag U was the cherry on top .
JG: How has becoming a reality TV star changed your life?
Mariah: Opening yourself to the public in any capacity comes with its positives and negatives. I am fortunate that it has all been mostly positive. The only negative I can think of is not having enough time to meet or chat with all of the fans, whether online or at an appearance. I also have to balance my hair career with "Mariah's" engagements. I do my best to keep up.

JG: Your drag background is in "Ballroom." For those not familiar, could you describe the "Ballroom" circuit?
Mariah: The "Ballroom Scene," not to be confused with ballroom dance, was born during the Harlem Renaissance era over time evolving into an underground competition circuit comprised of various "houses." These "houses" would be best described as fraternities or sororities that compete in various categories. Ranging from physical beauty such as face, body, sex siren and realness to fashion, runway and voguing. The "Ballroom Scene" is the birth place of the "Vogue" dance and has inspired many cultural sayings throughout the years.
JG: Do you think the "Ballroom" circuit prepared you in any way for your duties as a Drag U professor?
Mariah: Participating in the "balls" prepared me for any and everything you could imagine that might come around the corner. You have to follow instructions and guidelines for the category requirements, which vary each event. Patience -- they tend to run long and you have to be ready at the drop of a hat . With there being so many creative people, you have to think outside of the box and be very strategic. these are a few of the skills that came in handy for the RuPaul's Drag Race competition.
JG: What has been more challenging, competing in Drag Race or mentoring in Drag U?
Mariah: I have been considered a mentor by many in the "Ballroom" scene, if not hands on by example, so that is a role I am very comfortable in. I would have to say the RuPaul's Drag Race competition was the most difficult. Competing on RuPaul's Drag Race was definitely more demanding and emotionally taxing. When I am in competition mode I get very focused and very intense. I did enjoy the challenge none the less.
JG: Before anyone can teach they must learn. What was your favorite subject in school?
Mariah: My favorite subject in school would have to be Biology. One could imagine why.
Mariah: My least favorite would have been English -- too many lectures and book reports. The topics would rarely be related to us on a practical level and the teacher often lost my attention.

JG: Mariah's sensuality is undeniable. Any tips on how a woman can be sexy without stepping over to the slutty side? Not that there's anything wrong with that. Sluts need love too.
Mariah: There is definitely an art to sensuality. True confidence is first and most important, know your worth and value. Second, self awareness. Know what is flattering for your shape and personality leaving a little something to the imagination. Last, but not least, never leave your smile at home .

JG: They don't call you "Mug 4 Dayz" for nothing. One has to know facial beauty inside and out to serve it like you do. What are 3 things a woman's face should never go without?
Mariah: The three things for women (or anyone)to keep in mind for the "mug" are chemical peels, great cleanser/moisturizer and laser hair removal .
JG: You help out a group of virgins during one of the episodes. If a lady has not been approached by any gentlemen callers by the age she feels ready for umm... fulfillment, in that arena, should she make the first move?
Mariah: I don't think there is anything wrong with a woman making the first move. I believe we make our own rules in romance and love.
JG: You also work your magic during an episode in which the pupils have been nominated by their friends and families. How important is family to you? Are they supportive of Mariah?
Mariah: My whole family is completely supportive of "Mariah" and me. I am closest to my mom and older sister. My sister watches RuPaul's Drag Race and RuPaul's Drag U episodes with her three sons (my beautiful nephews), and they love watching their "Uncle Lijah." They are very proud of me. My mom still glows every time she sees "Mariah" or anything I am involved in. I strongly believe family is where love is and love can come from anyone.
FOLLOW HUFFPOST