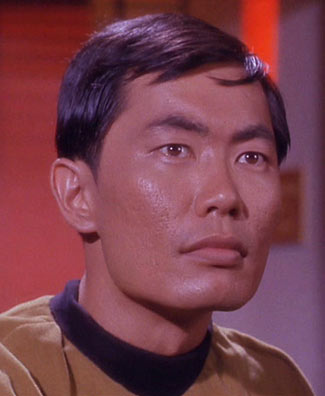 My three brothers and I were weaned on Star Trek reruns, and my parents also loved the show. Helping out on the flight deck was the square-jawed Mr. Sulu, played by actor George Takei.
Now, a generation later, the LA Independent reports that Mr. Sulu walked down the aisle with his longtime partner Brad Altman in a private ceremony in Los Angeles.
"Takei, 71, and Altman, 54, had been planning the nuptials since May, when the California Supreme Court declared the state's ban on gay marriage unconstitutional. They were among the first to obtain a marriage license in West Hollywood when they became available in June.
"We were at home in the kitchen and we had the TV going, and when the word came down [about the court's ruling] Brad got on his knees in front of me,'' Takei told People magazine. "And I said, 'What are you doing?' He said, 'George, will you marry me?' I said, 'Yes. You beat me to it. I meant to ask you.'''
"[Walter] Koenig, who played Mr. Chekov on "Star Trek,'' served as the best man, and [Nichelle] Nichols -- Lt. Uhuru -- was the matron of honor."Star Trek'' alum Leonard Nimoy (Mr. Spock) was also on the guest list."
I was lucky enough to see George Takei this June, on that magical first day of weddings in West Hollywood. Surrounded by reporters, he spent the better part of an hour patiently answering every question they put to him. And what a class act he was: well spoken, good-natured, and aware of the example he was setting -- especially to his own generation, which was, and still is, mainly hostile to his sexuality.
I guess this all came about 30 years too late for my brothers and me. But better late than never, as they say.
SUBSCRIBE TO & FOLLOW POLITICS
How will Trump's administration impact you? Learn more