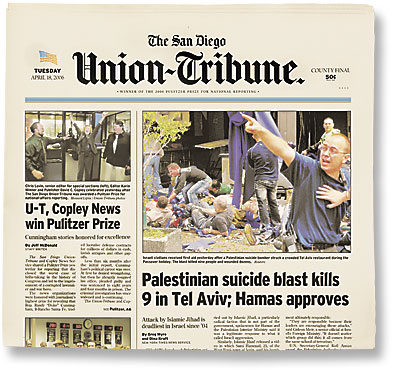 San Diego, and especially San Diego County, is ground zero for Proposition 8. The big churches that back the amendment are there, and a disproportionate number of the money and signatures gathered to place it on the ballot came from there.
Last week, the San Diego Union-Tribune came out against Prop 8: "The right of gay and lesbian couples to wed on an equal legal basis with heterosexual couples has long stirred opposition not only among social conservatives but also among a much broader swath of society. But in the four short months since a landmark California Supreme Court ruling legalized gay marriage, a significant social shift seems to have occurred.
"In the past, this page has advocated civil unions for gay couples rather than marriage. But our thinking has changed, along with that of many other Californians. Gay and lesbian couples deserve the same dignity and respect in marriage that heterosexual couples have long enjoyed. We urge a No vote on Proposition 8."
This change in position by the editorial board of the home town newspaper has got to be a blow to the pro-amendment forces. They know that just as with voters, with editorial boards this issue goes in only one direction over time -- toward equal marriage rights. That's why they're racing to get Prop 8 passed now.

SUBSCRIBE TO & FOLLOW POLITICS
How will Trump's administration impact you? Learn more