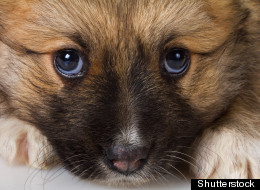 What's a Dog for? There are a thousand answers to the question that is the title of my new book. This is because being human means needing help, of many different kinds, and sometimes there's not another to provide it. To start with, loneliness is not only an emotion--it's terrible for the health. Companionship, since the earliest days of the relationship between dogs and humans millennia ago, has been a basic that dogs fulfilled, having many different corollaries. A dog can protect your house, help hunt your food, show you the way when you can't see. But on another level, What's a Dog For is a trick question--What's art for? What are people for? They're deeply embedded in our human world. Having a dog is a light comedy, and an infinitely rich, deeply serious enterprise. They're at the center of things, as you will see in any dog household. To paraphrase an old commercial: How could something so good be so good for you?
Why Dogs Are Good For You
Petting a dog, or even being in the presence of a dog, much like caring for a baby, can produce a surge in oxytocin, the all-purpose bonding hormone—one scientific term is a "parasympathetic surge." In layman's terms, you calm down, chill out. One recent study found that dogs were even better at controlling blood pressure spikes in subjects faced with a difficult task than were spouses—not so surprising when you think about it.

Back in 1980, an epidemiologist named Erika Friedmann had the idea to compare the recovery rates of heart attack patients who had dogs with patients who didn't. In a now-famous study, she found that the dog owners survived at a rate over 20 percent non-dog owners. And while the popular impression of dog-as-wonder-drug are overblown, there's an abundance of evidence that dogs are good for cardiovascular health, both because of the stress-buffering and also possibly because they have to be walked—making it necessary to get off the couch and exercise from time to time.

The reason proposed for this effect doesn't sound all that healthy: Dirt. Dirt, of course, can be a problem with dogs. But it turns out that its numerous allergenic components help acclimate a child's developing immune system to the kinds of stressors it may have to deal with later—like, for instance, dogs. There's even some evidence that exposure to a dog in infancy prevents respirator infections, and may help prevent the development of asthma. As evidence for this hypothesis, the study also found that the more a dog spends outside, the more powerful the effect.

It turns out the trying to figure out what's going on in a dog's head and the mutuality of a relationship with an animal is good exercise for a young mind. A 2001 study of fifth graders found that children with dogs at home scored significantly on standard measures of empathy and self-esteem than those without, and that the dog's pure, non-judgmental friendship can decrease feelings of insecurity. Another study found that, for teenagers, the family dog can be a more significant relationship than with any adults save parents.

The special qualities that underlie our special relationship with dogs—that unconditional love—can make a dog a safe partner for an autistic child. Many autistic children are fascinated by animals, and numerous studies have found that the social skills developed in relating to a dog can be transferred to the human world.

We knew this, of course. (A dog's sad-eyed trudge into the bedroom at the first signs of trouble can stop an argument in its tracks. In a relationship, a dog can be a non-judgmental witness and listener, a kind of non-verbal therapist. A basic idea in understanding family dynamics is the concept of the triangle—tension between two people is inevitably displaced onto a third. In a couple, this can be the dog (and the dog can handle it). In a family with an only child, a dog can provide another avenue, taking pressure off. In a bigger family, a dog can be an ally and confidant to the odd man out.

A dog can hear things you can't, see things you can't, smell things you can't. This must have been their primary function through eons of human history, making them indispensible allies in the hunt and guarding the camp. And of course, they still serve these purposes. Bomb sniffing dogs have been ubiquitous and indispensible in forward operating bases in Afghanistan, and a dog was along on the raid that killed Osama Bin Laden. Recently, a team of marine scientists West Coast marine scientists trained a dog to lean off the bow of their boat and sniff out orca scat, so as to better track the animals they were studying. Most of us won't need such talents—the dog's sublime nose is most often used to find the ball under the couch—but it's nice to know they're there.

Some scientists have theorized that a connection with nature is a basic human need, a hunger like that for companionship. This may explain why dog populations have burgeoned in the last few decades in the concrete landscapes many of us inhabit. And a dog takes us out, and shows us what to look for while we're there. Dogs our avatars in the natural world, pointing out things we wouldn't have looked for, following paths we wouldn't have known were there.