MIAMI--Pulling up to the North Dade Regional Library in the inner city suburb of Miami Gardens for one of Florida's numerous early voter rallies, the first thing that strikes you is the line of early voters itself. Not just any line, mind you, but a line that begins at the library doors, folds in two, covers the parking lot, stretches out to the sidewalk, then snakes around a very large block. We're talking thousands here. Literally. All of whom who've come to exercise their right to vote - early.
Beyond the length of the line though, what might even be more striking is the excitement, which is as palpable as the sun is hot and high. Picture the biggest block party you can imagine, throw in a neighborhood-sized backyard BBQ, a county fair, and a traveling carnival, and you'll get half the idea of the energy of this rally, as well as the cross-section of those in attendance. Young toughs and dressed-up grannies, college students and their proud parents, single mothers, single fathers, entire families, in collars of blue and white, not only having the time of their lives, but having it on behalf of what all would agree was the most important election of their lifetime.
In the thick of it all is Massachusetts Governor Deval Patrick, here in town at the request of the presidential candidate himself. People receive Patrick with so much warmth it's almost as if he was their governor, and not someone else's. And in many respects he is, not simply because of race, but because of the bootstraps, but because of the example he's set for everyone. And, of course, because Patrick, like Obama, represents a sea change in America, a sea change that everyone here is a part of.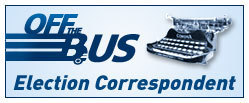 "People all over the country, in various ways, by standing in line, by going door-to-door, by making phone calls, and so on, are expressing their commitment not just to the campaign, but to the cause," said the governor. "People want to take back their country. They want the American Dream to be real, and they want to reclaim it. And I think that's what this election is about."
"I had an official visitor from overseas," Patrick continued, "who said she thinks this election is about whether or not America is who she says she is, and in many respects I think that's absolutely right. I think Barack Obama's campaign, his vision, his ability to inspire, is very much an affirmation of the best of American values."
Governor Patrick and Senator Obama go way back, of course, and have many, many ideas in common, but it was Obama's Philadelphia speech which prompted Patrick to pick up a pen and put words to paper in a piece published right here in HuffPosts's OffTheBus.
"It was, as one friend of mine described it, the kind of thing you want to sit down and listen to with your kids. We don't often have in this country adult conversation about race. And it was so respectful about where people are, and another example of clear leadership, and I think he's shown examples over and over and over again, in the course of this campaign and in the course of his career."
So would the good Governor ditch Beacon Hill for the Attorney General's seat in an Obama administration?
"No, I love the day job, I really do. But what a great thing from my perspective to have a president to work with me as a governor on the very same agenda we're trying to drive in Massachusetts - clean energy technology, investment in infrastructure, a comprehensive and seamless education strategy that starts before kindergarten and goes up through college - it's completely in line with what we're trying to do for Massachusetts."
This Miami rally isn't Governor Patrick's first stop in support of Senator Obama's presidential bid, in addition to battleground appearances in Virginia, Ohio, Pennsylvania and New Hampshire, Patrick also did some primary stumping in South Carolina. But even after all those states the governor can't help being pleasantly surprised by Florida's turnout.
"Look at this!" he says, expanding his arms to an all encompassing width. "This isn't even Election Day and people are waiting line. And they say it's been that way every day since early voting started. In fact, I've heard the early voting has been at record levels all across the state. And it's not limited to African American voters either."
"I wish we had that back in Massachusetts," he ended.
Well, Governor Patrick, now that you're in charge of the Bay State, maybe you can get an early voter bill passed too - just in time for Obama's re-election!
Author John Hood with MA Gov. Deval Patrick
SUBSCRIBE AND FOLLOW
Get top stories and blog posts emailed to me each day. Newsletters may offer personalized content or advertisements.
Learn more