Pity that poor Marie Antoinette's subjects didn't have the same sweet tooth as folks in Miami, because then the reply to her suggestion that they "eat cake" would not have been the lopping off of her head, but, perhaps, a much more civilized: "We want pie! We want pie!"
That's what many in the 30,000 strong crowd roared yesterday at Miami's Bicentennial Park Early Vote Rally when Obama put the proverbial pie into play: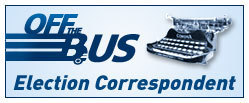 "Recently I heard Sen. McCain say that I'm more concerned with who gets your piece of the pie than with growing the pie. But let's be absolutely clear --- after eight years of Bush-McCain economics, the pie is shrinking. And what's left of the pie has been eaten by millionaires and billionaires,"
"Everybody here wants some pie. We want to grow the pie. And then we want a slice of the pie!"
To that came the crowd's impromptu roar:
"We want pie! We want pie!"
But Miamians aren't interested in storming the Bastille just so they can have dessert, they want to be able to eat a full meal, and they want to be able to feed their families. And folks can't do either if they don't have a roof over their heads or a paycheck at the end of the week.
In Florida "foreclosures are up 30% over the past year," noted Obama, and the state has "lost nearly 11,000 jobs in September alone."
"Wages are lower than they've been in a decade, at a time when the cost of health care and college have never been higher. It's getting harder and harder to make the mortgage, or fill up your gas tank, or even keep the electricity on at the end of the month. At this rate, the question isn't just 'Are you better off than you were four years ago?' it's 'Are you better off than you were four weeks ago?'"
But the senator wasn't all doom and gloom. In fact, after summarily dispatching with McCain's made-up claims about his campaign ("Apparently Senator McCain's decided that if he can't beat our ideas, he'll make up others and run against those."), and blasting his opponent for his unseemly attacking ("It's getting so bad that even Senator McCain's running mate has denounced his tactics. As you know, you really have to work hard to violate Governor Palin's standards on negative campaigning."), Obama gave the crowd his hope and his belief.
"I believe that we can steer ourselves out of this crisis because I believe in this country. Because I believe in you. I believe in the American people," said Obama, to a groundswell of applause.
"We are the United States of America. We are a nation that's faced down war and depression; great challenges and great threats. And at each and every moment, we have risen to meet these challenges - not as Democrats, not as Republicans, but as Americans. With resolve. With confidence. With that fundamental belief that here in America, our destiny is not written for us, but by us. That's who we are, and that's the country we need to be right now."
But forget for a moment how sweet it was to see a candidate stand before 30,000 people from every walk of life imaginable and feel complete unity. Set aside, for a moment, all that talk of cake and pie. For as yesterday's rally made clear, the sweetest thing is still to come, and that will be victory.
Can't wait to hear how Miami responds to that!
FOLLOW HUFFPOST