My favorite time to go to Arizona is not in mid-summer when it's 110 degrees outside. "But it's dry heat!" the locals scream. So is a pizza oven's. So the only thing to do, as I did when there last summer, was to stay inside until time for lunch and dinner, when I could venture out, crank up the AC in the car and rush into a nice, cool restaurant. But as the snow shows no let-up in much of the U.S., a trip to Arizona seems dreamy indeed. Here are three new places you will want to eat.
Virtù Honest Craft
in the Bespoke Inn
3701 North Marshall Way
Scottsdale, AZ
480-946-3477
www.virtuscottsdale.com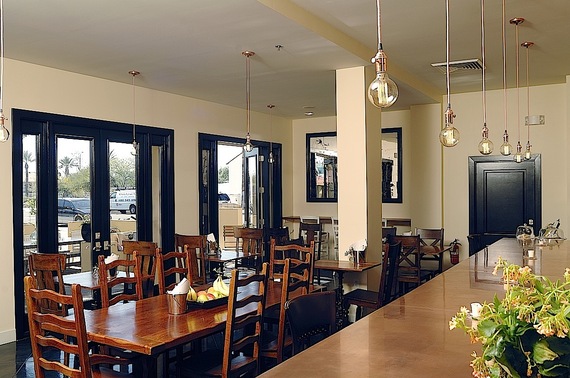 The place where I spent much time inside was the Bespoke Inn, which is a good deal more than a bed-and-breakfast and well shy of a formal hotel. Its luxury is evident in the attention to personalized detail owners Kate and Rob Herren put into every inch, from the comforters to the soaps, from the books and toys on the shelves to the polished nickel fixtures. There is an infinity edge lap pool and you may ride on the British Pashley bicycles free of charge (even if it's 110 degrees outside).
Downstairs are three bedrooms and upstairs the Signature Flat, where I was so happy to stay, furnished with high ceilings and reclaimed wood floors, with a fabulous kitchen with a marble island and handmade walnut farm table. Daily brunch at Virtù downstairs is part of the room rate.
Kate and Rob -- you'll be immediately on a first name basis -- are eager to tend to your wishes, and you'd have to think long and hard to come up with a request they will not grant. When a taxi did not arrive on time to take me to the airport, Kate just shrugged and said, "Hop in the car. I'll run you over." More generous, more congenial, more amiable innkeepers cannot be.
As for the Virtù Honest Craft restaurant, I've long admired the inventive Southwestern cooking of Chef Gio Osso, and now, with just 25 seats and bar, he's proven himself one of America's finest interpreters of Mediterranean food, albeit with Arizona swagger, evident in a starter like his beautiful fried squash blossoms plumped up with pecan goat's cheese, local lemon-scented honey and chopped chives. The food looks like fine dining is supposed to look, but the laid-back vibe of the place puts out all notions of pretentiousness.
It's always evident when a chef cooks what he himself loves to eat, leading to dishes like Osso's grilled orata coated with lemon-oregano crumbs and sided with a Calabrese peperonata with a scorpion's bite. He makes his own cream-centered burrata and chile butter, whips fat-mottled mortadella salame into a puree to be spread on smoky country bread, and reduces cherries, hazelnuts and chocolate to make a sour-sweet gianduja sauce to lavish on his smoked duck with toasted cumin and cashew tabbouleh of bulghur wheat.
Virtù has a lot of buzz among local chefs who sit at the bar, order a Virtù Starter Kit cocktail of Cocchi vermouth, Plymouth gin, grapefruit bitters and bitter lemon soda, and nod to each other as they eat Osso's food, looking for ideas.
Open for brunch and dinner daily; Appetizers $7-$15, main courses $18-$29.
Binks MIDTOWN
2320 E. Osborn Road, Phoenix
602-388-4874
http://binksmidtown.com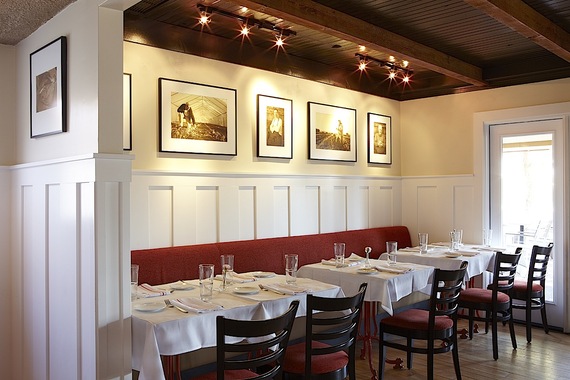 Kevin Binkley has an indisputable reputation as one of the Valley's most creative chefs, best evidenced at his first restaurant, Binkley's up in Cave Creek, where he serves long tasting menus of highly refined cuisine. He also runs the delightful Bink's Cafe in Carefree, where the food is so admirably simple and so satisfyingly good. His newest place, Bink's Midtown, despite its inane name, is a fine marriage of both his creativity and his idea that food should indeed have simple virtues, an attitude reflected within the white walls of a modest house in Phoenix.
I was there for lunch and ordered a slew of items, beginning with deep-fried baby back ribs with a tamarind, sesame and yogurt dipping sauce -- a dish no one but a vegan could possibly be immune to. Green chile pork papusa came with an assertive salsa verde cut by a tangy apple and peppery radish, and a plate of sweetbread nuggets, creamy and served with a sweet-and-sour Gen. Tso's-like sauce, peanuts and scallions went fast our my table.
Burrata cheese was an option, with pistachios, breadstick and peach preserves, but it came out ice cold when it should have at least been room temperature.
You so rarely see sand dabs on a menu -- if you do it's probably in a San Francisco restaurant -- so when I do I order them. Binkley's were terrific, tender, sweet and dressed in plenty of brown butter with almonds.
I enjoyed my lunch but can imagine that at twilight, as the Arizona sky starts to turn colors, Binks Midtown is an enchanting place to have a long, lingering romantic dinner.
Open daily for lunch and dinner; appetizers at dinner $4-$21, main courses $16-$22.
OTRO CAFE
6035 N 7th St, Phoenix
602-266-0831
otrocafe.com

I was a big fan of Doug Robson's first restaurant Gallo Blanco, where he was doing riffs on regional Mexican food hard to find anywhere else in the Valley of the Sun at that time three years ago. At the time I wrote, "The trouble with most Mexican street food, including in Phoenix, is that the cooks just don't use first-rate ingredients. Robson does, most sourced locally from area farmers, and it shows in the distinctive flavors he achieves in every dish." That's certainly the case at his new place, Otro Café.
Robson's bloodlines run to Mexico, France, England and Vietnamese, which he can hardly ignore when he cooks. Otro Café sticks closer to the simpler traditions of regional Mexican food, like tacos filled with achiote-marinated grilled shrimp, and a pollo en mole negro. The tacqueria part of the menu features five items, and I loved the al pastor with juicy pork, pineapple, achiote adobo, and tomatillo salsa.
I'm not a big fan of Spanish paella (below) but Robson really gives his some real kick Mexican style, made with chicken, pork and plenty of chorizo for spark.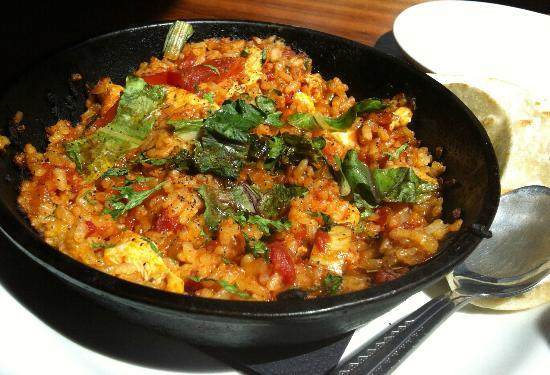 He serves breakfast all day, and I can well imagine coming here late at night or early morning, feeling a little worse for wear, and being restored to something like normalcy but chowing down on Robson's chilaquiles rojas ($9) or huevos rancheros ($7). And I'm sure your waitress will be ready with hot coffee.
Open daily for breakfast, lunch and dinner; appetizers $3-$9, main courses $9-$15.
SUBSCRIBE TO & FOLLOW LIFESTYLE
All the meal hacks and indulgent snacks. You're welcome. Learn more