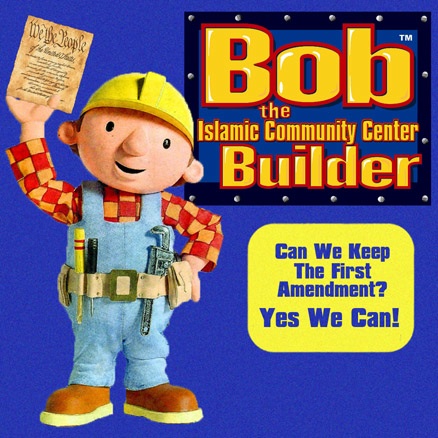 Bob the Islamic Community Center Builder's new CD features songs about conflict resolution, cooperation and refusal to exploit a national tragedy for political gain.
The claymation contractor compares democracy to a building which consists of Freddy the Foundation, Connie the Constitutional Framework and Myron the Materials, which protect their structure against Gingrich the Troublemaker and Sarah the Speech Mangler.
In "The Establishment Clause Can't Be Sold to the Lowest Bidder," backed by Scoop the backhoe loader and Bill the Bill of Rights, Bob duets with Farmer Pickles:
Bob:
Bald eagles are fliers
Just like the pigeon
I won't take pliers
To freedom of religion
Farmer Pickles:
I know you're a claymation contractor hero
But I say there should be no theater, gym or mosque
Two blocks from Ground Zero
Bob:
The same amendment that lets you say
Whatever you wanted
Also lets Muslims pray
And build things undaunted
And if the job's large
You should see what I charge
One thing's even stronger than hate
And that's my triple overtime rate
Accompanied by Pussycat Lounge the Other Ground Zero Neighbor and Bloomberg the Mayor Who's Read the Constitution, Bob the Islamic Community Center Builder sings "You Stay Invincible When You Don't Abandon Principle" and "The Dump Truck's Red, The Crane is Blue, Don't Scapegoat All, for the Actions of a Few."
Bob the Islamic Community Center Builder's next CD will feature other controversial clay celebs such as Davy and Goliath Against Target, Heat Miser Against Global Warming and Mr. Bill Against BP.
Hey hey. My my. Rock and roll can never die. Unless it's killed by American Idol. More current albums at Tyrannosaurus Rocks.
FOLLOW HUFFPOST