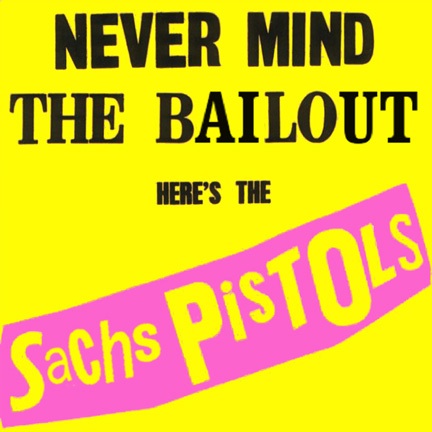 TYRANNOSAURUS ROCKS
CD REVIEW
"Ever had the feeling you've been cheated?"
- Henry Rotten at the band's farewell concert
Back on the scene with a new SEC lawsuit, punk stock pioneers the Sachs Pistols are known for spitting, vomiting and pissing on mortgage holders.
This album includes such securities fraud classics as:
"God Save the Rich"
"Anarchy in the TARP"
"Executive Holidays in the Sun"
"Pretty Bankrupt"
Led by former Treasury Secretary Henry Rotten and George W. Vicious, the group was the first to destroy not hotel rooms or cars, but the entire economy.
In addition to their music, the Sachs Pistols were known for their charitable work. They and their labelmates gave away a reported $700 billion, although in true rock and roll fashion, they're "not sure where it went."
"We're so unaccountable, oh so unaccountable," they sang. "And we don't ca-a-a-are!"
With an influence that is expected to be felt until 2025 or the recession ends, whichever comes first, the Sachs Pistols are a reminder of a time when it wasn't possible to never mind the bollocks.
More album reviews and economic analysis are up and running at Tyrannosaurus Rocks.com, America's #1 Rock and Roll website
SUBSCRIBE TO & FOLLOW ENTERTAINMENT
Don't be the last to watch the viral video everyone is talking about. Learn more