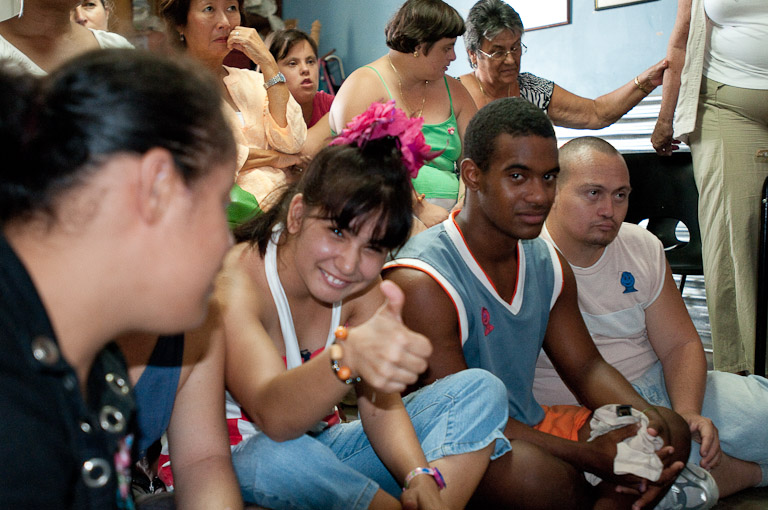 Students with downs syndrome denied future assistance by OFAC (photo by Ted Lieverman)
What's even more puzzling is the apparent indifference of the Obama team to the effect of such gestures on their supporters. One would have expected a candidate who rode the enthusiasm of activists to an upset victory in the Democratic primary to realize that this enthusiasm was an important asset. Instead, however, Mr. Obama almost seems as if he's trying, systematically, to disappoint his once-fervent supporters, to convince the people who put him where he is that they made an embarrassing mistake.

Whatever is going on inside the White House, from the outside it looks like moral collapse -- a complete failure of purpose and loss of direction.

--Paul Krugman, New York Times, 12/2/10
Krugman was writing about the President yielding to Republican pressure on economic policy, but he might as well have been describing White House inaction on Cuba.
I don't want to join the pile-on unreservedly. Good and important changes have been made regarding Cuba by this Administration, most notably ending restrictions on travel and remittances by Cuban Americans and allowing many visits by Cuban academic and cultural visitors. The New York Philharmonic has finally received approval to perform in Havana. There is a quiet loosening of specific licenses for groups like the Chicago Bar Association to make trips and report to their members on changes in Cuba's economy.
Wikileaks poignantly reminds us, however, of the hope that greeted Obama in many countries:
Monday, 08 June 2009, 16:42

S E C R E T SECTION 01 OF 03 PARIS 000762
NOFORN French NSA-equivalent Jean-David Levitte

10. (S/NF) Levitte said that the new Administration's policy on Cuba was great. "How can we help?" asked Levitte, who noted that Sarkozy would travel to the Caribbean in late June. He added that former French Culture Minister Jack Lang was serving as Sarkozy's point man on Cuba, and met with Raul Castro during a recent visit to Havana. "Your open-handed policy is producing some interesting movement inside (the regime)," Levitte summarized.
A year and a half later, the French stopped waiting for the Administration.
Xinhua, December 01, 2010 The governments of France and Cuba have resumed formal cooperation, according to an official statement signed Tuesday by the two countries.

"Both sides reaffirm cooperation is intended to benefit ordinary people, economic development, and cultural, scientific and technical areas identified as priorities," said the statement signed by France's Ambassador to Cuba Jean Mendelson and Cuba's Deputy Foreign Minister Dagoberto Rodriguez.

"These (areas) include agriculture, health, environment, scientific research, teaching French, and the spheres of culture and art," the statement added.
A unanimously adopted resolution at the Ibero-American Summit meeting last weekend in Argentina confirmed once again that the Obama Administration has not diminished its total isolation on Cuba:
In the defense of the free exchange and transparent practice of international commerce, the application of coercive, unilateral measures that affect the well-being of the peoples, their access and full enjoyment of the benefits of international cooperation in all spheres is unacceptable.

We reiterate the most forceful rejection to the application of laws and measures contrary to international law, such as the Helms-Burton Act, and urge the government of the United States of America to put an end to their application.

We ask the government of the United States of America to abide by the provisions of 19 successive resolutions approved in the General Assembly of the United Nations and put an end to the economic, commercial and financial blockade it maintains against Cuba
People can disagree in good faith about how much of a choice the President has on economic policy given the mid-term election results.
However, there is no doubt that he has lots of potential to use executive authority on behalf of bringing broadly supported rationality to US relations with Cuba, beginning with authorization of non-tourist travel.
The practical cost of Presidential dithering was driven home in the microcosm of a decision by the Office of Foreign Assets Control (OFAC). One of the longest established non-governmental organizations devoted to fostering artistic exchanges between the US and Cuba is the Center for Cuban Studies/Cuban Art Space in New York City. Before 2004 it regularly sent licensed cultural trips to Cuba. President Bush stopped that dangerous activity to pay off his supporters in Miami. However CCS was able to resume trips this year by incorporating a humanitarian project.
Last Friday Center director Sandra Levinson received a letter from OFAC
denying our application for a renewal of the humanitarian aid license which has
allowed us to support several projects that enable those with Down syndrome to engage in art activities. (photos here and here)
One more reason to put the White House on notice that opportunistic accommodation to Cuban American extremists and arbitrary decisions by OFAC are no longer acceptable.
John McAuliff
Fund for Reconciliation and Development
Links and Resources
Readers who want to encourage the White House to open travel can do so here
and Americans can ask their Representative and Senators to contact the President here