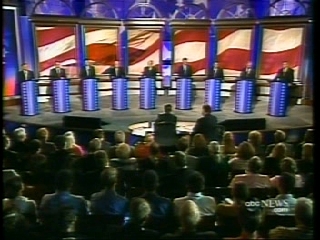 RACHEL: Hi and welcome to HuffPost's liveblog of the debate — depending on where you are in the country, you are either watching this or the "The Ernest Angley Hour." Political Brain author Drew Westen will pipe up with his comments after viewing the debate on his local affiliate (Atlanta - 11 am) so keep checking back. [Update: See complete YouTube video footage of the debate here.] In the meantime, we're off!
RACHEL: Is it wrong to say that he reminds me a little of Mr. Potato Head? Giuliani reminds me of the Jim Carrey character in "The Mask" when he smiles. Hey, these are non-verbal impressions, they count.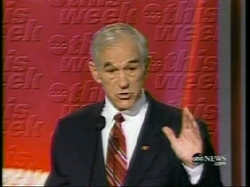 DREW: Ron Paul got a lot of applause for his line about how our troops ought to "just come home." Is this a Democratic or Republican primary? We're really seeing here the fault lines of what has happened when the conservatives have held complete power for several years, actualized their goals, and now we're seeing what they really want and really do when they govern. If Democrats have any sense in the next election, they will make sure that every Republican who has rubberstamped George W. Bush--which is virtually every one of them who is currently in office--is tied to what he has done domestically and internationally.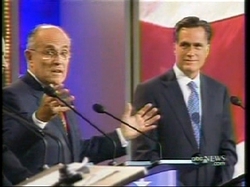 DREW: Congressman Hunter got applause from the other side of the Republican Party, who've been watching the Iraq story on Fox for five years. I hear we're winning.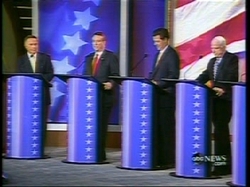 JOHN:Romney's attack on Obama is clever - tea with the enemy, bombing the allies - if completely facile and disingenuous. This is a good moment for him, as it shows him able to attack the likely opponents memorably, and he delivered the line well. He may regret this if he is criticized for not being tough enough.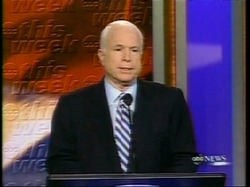 DREW: McCain on Iraq: It's hard to watch him and think he matters anymore. His answers are so far off the mark, and so off from what he knows is true; or maybe now he even believes what he's saying, who knows. As a Democrat, I vote for him for the GOP nominee. I've been for him since he got off the straight-talk express over a year ago because he'd be so easy to beat on authenticity in an election that's going to hinge in large part, like 1976 after Watergate did, on who is convincing to the American people that "I'll never lie to you."
DREW: A meta-comment here: Note how no one, including the moderator, George Stephanopoulos, is forcing the Republican candidates to offer any specifics on anything. How are we going to pay for the war? Who is paying for this "surge of support"? Who is paying for changes in health care? They stay at the level of values and very broad strokes (e.g., "more market forces in health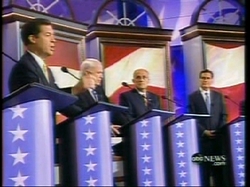 care," "the Democrats want socialized medicine"), and the media get lulled into never asking them for specifics. In contrast, Democrats stay at the level of specifics and too rarely talk about their values, and the media demand to hear plank 13 of their plan to harness solar power. Neither approach is helpful from either candidates or journalists. People need first and foremost to know what candidates care about--their values--but they should have to be honest about how they're going to pay for it, and should offer clear illustrations of how they would govern. And journalists need to watch their biases on this--they attack Democrats for not giving specifics, but they allow Republicans to talk in moving platitudes.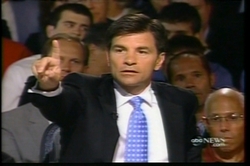 RACHEL:Month, really. God, he just looks sad today. Even his tie mutes him. Not as much as Stephanopoulos, of course. Wow. That was almost a smackdown.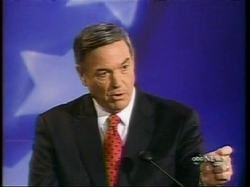 This VP question seems to have gone on forever. One thing I will say about Duncan Hunter — he needs some media training. He doesn't look at the camera — he's delivering this impassioned response about his son in Iraq and he is saying it straight to Stephanopolous — who is off-camera and below Hunter to his left. So to viewers at home, that means a disconnect.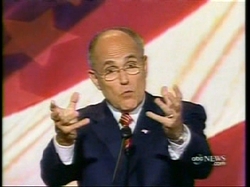 RACHEL:I think this debate is interesting, because on the one hand, it actually seems to give candidates more time to engage on the issues — no clucking Anderson Cooper here — and it's allowing for a bit of cross-debate, too. But I have to say, it's not as engaging as the previous debates, for me (even the first Republican debate, which was made more fun thanks to Reagan drinking games). Trying to put my finger on the "why" here. Is this an argument for flashier fare? Or a flashier host? Or flashier candidates? Is it the static set? Or maybe it does call for the moderator to actually moderate. I'm not quite sure.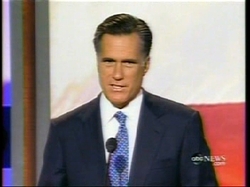 JOHN: When we look at what candidates' non-verbals are projecting, we look first to see how they are doing on two key attributes: Strength and warmth.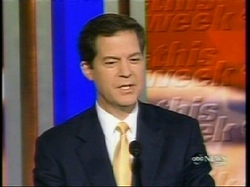 RACHEL: Drew said watch it if he didn't mention you, but he only mentioned Brownback in the context of mistrusting him. Meanwhile, I sort of think that he, too, could be a candidate for Sam the Eagle. So that's Mr. Potato Head, The Mask, and Sam the Eagle. I would say that Ron Paul looks like Big Head from the SNL "Ace & Gary" cartoons, but Chertoff got there first. (Sorry, I digress.)