You don't need me to tell you that New York City is a crowded, congested place. Personally, the energy and vibrancy created by all these people is what drew me to the city in the first place and has now convinced me that I could never live anywhere else.
But while having all these people in such a small area has its advantages, it makes the act of getting form Point A to Point B pretty challenging at times, like when I recently tried getting from JFK to midtown Manhattan during the morning rush hour.
The good news is that because of the city's high density, New Yorkers generally don't have to travel very far to access a wide range of jobs, shopping, schools, and services.
The bad news is that because the city is so crowded, there is very little room to expand the city's transportation network, above ground, at least.
That is why it is important the New York City make the most efficient use of the existing transportation system. We can't expand the city's road network--city streets already cover a land area equal to the size of the Bronx, our parked cars together take up an area equal to seven Central Parks. Instead, we have to change the way we utilize our current road network to maximize the number of people that can be moved on the city's roadways.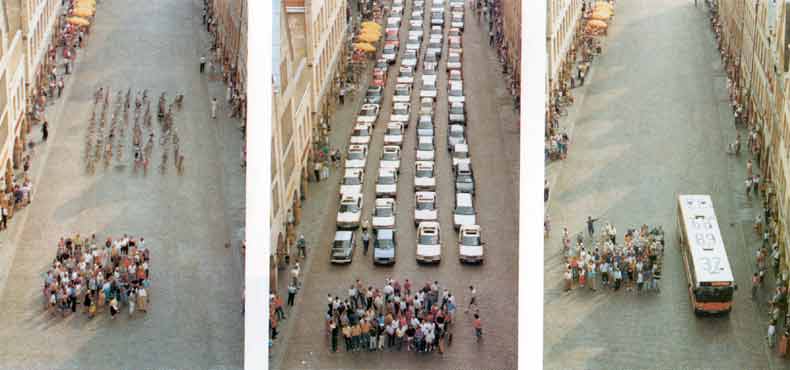 It takes much more room to transport 72 people in cars, compared to a bus.
One way to do that is to prioritize bus transportation on busy Midtown cross streets. Today, Streetsblog covered the Bloomberg administration's plans to transform 34th Street in Manhattan into a bus transitway. The changes would significantly improve crosstown mobility along 34th Street. With the new configuration, New Yorkers will be able to travel from river to river in about 20 minutes, a 35 percent faster ride. Currently, buses average 4.3 miles an hour, marginally faster than walking.
By reducing the number of travel lanes for inefficient private automobiles and adding dedicated bus lanes, a much larger number of people will be able to move quickly through the corridor. There would be two dedicated bus lanes running the entire length of 34th Street. Automobile traffic would have two lanes as well: cars would travel one way to the East River starting at Fifth Avenue and one way toward the Hudson River from Sixth Avenue. And on the block between Fifth and Sixth Avenue, the car lanes would be replaced with a pedestrian plaza, improving pedestrian traffic on one of the busiest sidewalks in the entire city (especially during the Christmas season).
While the city's plans are not yet set in stone, the Bloomberg administration should move quickly to implement its plan. As Streetsblog points out:
In coming years, the corridor will get busier. The ARC tunnel will bring more New Jersey commuters into Penn Station. The 7 train will extend to 34th and Eleventh Avenue, and the development of Hudson Yards will bring thousands more residents to the west side.
Undoubtedly there will be those who complain about the newly proposed configuration (cue the editorial page of the New York Post). But there is also no doubt that the current configuration does not work for anyone, including drivers who currently crawl across town. And since there is no room available to accommodate more cars, the city must turn to smart, efficient solutions like the planned transitway on 34th Street.
SUBSCRIBE AND FOLLOW
Get top stories and blog posts emailed to me each day. Newsletters may offer personalized content or advertisements.
Learn more