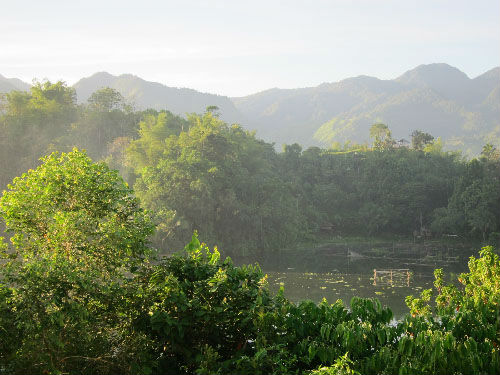 Having fallen in deep with a Philippine gang in NYC that would descend upon me armed with deadly leche flan and delicious pork dishes, I was invited to come over to their homeland to see the abaca that I have long admired from the island of Mindanao. My old pal, Lenora "Len" Luisa Cabili set up an embroidery collective of sorts and offered to take me with her. I had also named a bed a few seasons ago after this mysterious island.
I landed in Manila for the FAME show, which though small, had some great abaca, which are light and intricate weaving groups I want to work with. After the show, Len arranged for us to fly down to Mindanao and visit her group and some of the famous abaca weavers. She informed me politely that I would have a bodyguard since rebels are active on the island and had just attacked an army unit. As you see, I will go to great lengths to get that pillow to you!
When we arrived in the capital, General Santos City, my hefty smiling bodyguard named Ritchie met me at the airport. Len told him not to leave my side, which he barely did. Poor guy was falling asleep in the restaurant as I tried to keep up with my emails.
The first stop the day we arrived was the T'boli Sikat School, which is sponsored by the American Women's club of the Philippines and Len, among others. I had volunteered to teach the 100 plus kids art that day. At first, I thought to bring blocks from India to block print, but then realized it would be hard to print with that many kids and it would not be that much fun. Plan B was to create large murals with acrylics, which would be fun for kids of all ages. Len and I stopped in a hardware supply store to buy acrylic paints, brushes, rollers, spray bottles, and anything I could think of that would be fun to slam paint on canvas. I tried some of my finely-tuned negotiating skills when buying the paints and received a laughable 20-peso discount!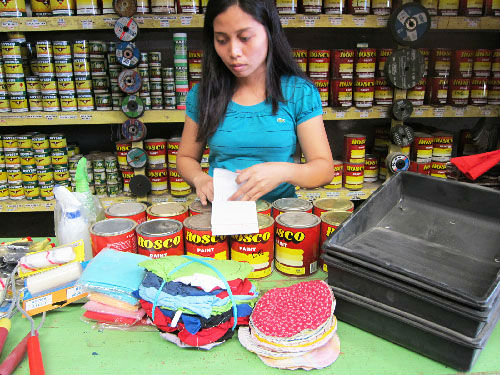 Then we headed to a department store to buy some cotton duct to paint on. The store was decked out with Christmas trees already and Len informed me the Philippines loves Xmas and, as soon as the "-ber" months start, so do the carols and the trees. I thought the USA started a bit early!
Once we loaded up on art supplies we stopped at one of the many roadside fruit stalls to stock up on durian (one of Len's favorites) small, sweet bananas, fried plantains, local oranges, pineapples and pomelo. Mindanao is the fruit basket of the Philippines, so the selection was amazing. Of course, we had some sweet corn for the road which, I have to say, was not as good as CT corn.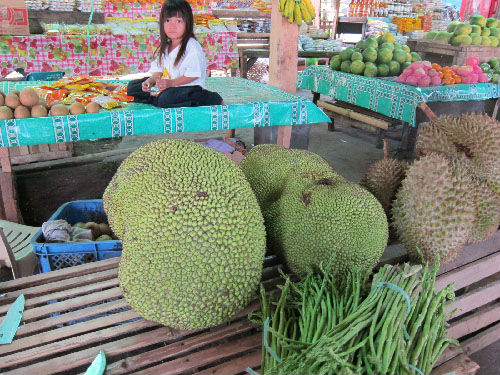 When we reached the school, we pulled up to a simple bamboo building where we were greeted with a program of traditional T'boli dance and music. The kids thronged me with necklaces when I walked in so I looked like a true hippy. I would have to say my favorite was the monkey dance, which the boys probably created because they see monkeys all of the time -- it looked real!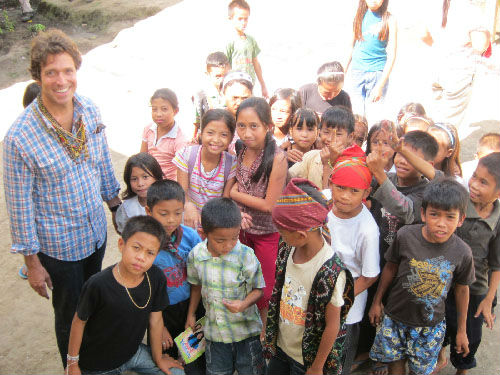 Len and I had to say something to the group, so I talked about drawing and their traditions and I was sure they had so many images in their heads they would paint as well as they danced and sang in their breezy huts. The children were wearing traditional clothes when they danced. We split the 83 children into 6 groups and cut the canvas into large pieces for each group. I set up paint and brushes on the table and each group had 15 minutes to decorate their panel however they wanted.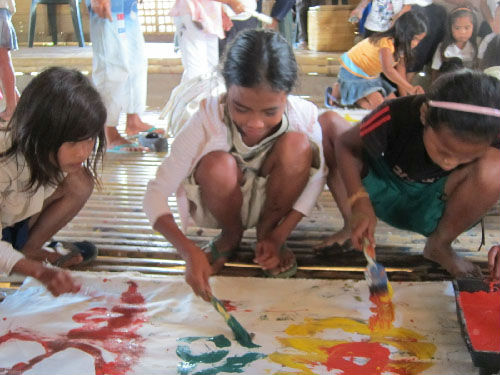 I showed the kids how to use the rollers and spray brushes and off they went! The polite fury of energy was fun to watch as they all negotiated each other back and forth to get more paint with loaded brushes. At one point a tiny girl went right into me with a brush full of paint and smiled but kept moving, intent on filling in her flowers with yellow. Len set up one group with sewing. I was amazed to see their intensity. Finally the little guys had their turn. I realized I had better just put the paint trays in the middle of the canvas, as it was a bit tricky for them to get back and forth with the brushes and rollers. All the while, kids grabbed local drums and just played and sang on their own. I was amazed at how happy and free the kids were. There was no fighting, no crying the whole four hours I was there -- it felt like a hippie commune, or how I would imagine one to be!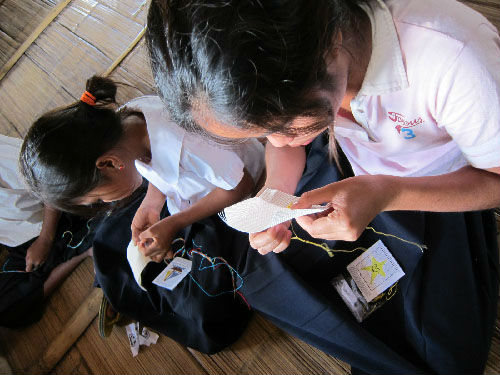 After each group finished they took to the outside and talked about what they painted. The principal said they had never played with paint before. Len and I toured the school and noticed that they needed blackboards. If you feel so inclined, this is their website for donations. After the melee Len and I had a sweet, tasty cassava with the teachers and then hit the road.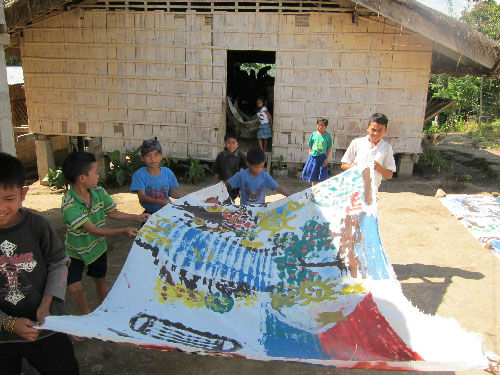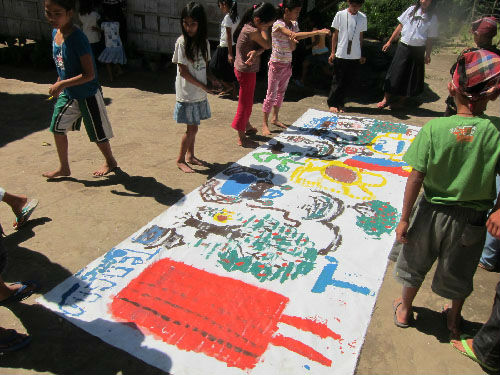 Next we checked into Mountain Eco Resort for a cold shower and then went to wait for our tilapia dinner, which is the local fish, and the only fish around. We had it three times a day! kinilaw, which is sort of like a tilapia carpaccio, is amazing and light and then throw in some sotanghon -- sort of like chop seuy with noodles -- and, of course, wash it down with the local brew, San Miguel. Ritchie, my trusty guard, kept an eye on the lake for amphibious assaults, but none came and we passed out.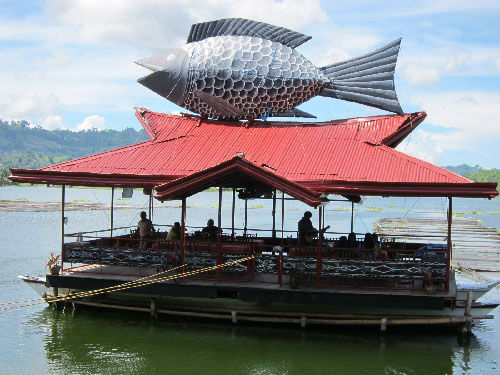 The next morning, we woke up early for a canoe ride on the sparkling lake Sebu, passing rising pink lotuses. Other canoes were taking kids to school singing on the early morning ride. The next school I had donated books to, thanks again to Len, was further in the hills, so we set out for a 30-minute ride with dirt ruts across streams and up mountains to the Klubi Elementary School. The head mistress lined the kids up at attention like a field marshal for our arrival.
We were lucky enough to be presented with more T'boli traditional dances and songs and, again, I got up and so did Len to talk about the fun of reading. We had to wait a bit for all of the local officials to show up to make the ceremony complete. I told the children that I started reading very young and it took me away from my small village and all over the world and they could travel the world with such books. Next, I gave books out to all 612 students. They were so cute as they thanked me and immediately started reading them. They were hungry, so we were given some amazing sweet bananas they were growing at the school.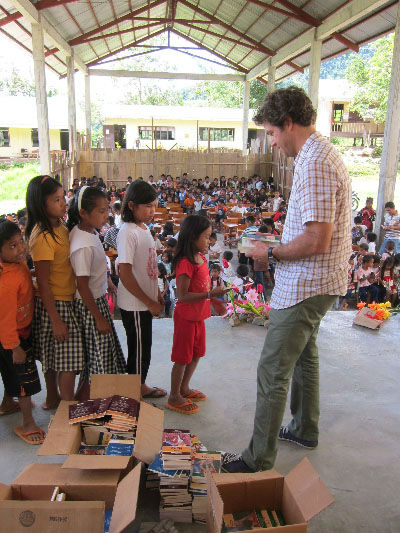 Now that we had done our work for the schools, Len had to get her orders going for her big shows in NYC with Indagare! The first was the Women's Weavers Collective, which trades abaca for the local weavers. I tried my hand at the polishing of abaca, which is not easy! The bamboo rod is on a spring and the bundles of abaca are brought to the storehouse to be traded where the finished abaca is polished. I had to buy some rolls, of course.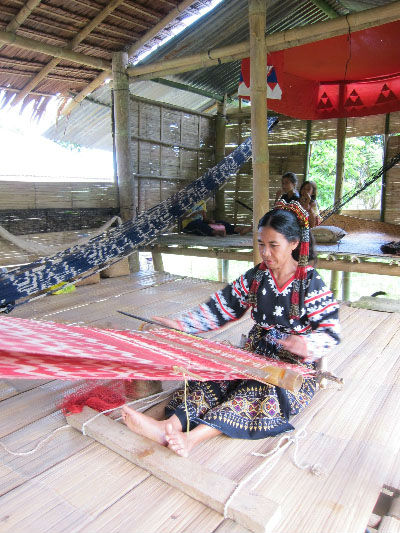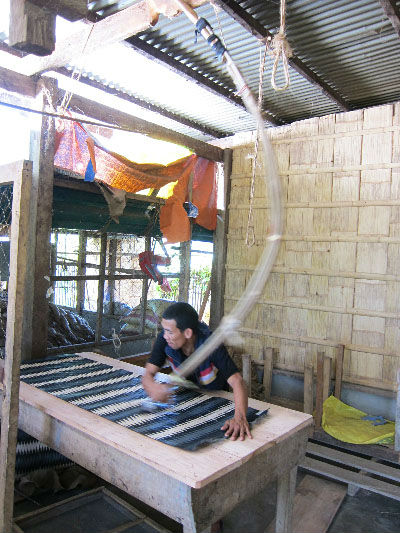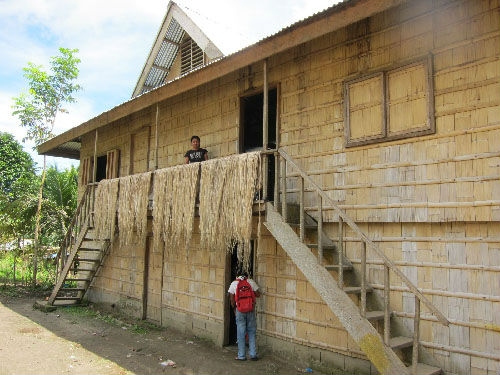 Next we went to see some of the most famous weavers around, who Len also buys from. Len calls one of the weavers, named Subi Nalon, "The Lipstick Bandit" for her love of lipstick and, of course, Len loosened her up with a stick, which she promptly applied. She said it hides her bad teeth. She also said she wished she met me when she was younger. I bought some intricate, sublime abaca with patterns that melt into each other. Then we were off to another with our roaring motorcade of bikes. The next weaver, Yab Man, served us steamed cassava, which was perfect and light. We found them in a smart hut wearing traditional dress. Then Len let me and the biker boys finally have lunch at Punta Isla -- one of local resorts. Note the large tilapia pavilion, again in all forms, and, of course, lots of deep fried pork. We ate at a lovely pavilion on Lake Sebu sipping lemongrass tea, where a wandering minstrel came by. I want to hire him for my wedding someday.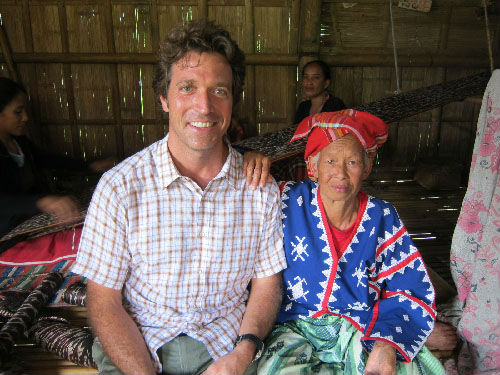 Finally we headed to Len's group, which she had set up last year. The ladies met in the collective hut where we were honored with T'boli song and dance. My favorite was one performed by a senior member of the group who was dancing with the guitar. This group all started thanks to Len and they are all so thankful to her. Before she started working with them they had to go out and look for work, since their husbands are farmers. Now they have money to send their kids to school.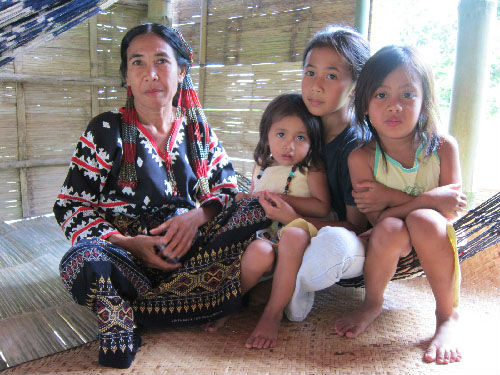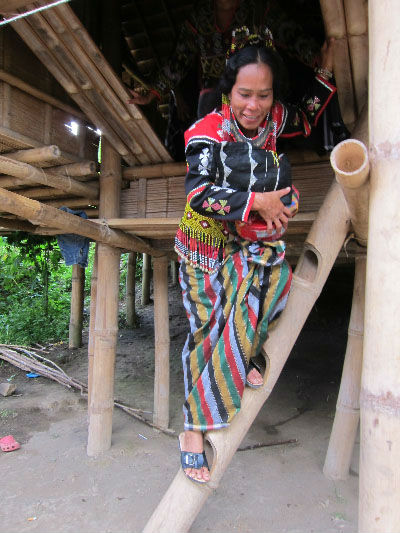 Next it was time for Len to inspect her orders. I dozed off in the soft glow of the hut. I think I could live in one of these structures -- maybe I will take that other weaver up on her marriage proposal.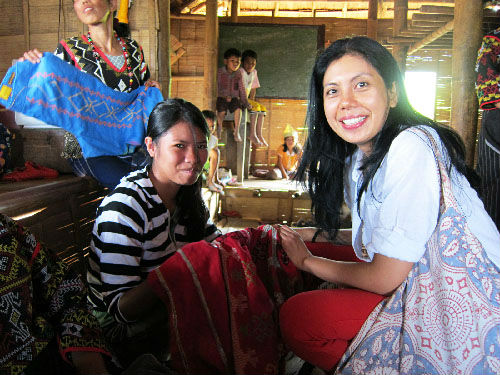 On the way home we passed over a wobbly bamboo bridge which the children were swinging on. I wonder how long that bridge will last?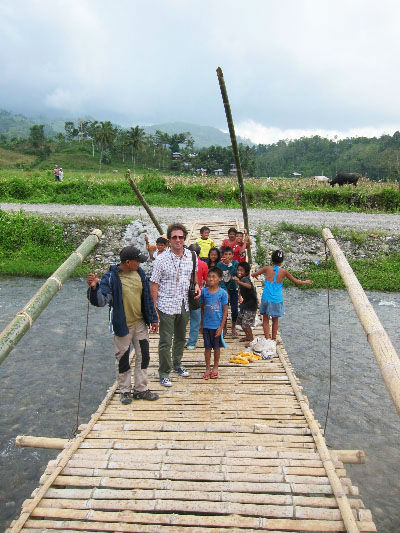 I have to thank Lenora for taking me on this trip to amazing Sebu. Please go meet this force of nature at her trunk shows with Indagare in NYC and CT and see her new website and donate to the schools if the spirit moves you.
SUBSCRIBE TO & FOLLOW LIFESTYLE
We're basically your best friend… with better taste. Learn more