Casablanca
On the fly I was pulled into a birthday bash in Marrakech with a friend and she suggested to we do a rapid tour of Morocco before the big party. I first of all looked at the flights for the most strategic route and found Royal Air Maroc had the only non-stop NY-Casablanca flight, which saves hours spent detouring through Europe. Fortunately, one of my old friends lives in our destination of Casablanca. The flight's not that bad really -- Royal Air Maroc is not quite royal shall we say, but Morocco is a transit point for East Africa flights, so there was a lively gang on board in printed batik mumus.
Landing in Casablanca, I stayed at the small art deco hotel called the Hotel Le Doge. The hotel was perfect for a quick nap, some strong coffee and a croissant on the sunny balcony before heading out to the second largest mosque in the world, Hassan II along the seaside. The green tile work is incredible as you walk outside past the fountains to find the side entrance for the tours, which you have to take but you can wander off and explore. There is a sea of carpets inside as the waves pound outside and dozens of chandeliers line in the main prayer hall. But don't lose the group -- you need to see the mushroom fountains in the hamam downstairs. Walk away from the mosque to get a better view of it from the sea walls. The rough seas churn the surfers, perfectly aligning their hurling forms in front of the mosque.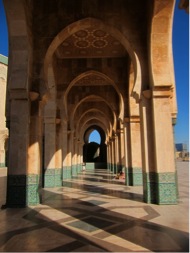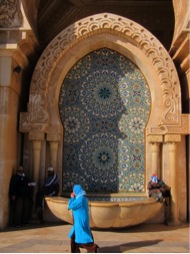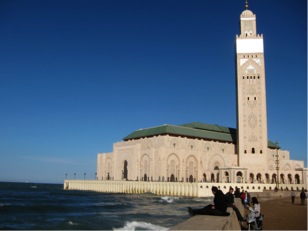 The new medina is worth a look around, but having just gotten off the overnight plane I was not in the mood to bargain yet, so I just poked around and tested the pricing. But I was, however, in the mood to eat... For sure, stop in Dar Hatim near the medina, which serves lovely Moroccan couscous in a quiet garden.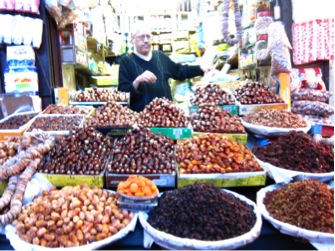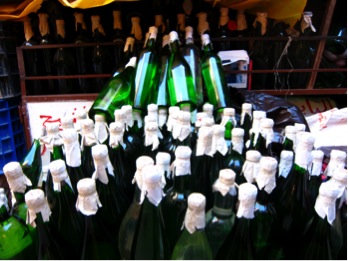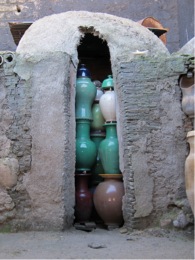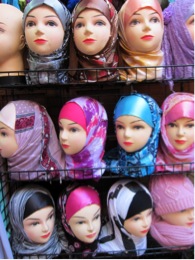 For dinner we met an old friend of mine and her husband at a cool restaurant called Cabestan. The bathrooms have ocean views, walls of windows looking out on the crashing waves. The restaurant has excellent seafood and a snappy crowd. Don't forget to bring your good shoes and jacket -- the locals do dress.

Fez
Fez is my dream -- the oldest imperial city in Morocco and a world heritage site. Wandering around the medina with no cars and endless shops can keep you busy for days. I would recommend a guide since it's not easy finding your way around and I didn't have days to get lost.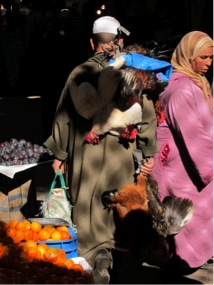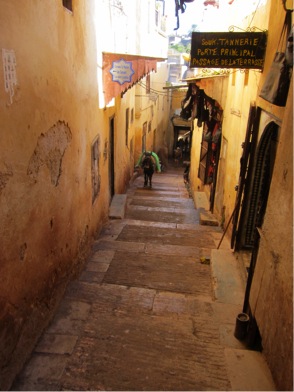 We landed up at the Riad Laarousa, a subtly renovated riad right in the middle of the medina. Up and up stairs to a lovely room with the fire place going, looking out over a green garden. Then up to the roof for a glass of wine and views across the medina, which nothing can compare to. Hit the main sites -- the University of Al Karaouine, the 14th century Koranic College and take a walking tour of Bab Boujloud Museum of Moroccan Arts.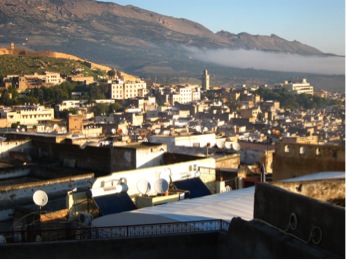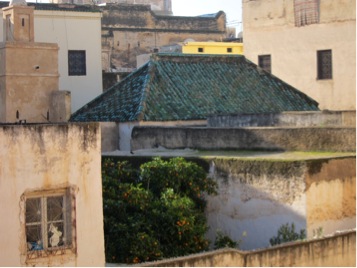 We had some great dinners in Fez. The Riad would make up anything you wanted. My travelling partner was on an all-meat diet, which took some time for the waiters to understand. One night the hotel arranged a dinner in a local house, which was fantastic partly because the hostess was so charming and warm. A jolly old fellow came to pick us up and return us, for we would never find our way back. He didn't talk, so it was sort of like a silent meditation walk. The hotel features a small hamman and spa, which you have to try after a day in the streets -- we all need a good scrubbing in a dark room.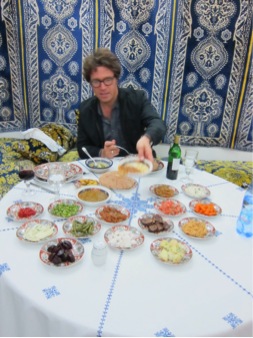 Volubilis
The best-preserved Roman ruins are on the way to Marrakech -- they are incredible. The most amazing mosaics sit out in the open. We wandered there for hours as the boys beat the trees to get the olives to come down. A perfect day.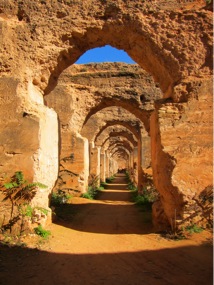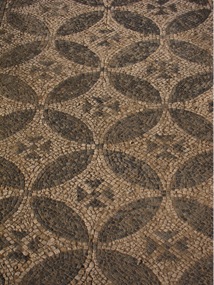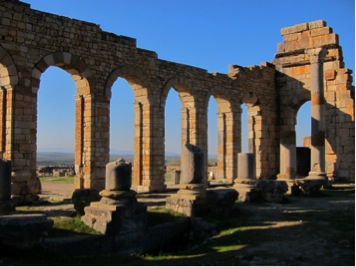 Marrakech
Somehow my friend wiggled us into La Mamounia -- now my favorite hotel. Dark and mysterious with a hundred year old groves outside your window and a fun scene at night. It's hard to leave, and, I must admit, it made me not as quick to step out in the morning. But we did, of course, shopped and shopped and shopped. Please see my shopping list below -- its most of the ones you have heard about.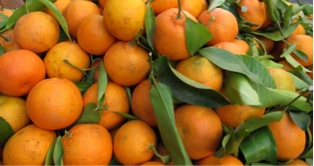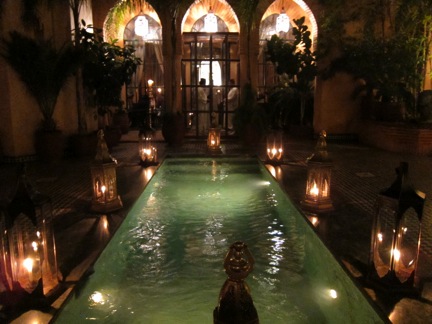 On the top of all lists is the Garden of Yves St Laurent, which was packed with fussy French tourists snapping away. The highlight for me is the Berber Museum in the gardens, since I am always looking at textiles. Please read the Paul Bowles book, Let It Come Down, while you are there. I did enjoy shopping for rugs at Mustapha Blaoui. They have great Berber rugs, flat leather, and reed rugs from Mauritania.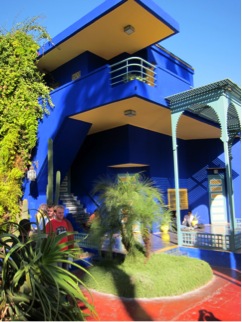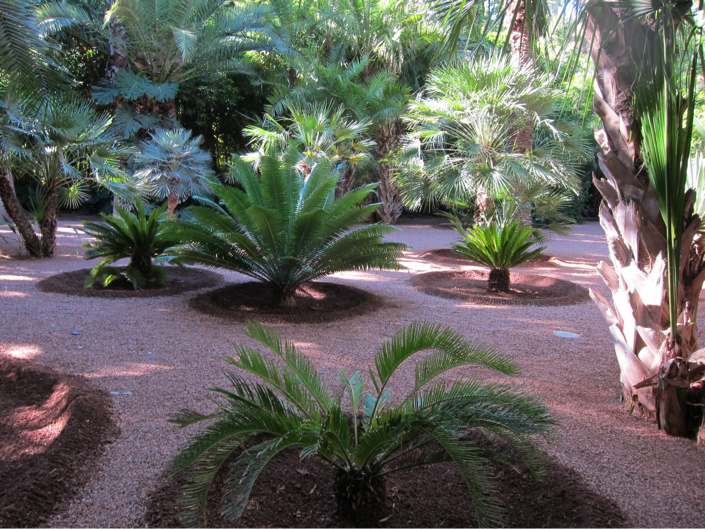 Yacout for dinner one night is a must -- lots of food and a great flamboyant presentation. Also, I would recommend having dinner at the Royal Mansour, a new hotel near the Four Seasons. Beg to see the newly made Riads; they are over the top. Stop in the 19th century Bahia Palace and note its ornately carved cedar wood walls and intricately painted ceilings. One of my favorite places is La Maison de la Photographie -- a three-story house with hundreds of photos of old Morocco -- great for gifts and not so dear.
Oh yes, and the party at the Four Seasons was a blast. So you can see a lot in one week in Morocco if you hire a good driver and speed a bit. The cities are not so far apart, and there is a lot of see and eat -- bargain hard.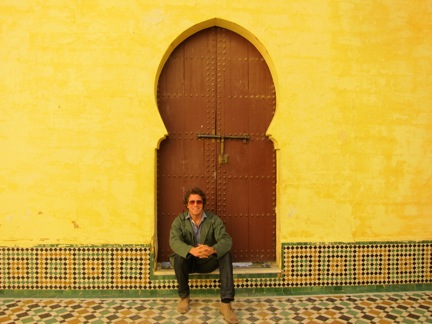 HOTELS
1. Casablanca - Hotel LeDoge
2. Fez - Riad Laaroussa
3. Marrakech - La Mamounia Marrakesh
FOOD
1. Terrasse des Epices, a rooftop escapes from the medina, Marrakech
2. Yacout Restaurant, Marrakesh
3. Dar Moha, Marrakech
4. Dar Hatim Restaurant, Casablanca
5. Cabestan Ocean View, Casablanca.
SHOP
1. Mustapha Blaoui - Great rugs. Arset Aouzale no. 142 Bab Doukkala, Marrakech.
3. Place Bab Fteuh - Silver jewelry and African beads at Boutique Bel Hadj (212 5 24 44 12 58)
4. Akbar Delights (212 6 71 66 13 07) - African and Indian fabrics.
5. Ben Rahal (212 5 24 43 32 73; 18 rue de la Liberte Beni Ouarain) - Tribal rugs, Tuareg tent mats handmade in Mauritania with reed and leather.
6. La Maison de la Photographie (46 rue Ahal Fes; 212-5-24-38-5721)