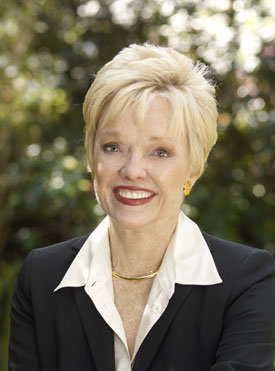 "Molly Barnes Art News", a radio program heard every Sunday night on radio station KCSN has been canceled. The show, which has been running for almost five years, apparently did not draw a large enough audience to be continued. When contacted about the cancellation, KCSN General Manager Karen Kearns provided the following statement:
Art News with Molly Barnes was a wonderful show and KCSN was fortunate that Molly shared her expertise with us. I'm certain there was a small, loyal audience but they did not help to financially support this program. KCSN is member supported radio. We must increase our audience and financial support to once again be eligible for Corporation for Public Broadcasting funds."
KCSN, which is based at Cal State Northridge, lost its CPB funding in 2009. The one hour block of interview programs where Barne's show was placed was canceled in order to broadcast Conversations from World Cafe a syndicated program from NPR.
Barnes, whose final show aired last Sunday, told me that she is "heartbroken" about the cancellation. A veteran of radio broadcasting -- she had a show on KPFK for nine years, and another on KFWB for 2 1/2 years -- Molly Barnes Art News offered a unique opportunity for a mass audience to hear the voices of important visual artists and others. Nominated for an Emmy for her work for the Falcon network in 1985, some of her interviewees over the years have included critic Hilton Kramer, artist Roy Lichtenstein, dealer Holly Solomon and also her friend Willem deKooning, who she is currently writing a book about.
A veteran art dealer with connections on both coasts -- she gave John Baldessari his first three shows -- Barnes has not missed a weekly broadcast during her entire affiliation with KCSN.
With the loss of Molly Barnes Art News, Southern California now has three remaining radio programs that cover visual arts topics: Art Talk with Edward Goldman on KCRW, Talk of the City with Laurel Paley on KPCC, and KUSC's Arts Alive with Gail Eichenthal and Brian Lauritzen
When informed about the cancellation, a number of prominent members of the Los Angeles art community offered reactions, and also paid tribute to Ms. Barnes.
Former City Councilman and photographer Gil Garcetti :
"I was very disappointed to hear about Molly's show being canceled. She was one of the very few radio interviewers who gave artists an opportunity to express themselves to a diverse audience. These were artists that sometimes were known by the listener but other times the listener was being introduced to an artist for the first time. This was important both to the artist and the audience. A few radio stations had art critics, but only Molly gave artists an opportunity to be heard in their own voices to an interested audience. That is what we will miss without Molly being there at KCSN."
"While I am very disappointed that "Art News with Molly Barnes" will no longer be broadcast on KCSN, I am certain that Molly will be airing her program, in the very near future, on another, more appreciative station. She is too talented a broadcaster not to be utilized in support of the local art community.
The art community listens to Molly because, in her love for art and her interest in artists and all creative people, Molly is completely sincere. Her sincerity, as well as her knowledge of art history and the social aspects of the art world, are evident in each broadcast. While Molly's interviews are always informative, she keeps her programs on the light side because Molly wants her show to be entertaining and creative ideas to be accessible to her listeners.
For the past two years, once each month, I would be a guest on "Art News with Molly Barnes". Being on the air with Molly was always fun. Molly and I would discuss four or five local exhibitions that we thought would be of interest to the Los Angeles art community. As an artist, I would love to talk about the technical aspects of the art works, the materials and methods used to create the works. Molly would handle the human interest side of the discussion.
Molly has been a part of the Los Angeles, as well as, the New York art scenes for many years. She is personally familiar with the most important artists, dealers, curators and collectors. Needless to say, Molly always had a tale to tell. With respect and delicacy, Molly would let her listeners in on many wonderful, and most entertaining, art world secrets. This was one of the unique perspectives that Molly brought to each of her programs, she shared with her listeners what made them feel more intimately a part of the art world that they loved and were fascinated with."
"Molly conducted what was (and, were it to revive somewhere else, will be) the liveliest and most substantial radio program on visual art in the LA area.
...You always feel as if she is learning something rather than showing off what she already knows or operating on some sort of agenda. As Molly learns, you learn. Her show was one of those phenomena that remind us that life is more about finding out than about knowing -- although Molly knows plenty."
Robert Berman, Art Dealer:
"It was a loved and warm personal insight into the sometimes cold world of art"
SUBSCRIBE TO & FOLLOW THE MORNING EMAIL
The Morning Email helps you start your workday with everything you need to know: breaking news, entertainment and a dash of fun. Learn more