This week, as more and more painters sent me examples of their recent works I couldn't help noticing the tremendous range of approaches being taken by representational painters. The contrasts brought to mind the cartoon above -- which I show to my art history students -- depicting the aesthetic "duel" between the French Romantics and Neo-Classicists.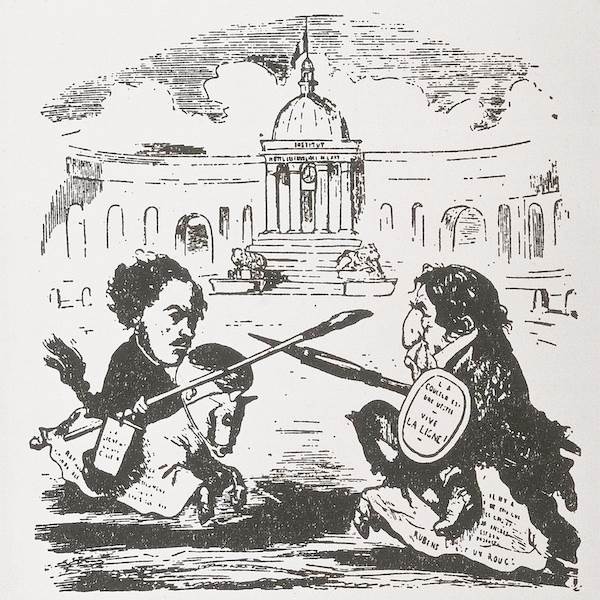 Left: A 19th century cartoon depicting a duel between the painters Delacroix and Ingres
The Romantics -- represented by the painter Delacroix, who does battle with a broad brush -- made paintings that emphasized color, emotion and visible brushstrokes. The academician Ingres -- who is shown on the other side of the duel, representing the Neo-Classical approach -- holds a pen to remind his opponent of the importance of line and drawing. Ingres thought that visible brushwork was "vulgar." The Romantics thought Ingres was a prig.
I see them as the Yin and Yang of representational painting.
We know now that both were great artists, but the clash of their sensibilities still resonates for contemporary representational painters. Some of the painters I admire -- including some that base their work on photographic sources -- value precision and finely tuned technique. Others load their brushes with paint and lean towards spontaneous effects and expressive gestures.
This week I found myself admiring both the bravura brushwork of Raegan Russell's "Not in Time," and the measured clarity of Leonard Koscianski's "Angry Bird." Seeing them side by side is exhilarating: the contrasts, both of technique and meaning, are jarring and stimulating.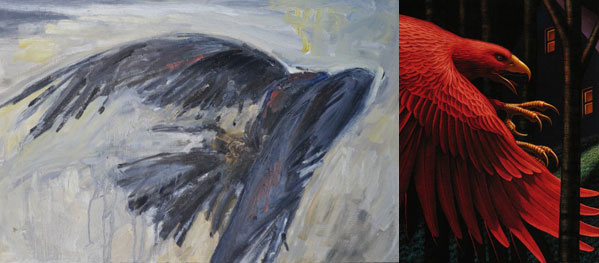 Raegan Russell's "Not in Time" (left); Leonard Koscianski's "Angry Bird" (right)
For this week's slideshow, I am going to let the paintings duel it out. I have tried to create some interesting juxtapositions where I could, and hope you will find the contrasts enlightening. Please, post some comments and rate the slides so that I can learn more about the taste of my readers. Do you take a side in this ongoing artistic conflict? Or are you like me: you like it all? Liking it all may be the reason I let this slideshow go a bit overboard and included 20 artists.
I should also mention that most of the artists this week have provided studio shots, and some insights into their studio practices. Artist Kyle Staver, whose work appears near the end of the slide-show wanted to present only her painting as she values the privacy of her studio. I also inserted one of my own paintings, since when I have a paintbrush in my hand I tend to take sides.
Leading off for the painterly painters: Karen Azarnia...
Painterly vs. Precise: 20 Painters 20 Studio Visits
"Walking Back" 34" x 40" oil on canvas www.karenazarnia.com

Karen Azarnia: "I generally work in oil, on stretched linen and canvas. I use a fairly limited palette, including Titanium and zinc whites, ultramarine, burnt sienna, quinacridone red, cadmium yellow light, lemon yellow, veridian, and lately turkey umber. I throw in other colors depending on the palette of a given painting I'm working on, for instance Williamsburg king's blue or cobalt violet. Lately I've enjoyed using white as a color. There is a vast range of whites available, and some are very warm with heavy body while others are much cooler. I spend a great deal of time mixing colors before I start working on a canvas."

"5711 Sepulveda Boulevard," 2010 30" x 62" Oil on Polyester over panel Marc Trujillo at Open Museum

Above: "5711 Sepulveda Blvd" on Marc Trujillo's easel, with his dog Ursa napping. Marc Trujillo: "The places I paint exist in the shared spaces of the everyday. Two hundred yards of polished concrete or linoleum gives me a little chill. I am captivated by the middle ground, the purgatory of the world we have made and share as North Americans, in a way that makes me want to paint it. The places in the paintings are locations that are non-destinations, particularly North American kinds of nowhere, at once ubiquitous and yet largely unseen. My interest is in the mix of shame and awe I feel, but also in the visual potential for painting of what am experiencing."

"The Chinese Takeout Restaurant," 2010 60" x 60" oil on canvas www.brianpaints.us

Brian Fernandes-Halloran: "While it is socially driven my painting process is highly introspective. All the scenes from the series I am painting called neighbors are of moments I witness on the block where I live in Lefferts Gardens Brooklyn. In preparation for each painting, I make multiple sketches from memory until I am comfortable with its overall compositions and effect. I originally wanted to make paintings about my neighbors as an act of admiration despite our cultural differences. Using the paintings to explore my interactions with my neighbors I began to realize the limited nature of my perspective. Many people I barely looked in the face and remained obscure to me despite our routine encounters and physical proximity. The painting process allows these partially acknowledged or obstructed figures to come into fruition on the canvas allowing social boundaries to be explored on a personal and human level. I am planning a pop up show in March to be held for two weeks on my street. The paintings will be displayed in conjunction with a booth for my neighbors to record responses to the work and some video installations of interviews. The show is being designed to encourage dialog on the shifting social dynamic where we live."

"The Blue Nude," 2010 146 x 88 cm oil and acrylic on canvas www.andrescastellanos.com

Andres Castellanos: " I have taught anatomy for artists at the School of Fine Arts in Madrid and been a copyist in the Prado Museum. These experiences have greatly influenced my working methods. When I have decided what I'm going to paint, first I shoot a lot of photos, then I move on to create a very detailed drawing, I start to paint with airbrush and acrylic, until I have the painting almost finished. Then the painting is finished with oil paint. I like to protect the completed painting with a high gloss varnish."

"Beacons" 2010 60" x 60" Oil on linen www.neilbrooks.com

Neil Brooks: " Really no start point in my mind for a painting. I try to sketch at least ten hours each week on the coast or in the coffee shops - so that really is where I'd say any given painting starts. I use to start with a small stretched canvas that I'd drawn and painted from life, but found myself always cutting them up in the studio and using them in a collage fashion and tacking them to my walls with drawings - mixing and matching. I find it difficult to work from photos, so I use drawings done on site. I will get a small idea in a corner or middle of a piece and it tends to "grow" - so I'd do a lot of gluing with archival glue from Talas supplies - and then draw or paint in "missing pieces" of the puzzle. With this in mind I now just start with a large six foot wide piece of linen no matter how small the original concept. I use Old Holland and Mussina oils and pints of RGH flake white, and heavy linen rather then cotton - much easier with large work - I make my own stretcher bars to save money. Stretching is usually the last step after painting is done. I don't really use an organized palette as such."

"The Angry Bird" 12" x 9" oil on canvas www.lkart.com

Leonard Koscianski: "When I was an undergraduate I copied 17 paintings in the Cleveland Museum of Art. I tried to follow each artist's method as closely as possible using modern materials. By copying great works from the Renaissance to Monet, I learned the vast potential of oil painting. Its long drying times may be frustrating for the beginner, but they make it a most flexible painting method. Its multitude of oils, mediums, and varnishes can be the beginners nightmare, but they are equally liberating for the advanced painter."

"Not in Time," 2011 20" x 30" oil on panel Raegan Russell: The image suggests an actual event which occurred nearly ten years ago. At that time I was driving my husband, who was undergoing treatment for stage IV cancer, to a doctor's appointment when I hit a crow- hard. It splayed across the windshield and in that instant I knew that my sick husband, Freddy was not going to make it. Hitting the crow was a harbinger.The first painting of this series is titled as such, and this one Not in Time aims to convey two levels of meaning. I did not brake in time, and at that moment I knew we had run out of time in fighting his illness. It was an extremely personal and emotional moment, and was something that I knew that I wanted to paint about, but I was too raw or close to it to see how I could paint about it in a way that made sense until now." www.raeganrussell.com

Raegan Russell: "I paint in my unheated carriage house all summer, but I have to bring it all into the warmth of at least a sunny basement during the cold Maine winter months."

"Zazalia," 2009 30" x 24" oil on panel Richard Murdock: "This painting is one of a series exploring ideas of beauty. Zaza seemed both proud of, and wanting to escape from, her physical beauty, which led me to make her a therianthrope. Although some people felt the painting was sexual in nature, the buyer appreciated the balance of allegory and reality." www.richardmurdock.com

Richard Murdock : "In my work I attempt to convey a higher truth through the quotidian, and feel that accurate portrayal of actuality aids in that, so I work hard to get the forms correct, and that often means changing them to be correct within the concept. I've developed a few shortcuts to help me draw quickly without sacrificing form. Color -- values, hues and chromas must be correct as well. I was fortunate to learn Graydon Parrish's color system. There are approximately 3200 colors that can be mixed with current artist paints, and Graydon's system allows me to know what colors I am seeing and mix all of them accurately. Being able to quantify color has enabled me to begin composing paintings according to color, not form, and to plan and execute subtle color combinations that a great deal to the surface and finish of the painting. It also frees me to think more deeply of things such as composition, edges, brush work and choice, etc. I use Williamsburg and Old Holland paints, and some Holbeins that have amazing chroma. Brushes tend to be softer, faux mongoose. Brands are W&N, Langnickel, and some Robert Simmons. My palette is plate glass, and my mediums are made from different viscosities of bodied oil mixed with Canada Balsam."

"Cleo's Jump," 2011 50 x 76 cm oil on canvas www.camillafallon.com

Camilla Fallon:" I try to keep the paintings open. Some of my best works are painted quickly, like a dance and sometimes appear effortless. I am reminded of the apocryphal Matisse quote: 'Madame the painting seemed to take only 5 minutes but it really took me 50 years.' Each painting is about the knowledge accumulated in order to make it. A painting can take a long long time but I really have to repaint the whole thing as a new piece every time."

Deluge, 2010 48" x 60" oil on canvas www.werteric.com

Eric Wert: "After years of working in dark basements and cramped guest bedrooms, I'm very lucky to have my dream studio. The easel is built into the wall, and is raised and lowered using the boat winch on the right. I used to work on a traditional easel that was difficult to adjust, and had a lot of back pain as I would find myself in awkward working positions throughout the day. Now I can easily adjust the height as I work around the painting. The easel is 8' wide, which allows me to work on several pieces at once. As for my palette ... it's total chaos."

"Anima Rising," 2008 60" x 72" oil paint on panel http://ginastepaniuk.com

Gina Stepaniuk: "The studio is my sanctuary and very particular to my personality and paint process. My space is on the small side so I am diligent in keeping the actual workspace somewhat clean and in order. My process can be a very messy one. I tend to mix my oil paint in washes working one layer at a time by using mono-printing techniques and a variety brushwork. I start a series by painting small studies. This allows me to delve into the physicality of the medium and explore different ways of applying the paint before moving on to a large-scale. I prefer to work in natural light and have installed a grid of daylight compact fluorescent bulbs. I do my best to maintain an environmentally green studio by reusing tin cans and plastic tubs for mixing paint, filtering odorless turpentine and I also have and use a gazillion brushes that I cherish. I keep them extra soft by soaking them in hair conditioner. My work is anchored in the landscape genre. I am constantly finding ways to deconstruct and re-interpret the landscape to represent nature as a holistic biological system that includes all living beings. Overall my process invites spontaneity, intuition and self-trust. I work best in an atmosphere of discovery. I have deep reverence for the painting tradition and often reference historical landscape genres from Impressionism to Abstract Expressionism in my work. "

"5th Avenue Reflections," 2010 100 cm x 100 cm oil on linen www.nathanwalsh.net

Nathan Walsh: "'I deal exclusively with the urban landscape, and make paintings which create light and space independent of photography. The work is often multi-layered, translucent glazes of oil paint are built up using brushes and a spray-gun. The aim is to present a painted reality which questions how we view the world around us."

"City Park," 2010 24" x 24" mixed media on panel www.samfaix.com

Sam Faix: "I incorporate a lot of collage as well as dripping paint into my work, regularly turning the panel ninety degrees during the early stages of a painting. This allows a network of drips to form an irregular grid that the rest of the painting and collage can work against and lock into. I typically don't begin a painting with a particular subject in mind, associations and ideas come forward and recede until something sticks."

"Still Life with Oil Bottle", 2011 16" x 24" Egg tempera on panel www.johnwhalley.com

John Whalley: "This work in progress is an egg tempera painting being done on a gesso panel. Egg yolk, mixed with distilled water and added to the pigments, makes delicate, translucent films that are built up layers to create a luminous range of textures and colors. This composition includes an old tin, grapes, and a bottle of linseed oil given to me by my mother - used when she was a student at Pratt Institute in Brooklyn NY in the 1940's. I remember using some of that oil in my first oil still life painting done when I was just 8 years old."

"Still Life with Wine and Cheese," 1994 47" x 47" oil on canvas seedonart.blogspot.com

John Seed: "I don't have a current studio shot, so I have included this vintage photo. It helps me make one point, and that is my studio has always been a paint spattered mess. My nature is to be spontaneous."

"The Pawning", 2010 87" x 142" oil and wax on canvas www.rvonkaufmann.com

Ruprecht von Kaufmann: "In this picture one can see the three working tables that are in use in my studio at the moment. The one in the back to the left has a two plate cooker and a metal tub, in which the wax the wax medium can be melted. I like mixing wax into my oil paints because of the wonderful textures one can achieve, and still retain some translucency to the paint-layer. I also like the matte surfaces that using wax can produce."

"Christmas Lake Turtle Hunt," 2009 50" x 70" oil on linen www.kylestaver.com

"Figured Still Life," 2010 60" x 72" oil on canvas Dominic Cretara

Dominic Cretara: "My palette currently consists of : Cremnitz white, burnt umber, burnt sienna, Venetian red, alizarin crimson, cadmium red light, yellow ochre, cadmium yellow light, cadmium orange, ultramarine blue, mars black, permanent green light, and sap green. I will, of course, add other pigments to my palette if I feel they are necessary to what I am trying to accomplish in the painting. After a lifetime of experimenting with media I have gone back to using a lean medium of sun thickened linseed oil (fast drying), damar varnish and lots of turpentine. I have gotten to the point where I no longer want to spend a lot of time playing alchemist with exotic, difficult to find materials. With experience I have found that I can use a fairly simple medium (and I use that quite sparingly) to do all the things I want the paint to do. For the last several years I have exclusively used hogs hair, bright brushes of all sizes."

"Self-Portrait 20," 2005 48" x 64" oil on wood www.brendagoodman.com

Brenda Goodman: "My work is about life: the really good times, the really bad times. I paint a lot about loss because painting it is the only way I know to move through it. I paint a lot about the feelings of not belonging. I paint about what makes me sad, glad, angry, peaceful, hopeful or defeated. I paint about life as it ebbs and flows: openly, honestly and from my heart."

"Kurzzug Anfang," 2011 15" x 20" oil on panel www.jeffcohenstudio.com

Jeff Cohen: "The way I work accommodates both my severe ADD and my extreme nearsightedness. Breaking the task of painting a large, complex composition into small, manageable pieces takes care of the ADD, and having the ability to take off my glasses and work on details with tiny brushes, one square at a time takes care of the nearsightedness. Neither of these issues are why I started painting in my "fragments" style: that was an aesthetic decision. But they probably have a lot to do with why I have kept at it. I work in oils with a little Galkyd mixed with odorless mineral spirits and linseed oil for medium."

"Broadway with Circuit City in Winter," 2003 57" x 76" oil on canvas www.marilyons.com

Mari Lyons: "My approach is not perceptual; I am not trying to paint what I see but rather to evoke the mystery of what is there by means of a structure and color and line that exist parallel to nature."
Follow John Seed on Twitter: www.twitter.com/seedhuffpost