At the Organic World Congress in Modena, two researchers for the Pesticide Action Network (PAN), Alexandra Perschau and Damien Sanfilippo, list the problems created by conventional cotton production. Their research is summarized in a PAN report:
- Conventional cotton farming requires $2 billion worth of chemical pesticides, an economic and environmental burden for cotton farming.
- Conventional cotton farming is responsible for 25 percent of global insecticide releases, more than any other single crop. (The Sustainable Cotton site says that cotton cultivation uses approximately 11 percent of the world's pesticides, though grown on just 2.4 percent of the world's arable land. Some of these chemicals are classified as toxic or carcinogenic by the U.S. Environmental Protection Administration.)
- Of all cotton workers, 99 percent are in developing countries, which produce 75 percent of world cotton. Pesticides in these countries kill many workers because of illiteracy among workers, poor labeling or spraying practices by farm managers and inadequate safeguards to protect workers and their families from the pesticides.
- Pesticides in cotton farming are a substantial threat to global freshwater resources.
- Cotton monoculture is a threat to biodiversity.
Consumer-Driven Growth. Organic cotton production is now being supported by consumers in developed countries and employs approximately 100,000 farmers, offering the beginning of a strong environmental alternative.
For example, U.S. presidential candidate Barack Obama offers a premium for contributors in the form of an organic-cotton tee shirt. This is done presumably in part to help establish his credibility as someone who cares about environmental issues. A tag attached to the tee shirt says "Endorsed by the Sierra Club."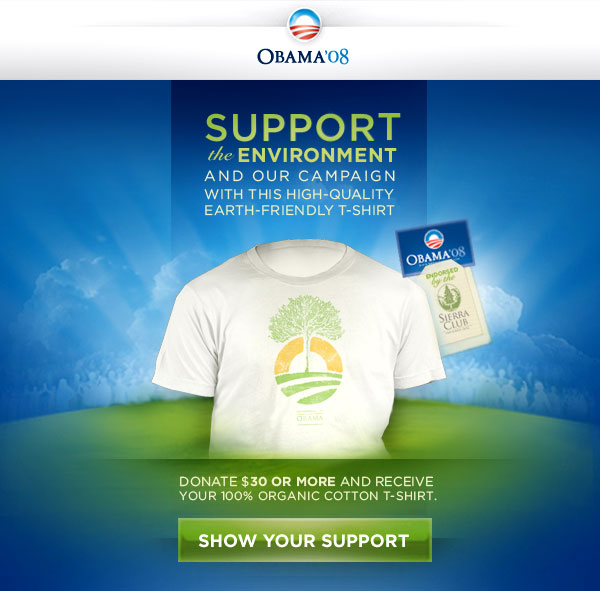 Increasing Sales. Demand for organic cotton from the apparel, home product and personal care industries has pushed global organic cotton production up by 53 percent between the 2005-06 and 2006-07 harvests, says the Organic Exchange (whose chair Jill Dumain I profiled in Green Edge 1) in its 2007 Organic Farm and Fiber Report . World production is 57,931 metric tons, or 265,517 bales, produced in 24 countries. Organic production means farming so as to maintain soil fertility without toxic and persistent pesticides and fertilizers and without genetically modified plants.
The Organic Exchange forecasts global sales of organic cotton products will quadruple to $2.6bn by the end of 2008. Turkey, India and China lead organic cotton production, with nearly half (45 percent) of organic cotton grown in three near neighbors on the Mediterranean - Turkey (where Topkapi Iplik has seen sharp growth in its organic yarn-spinning sales), Syria and Israel. The topic is covered by Just Style.
The scientific papers in the Organic World Conference organic fibers-and-textiles track (based at the Rocco Auditorium in the high-fashion town of Carpi, near Modena) are mostly about organic cotton because cotton is the world's most important nonfood crop and organic cotton is the main form of organic fiber.
Organic Cotton Standards. Five sessions at the Conference are essentially devoted to organic cotton standards. Private brands that buy cotton textiles are driving the demand for organic cotton, and these buyers have international supply chains. The international nature of the business means that standards have tended to be private and international.

The Global Organic Textile Standard (GOTS) organization has created an International Working Group to develop and implement standards, and the group is working in this direction with the ISEAL Alliance, the global association of voluntary standard-setting and accreditation bodies. ISEAL's members include the International Federation of Organic Agriculture Movements (IFOAM) - the trade association that sponsors the Organic World Congress and sets broad standards for organic products that are reflected in regionally oriented standards like the Naturland standard in Germany and the Helvetas standard applied in Africa and Asia. ISEAL members also include the International Organic Accreditation Service (IOAS), which accredits organic certification bodies.
A downside of organic production is that it is far more labor intensive than conventional production. There's a reason that 99 percent of cotton workers produce only 75 percent of output. That is why growth depends on action by buyers. A key to the future of organic cotton is improved productivity and increased demand will help make this possible.
SUBSCRIBE AND FOLLOW
Get top stories and blog posts emailed to me each day. Newsletters may offer personalized content or advertisements.
Learn more