Reporting from Kennebunkport, Maine, for the New York Times/International Herald Tribune, Elisabeth Bumiller wrote today that John McCain seemed like "the wallflower at an international political dance... campaigning at the quiet summer home of the first President Bush while the worldwide news media spotlight beamed down on Senator Barack Obama in Baghdad."
Asked for comment on the media attention Obama was drawing for his trip, McCain simply said "It is what it is."
But Bumiller writes that she got a less-resigned reaction from McCain's entourage.
McCain's comments were mild compared with the bleak mood and frustration on the part of his advisers, who have taken to referring to Obama sarcastically as "The One" and railing against the large amount of coverage Obama is receiving compared with McCain.

"There is nothing you can do about it," said an acerbic Mark Salter, one of McCain's closest advisers, while standing at the back of a modest crowd assembled to hear McCain speak at a picnic in South Portland, Maine. "'The One' went to Europe, and homage must be paid."
Oprah Winfrey famously referred to Obama as "the one" in December last year, introducing him at an event in Iowa. "I feel compelled to stand up and to speak out for the man who I believe has a new vision for America... I am here to tell you, Iowa, he is the one. He is the one!"
CNN Outtake video from the Kennebunkport event available at MeFeedia conveys the mood yesterday fairly well.

Earnestly hitting his talking points against the gray-sea backdrop and in front of about 15 half-interested media people, McCain seems off, wandering after his brief words here and there on a small area of the Bush Family's tony outpost to the world.
At one point the first President Bush, looking tall and relaxed, volunteers a tour of the grounds to some of the media in attendance. "I think they need to... go cover the senator," someone reminds the president. "They'd rather be here," Bush says joking.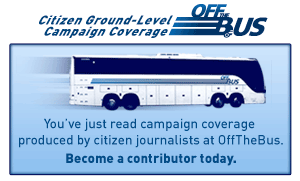 SUBSCRIBE AND FOLLOW
Get top stories and blog posts emailed to me each day. Newsletters may offer personalized content or advertisements.
Learn more