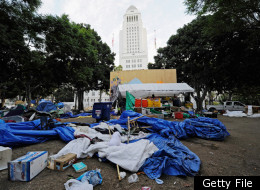 May 1st is a traditional Worker's Day observed in Los Angeles with marches for immigration and unions, and this year's May Day was also the call for a general strike led by the Occupy movement. Occupy Los Angeles called for actions around the city, which was highlighted by an Occupy LAX demonstration and workers strike. The epicenter of these protests were to be in downtown at 6th and Main, on Gallery Row (easily confused with Skid Row, which is basically the same place).
I have been working on a documentary for the past few years called PAY 2 PLAY, which explores the epidemic of money in politics, using parables from Monopoly and Street Art to help as examples of corporate versus individual speech.
As May Day approached, I wanted to mark the day with a great display that would excite, empower, and inform. As you'll (hopefully) see in our documentary, a lot of work and ingenuity went into bringing about the massive Monopoly board. I was fortunate enough to have some L.A. street artist friends who could help pull this off. The topics in our film are reflected on the game board, and each square reflects an obstacle to democracy in our Pay 2 Play system.
With no advance arrangements, it was a little sketchy if we were going to be able to do it at all. Would there be a shut down intersection? Would people show up? Would police stop us? Would others like it?
After a lot of police presence and expectant media had saturated downtown, we seized the opportunity to take over Broadway and 6th with our massive board game. The response was amazing. If the goal of street art is to share the inspiration and energy with others, their response and enthusiasm cans end that energy right back to you.
The May Day PAY 2 PLAY Board Intersection Takeover
As the PAY 2 PLAY Board was unfurled and taped down, people took pictures and were reluctant to step on it at first.

Many people had been hanging around waiting to see marchers from Occupy or Immigration marches. After the board was laid out, a crowd started to gather.

It was great to see how many people started snapping their own pictures. Some even called friends to tell them about the huge monopoly board they were standing on.

The intersection of 6th and Broadway got busy as merging protests from Occupy crossed paths with major immigration marches.

The immigration march was considerable, and also reflected voices shut out by the Pay 2 Play System.

It was great seeing people notice the board while they were marching across it and smiling at it.

The updated corner square for the PAY 2 PLAY Board reads "You Can't Jail a Corporation."

I don't know why this image is so adorable to me, but it is.
Follow John Wellington Ennis on Twitter: www.twitter.com/johnennis