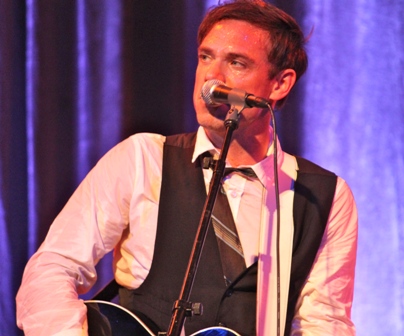 Mikel Jollett - Photo by Jon Chattman
The Airborne Toxic Event has sort of a magical thing going on. You hear one of their songs for the very first time, and almost instantly, it feels like you know it already. Their epic breakthrough single "Sometime Around Midnight" -- off their 2008 self-titled album -- is that kind of song. It cuts to your core, wishes you had the ability to write it, and places you in the bar they're singing about. You can identify with most of their songs, and on Friday, a New York crowd ranging from Twilight tweens to older men sporting pot bellies surely did.
That night, the California natives performed two sets at Town Hall in Manhattan -- one showcasing their acoustic, sensitive side and the other focusing on their sing-along, rock-your-ass mentality. Both sets -- roughly 40 minutes each -- killed. The concert was the final night of an impressive, aggressive week-long multi-venue residency in New York tied to their new album All at Once. Since February, the band -- which consists of Mikel Jollett (vocals, guitar, keyboards), Steve Chen (guitar, keyboards), Anna Bulbrook (viola, keyboards, tambourine, backing vocals), Noah Harmon (bass, backing vocals), and Daren Taylor (drums) -- have been in the midst of a multi-city series of residencies that started in Europe, hit Los Angeles last month, and ended up in the Big Apple last week. Each residency has found the band moving from small-to-large venue nightly.
Anna Bulbrook - Photo by Jon Chattman
On the final night of their New York stay, the band was ready to rock and party (I'm certain every band member had some form of alcohol in hand for most of the night). During the unplugged set, they moved the crowd with stripped down performances of song favorites like "Wishing Well" and standout "Gasoline." They even worked over covers of Johnny Cash's "Folsom Prison Blues" and Bruce Springsteen's "I'm on Fire." While the first half of the show was impressive, the band really caught fire in the second act, performing kick-ass tunes including "Happiness Is Overrated," "Midnight" and "All at Once." While the band failed to play what I consider their best song ever ("Welcome to Your Wedding Day" -- a battle cry off their new album) and the intermission between sets killed some momentum, they brought their A-game track by track and proved that they are so much more than "Midnight."
Watch their music video for "Numb" here.
SUBSCRIBE TO & FOLLOW THE MORNING EMAIL
The Morning Email helps you start your workday with everything you need to know: breaking news, entertainment and a dash of fun. Learn more