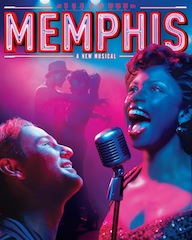 The most soulful new musical on Broadway ironically was created by a world-famous, curly-haired keyboardist who happens to be Jewish. Yep, David Bryan, who has played the keys for Bon Jovi since yours truly was in diapers, has co-written the new musical Memphis, a clear Tony frontrunner that's blowing the roof of the Shubert Theatre. The show, set in the segregated south, centers on a white radio DJ named Huey Calhoun (Chad Kimball) who shakes up the town when he falls for a black singer named Felicia Farrell (Montego Glover) and starts playing soulful music mainstream whether people are ready for it or not.
I caught up with the two leads -- Kimball and Glover -- and asked them what it's been like to be a part of the latest Broadway smash. (While her husband waited for every last health care vote to be counted, Michelle Obama took her kids to see the Broadway musical last night). While the two have appeared on Broadway before (Kimball's credits include Into the Woods and Good Vibrations while Glover made her debut in The Color Purple), the pair say this is -- by far -- the biggest moment they've ever had on the stage.
You're both veterans of Broadway -- but how'd it feel to originate a part from the get go?
CK: I've originated other roles, but to create a role that wasn't based on any one real person in a musical that is absolutely built from scratch and not an idea borrowed from a book or movie or previous creative entity is incredibly satisfying. It's what I've always endeavored to do and that dream has come true for me.
MG: It's literally a dream come true for me. First to present Memphison Broadway, and second to originate the role of Felicia Farrell. When I read the first draft years ago I thought the piece had such heart and potential, and that it deserved a Broadway stage. It's been so amazing to be a part of all of it actually happening!
The two of you have wonderful chemistry on stage is this something that happened instantly or you had to work toward?
MG: I can say for myself that I felt the chemistry right away with Chad. I remember our first meeting was a callback for Memphis. The casting director put us together to read. We introduced ourselves, and the scene we had happened to be a kissing scene. Well, we read, we kissed, and when we pulled back I thought "This is the guy." We've been working together since. Also, Chad is a very generous, passionate actor and he makes it easy to open up and give onstage.
CK: I think a large chunk of the chemistry we share was present on day one...that final callback six years ago when we read the scenes together and smooched. It was definitely there, but Montego and I have also grown together. In our separate endeavors over the last six years, we've always had the dream of Memphis opening on a Broadway stage. We are in tune with each other. Montego can finish some of my sentences! I relish that kind of depth of friendship.
Heading into it, were you surprised David Bryan of Bon Jovi could write such soulful tunes?
CK: I'm never surprised when someone steps out their "element" and creates something new. When I heard those first songs at that first table read six years ago, I thought, "well, this is the kind of finessed originality Broadway has been looking for" -- and I was humbled to be a part.
MG: Not at all. David is a gifted songwriter. He has a natural ear for this kind of music, and he writes like a storyteller, which is exactly what we're doing in this piece. He understands this story and therefore understands the musicality of it.
What's your favorite Bon Jovi song?
CK: "You Give Love a Bad Name." Just love it.
MG: "Livin' on a Prayer!"
The show regularly gets standing "O's" -- are you surprised that the reviews and audiences have been as kind to your show as they have?
CK: Absolutely not. From our first preview at North Shore Music Theatre, [there was] sheer excitement.
MG: No, because I've always believed in Memphis. But I do think our audiences and reviewers are responding to the great deal of hard work, genuine creativity, attention to development, detail and enormous talent both on and off our stage. Memphis is accessible to everyone.
What's your favorite musicals ever and why?
CK: I love Sweeney Todd by Sondheim. He writes music that no one would ever have imagined would be accessible to a wider audience, yet it is. Complex? Sure. But people are complex.
MG: My favorite musical ever is Memphis...seriously. I have never been so intimately involved with a project, nor have I ever had the opportunity to grow so completely both as an artist and as a woman than with this project. Memphis is special because of what it says and what it has allowed me to learn.
SUBSCRIBE TO & FOLLOW ENTERTAINMENT
HuffPost Entertainment is your one-stop shop for celebrity news, hilarious late-night bits, industry and awards coverage and more — sent right to your inbox six days a week. Learn more