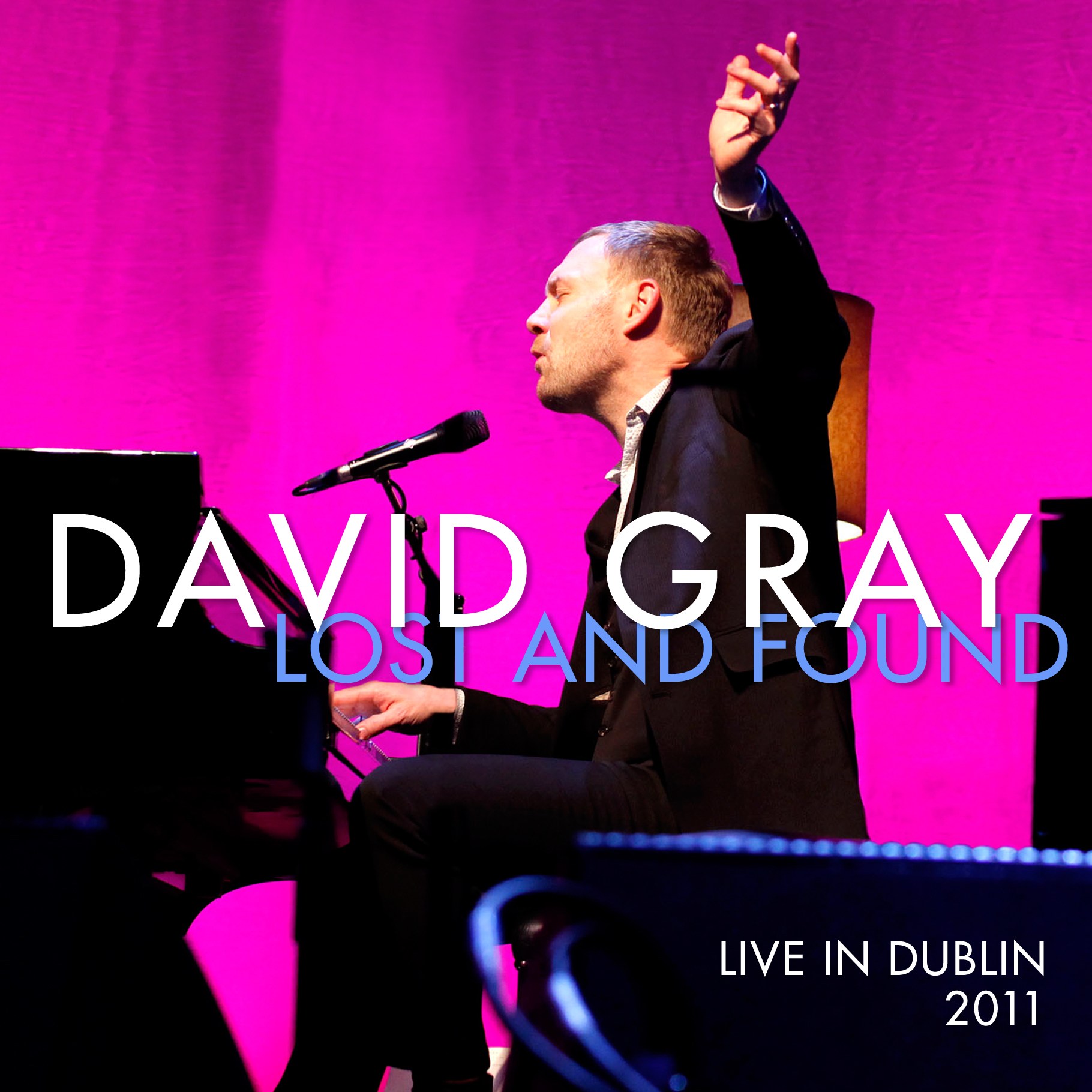 What a difference a year doesn't make. Last summer, I sat down with David Gray in SoHo and discussed his new album and tour. Last Friday, I chatted with the English singer/songwriter hours before he took the stage in North Charleston, SC and found him literally talking about the same thing -- albeit with a fitting twist. In a July 1 interview, the prolific musician, once again ever so humble, discussed being on the road for almost the entire year, and working on his latest album Lost and Found, his third in under two years.
Lost and Found is a live recording of a recent tour stop Gray and his band made in Dublin featuring tracks off his most recent Foundling and Draw The Line albums. It's available exclusively through Groupon for just $6. The partnership between the Englishman and the web wonder company was a delightful coincidence Gray explained. He had had the Dublin shows recorded to document what he believed to be his best tour to date (he credits an eclectic mix of seven musicians -- ranging from cellists to guitarists -- on the tour as the main reason) and possibly release it eventually. With a recording that he never thought the masses would hear in the short term, Gray was delighted when Groupon came calling his team for a possible collaboration last month. "It all came together so quickly," Gray said.
Before we get into the album -- it seems you've been touring literally every day for the past year. Was that part of the plan?
We weren't planning to tour so much but it's been so fun so we've kept adding dates.
Is that part of the reason for Lost and Found -- a way to sort of celebrate and culminate the year?
Yeah -- in a way. Obviously we were not intending to release it so soon. It just came about upon happenstance. Groupon approached us to do something, and we told them we already were filming and recording. When I first heard the results, I was blown away. This tour has been a revelation. I've never heard my music sound so good. They proposed to release it in this experimental way, and we said yes. It's an experiment for both of us. They'll actually be a cd [eventually].
What do you attribute to your sound, well, sounding so good?
The way that we voice the songs... they can breathe on stage. You take the volume down in order to have real instruments. You have to keep it quieter. You're basically in a big room with too much sound -- you have to contend with those on stage and usually all you have is a rumor of what it sounds like. The sound is very good. It's given it total clarity and intimacy that it so badly needs. The performance now is like a recording session. I'm relaxed up there now, and we were able to bring together songs from the first album to songs I'd just written now, and make it look like a body of work rather than separate.
In terms of the Groupon deal, what do you make of technological ways of making music more financially assessable to the audience? Lady Gaga, for example, had her new album sell for a dollar on Amazon. This Groupon collaboration could see similar partnerships for other artists...
I don't know...
It's better than stealing obviously...
I guess so. People give cds for free with papers in England. They know it's the touring ticket that makes sense. It probably makes more in publishing then selling it. Everybody tries to work angles in all ways. There have been great successes like Radiohead, but you can only play the trick once. Groupon is an experiment. They have a database of tens of millions of people. We'll see how it goes. We'll relaunch in two weeks. This is just a record that didn't exist until a couple of weeks ago. It was something I unexpectedly had. It fits the niche for this certain time.
You co-headlined with Ray Lamontagne last year. The two of you had a nice rapport together and your songs meshed well back-to-back. Would you consider working with him in the studio as well?
We've exchanged a couple of emails. He's busy doing his thing. I have great respect for Ray. It was fun and the tour really worked... his people and our people -- it all just really worked. We didn't tread on each other.

Shifting gears, have you started working on the next record yet? Have you written a bit on the road?
I've written a few songs. I'm starting to think seriously about it now. There's a new upwelling of ideas and a new hunger.

Can you ever just kick back and relax?
Kicking back and relaxing is a challenge for me. I like being out in nature, walking in the wild life... it takes me away from things. But, I'm not a great relaxer. I'm not very good at slow down mode.


SUBSCRIBE TO & FOLLOW ENTERTAINMENT
HuffPost Entertainment is your one-stop shop for celebrity news, hilarious late-night bits, industry and awards coverage and more — sent right to your inbox six days a week. Learn more