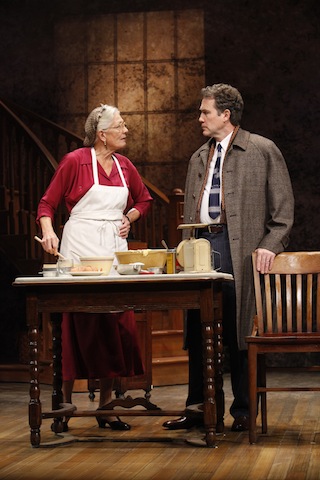 Boyd Gaines has won four Tony Awards, but he's still a bit modest about it. "It's not the kind of thing I think a lot about it," he said. "So many people are more talented and I'm sure more deserving." Don't listen to him.
The Broadway veteran, who won Tony's for The Heidi Chronicles, She Loves Me, Contact, and Gypsy, is back on the city stage appearing in a revival of Alfred Uhry's Driving Miss Daisy opposite acting royalty James Earl Jones and Vanessa Redgrave. Gaines portrays Miss Daisy's loving but suffering son Boolie.
In Daisy, Gaines jumped at the opportunity to spar with the two acting heavyweights, and a chance to return to his southern roots. I spoke with him recently about the show, his career, and if I could snag one of his Tony's.
You have four Tony's -- any chance I could get one?
Of course. You can have them all.

Really?
Yeah, but you'll have to wrestle them from my mother.
OK, let's get serious. You're sharing the stage with two icons in the business. What's Driving Miss Daisy been like thus far?
What's not to like? You have two of the greatest actors of the age, and they're fascinating to watch and just delightful people. They have been unbelievably generous to me.

You're a Broadway veteran, but I'd imagine there's a lot to learn from them.
The ideal position to learn is to work with your betters. I just watch their example. It's in their unrelenting approach -- they're never satisfied -- [yet] they're very collaborative. Even when they want to try things, it's done so with the kind of attitude it's with your permission. They're both incredibly hardworking, and very, very studious. They're methodical and very open to impulse. It's kind of a clinic in how to do it.
I feel like I learn from them all the time, but most of the time, I just get wrapped up in the performances. Every now and then I'll have a moment and it'll dawn on me I'm on stage with Vanessa and James.
Take the money.

Good one -- seriously.
Most of all, I start with the text. If it's set in a period, you do as much as you can -- which mostly consists of lots and lots of reading. You ask a lot of questions, and then you really just set out with the other actors and director and try to basically come to an agreement with the story based on the text.
Getting to your role in Daisy, is it difficult playing son to what's essentially a difficult character?
She's not affectionate. It seems to me he seeks her affection all the time. She's cranky, and I think she's quite lonely, which is not something she would admit. She's also a major control freak, and he tries to be the best son he can be.

Did you see Daisy on stage or screen prior to jumping in?
I never saw the play, but saw the movie when it came out. I remember enjoying it very much.
I'm from Atlanta so it seemed familiar to me.

So you see yourself in the character?
Oh sure. All characters the characters you play are you to a certain extent. But yes, I'm southern, I have a mother, and I grew up in Atlanta as a teenager during some of the time the play takes place. It evokes a lot of feelings I have from that time. I think the character tries to do the right thing. My relationship with my mother is totally different, but there are certain truths inherent to all mother/son relationships so generally speaking you try to embrace the things that are the similar.

Do you think the timing is right for Daisy to be revived now?
I do. It's a story about conflict of hierarchy and status ie., race, and a relationship that overcomes that. It finally boils down to basic human relations. People get along or they don't and eventually become close or split apart. I think particularly in this age of Obama, it feels like we're treading backwards after a couple hopeful years. Racism hasn't really gone anywhere -- it's just ducked its head under sand for awhile.
SUBSCRIBE TO & FOLLOW THE MORNING EMAIL
The Morning Email helps you start your workday with everything you need to know: breaking news, entertainment and a dash of fun. Learn more