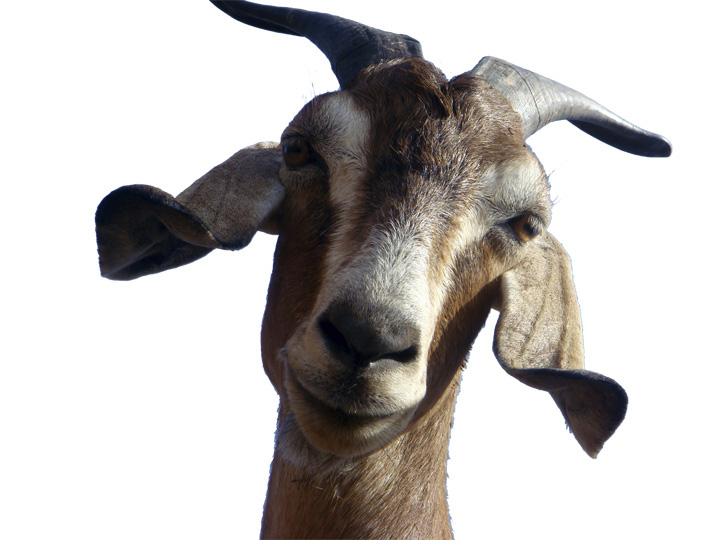 Goat Mcnealy may not be a household name yet, but odds are, he will be soon enough. The Vail, CO native is generating buzz for stealing scenes away from Hollywood elite players George Clooney, Kevin Spacey, Jeff Bridges and Ewan McGregor in the upcoming comedy, The Men Who Stare at Goats. While it's a tad early for Oscar buzz, Mcnealy is turning heads as the title character in the adaptation of Jon Ronson's novel. (We'll omit a precious few critics who dismiss the performance - likening it to Courtney Love's "less-of-a-stretch" performance in The People vs. Larry Flynt).
In an exclusive interview for the Huffington Post, the now Los Angeles-based actor, took time out from a busy press tour to discuss his costars, making the film, and his breaking from the herd. After all, it was only two years ago that the star left home to pursue acting - scoring almost instantly with a role in the illustrious Chicago-based Animal Theater Company's adaptation of George Orwell's "Animal Farm." Here's the interview with the humble actor who many are calling this generation's "John Cusack on four legs."
As an overnight sensation of sorts, how have you dealt with your sudden burst of fame?
You know my childhood herd really keeps me grounded. I just keep them around me and of course include them in the perks. Sure, premieres are fun, but sometimes grazing with old friends can be just as much fun!
Speaking of which, what was it like grazing with George Clooney?
He's great! What an honor to work with someone with his talent. A consummate professional.
How difficult has it been avoiding the paparazzi?
It comes with the territory. Did I get into acting for fame? No. Do I sometimes like the attention? Yes. I'm only a goat, right?
You bring up an interesting point. Do you, as a goat, ever find yourself staring at men?
Well, I do find myself staring at women, not to kill them or anything....
Do you hope this film will raise awareness that goats are more than their hair, meat, and milk?
That's a great question but I'm no activist, I'm just an actor.
What are your hopes for this film's success? The trailer looks great by the way.
I'm hoping to branch out into several avenues, including TV, Music and products, in fact I'm actually starting my own line of goat cheese.
That's actually quite disturbing, but anyway, can we expect a sequel where you're front and center?
I don't want to reveal any spoilers, but I will say my agent is negotiating something big.... and lucrative.
Mr. Clooney and others sport wonderful mustaches in the film but who would you say has the best mustache ever?
Mmm, good question but I much more prefer the "goatee," if you know what I mean.
I don't, but that's OK. Last question - what do you make of the journey you're on?
The whole ride has been a real trip , I'm just happy to be doing what I love.
SUBSCRIBE TO & FOLLOW ENTERTAINMENT
THE spot for your favorite fan theories and the best Netflix recs. Learn more