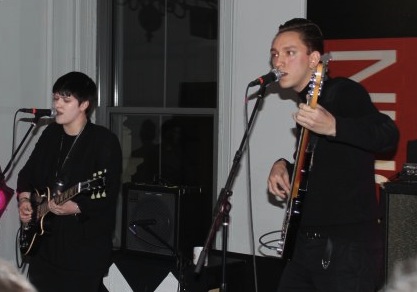 The xx's Romy Madley Croft and Oliver Sim perform March 31, 2010 at SPIN headquarters in SoHo (NYC) as part of the Vans Soundcheck series
So many bands are easy to pigeonhole into a specific genre or associate with a similar sounding group because they come packaged with a "been there, done that" vibe. That's not the case for the polished-yet-young-as-hell London band The xx, who have deservedly been gaining momentum since dropping their debut album last August.
Consisting of Romy Madley Croft, Oliver Sim, and Jamie Smith, the band - whose members have known each other practically since the womb - have been singled out by MTV, NME, and Rolling Stone as a band to keep an eye out for. With their single "Crystalised" in heavy rotation of late (on Sirius radio at least), it seems The xx are indeed the next big thing. As they wrap up a headlining tour and prepare to hit the road with Hot Chip, I spoke with Sim, 20, on the band's rise.
You're currently headlining a couple shows, but will soon open up for Hot Chip. What's the major difference between warming up and batting cleanup?
With the last support we did, it's kind of more like you're selling the songs you had. When you play your own show, the people know your songs and I think we just feed off of it. Like all artists, the audience response is what makes it. I believe with a lot of support shows, people are very much there to see the headliner. You don't necessarily have their full attention, and some of what we do, requires a lot of silence.
You and Hot Chip both graduated from the Elliott School in England. What is it about that school that makes for some pretty amazing alumni. I mean people who graduated my school are essentially just known for being accountants.
It's a regular state school but it's not specialized in music. It's got 2,000 students, and it's just very mixed. It's a language school in that students come from all different backgrounds and cultures. There's so much going on. I will say that there is a lot of time allowed to work things out yourself. It's not only about book work. If you want to take music lessons, you just go into the rooms and play around. You can experiment a little.
How'd you put this debut album together? How long did it take?
Well, it's a case of any debut really. It's all of the songs we've ever written. I met Romy in kindergarten and Jamie when I was 11. It's all songs written from the age of 15 and up.
You know each other for so long, do you tend to drive each other crazy?
It's like a sibling relationship. We kind of argue frequently but it's the smallest arguments ever. We're very honest and don't let things build up. It's like if we were home not doing this, we'd just hang out anyway.
How'd you come up with the band name?
I think we went for something with a strong visual presence. We liked xx because it was quite a void answer of a name. There was so many connotation room to make up your own explanation of what it meant: kiss kiss, xx chromosome, or pornography. It all seemed like a strong, impactful, almost symbolic name.
The meaning to the lyrics also leaves room to some interpretation...
My lyrics and Romy's are very separate from the start. We're almost separate artists. We're kind of the songwriters as our main focus while Jamie's of the instrumental base. My writing has changed a lot. From 16-to-19, I've changed a lot. My kind of writing in the beginning was very observational now it's grown very personal for me. I use it as a diary in many ways.
You seem to be reaching the mainstream or heading there anyway. "Intro" was used for Olympic promos, and your songs are getting a lot of airplay. Can you describe that feeling?
I definitely think things seem to keep on growing - snowballing really. I remember our album launch party in August, we did two and each of them had a 120-people capacity. We were very worried if we would sell that out. Our next London show is 5,000 people. That kind just seems huge.
Was hearing your song on the Olympics surreal?
Actually no because it only aired in the states. It was a big honor to be asked for that kind of campaign, but we never really saw it and were unaware.
Are you noticing your popularity is bigger in your homeland than here or not necessarily?
I think a lot of the support we're getting is coming from America. We're noticing that people have been incredibly responsive to the album. They know it from start to finish, and have been so welcoming and warm. Things are going very well back at home too, but it's a bit surreal in America. We've done six weeks and it's completely sold out.
And "Crystallized" seems to be a breakout single. Did you think it could be?
I could kind of recognize it as the most accessible of the songs we've written. But, we never thought it would be a hit and I still can't recognize it as being that. We've just been traveling so much, we haven't been able to take anything in.
Bottom line, what's the best case scenario for The xx?
My own personal goal is I just hope to still write songs and kind of let that sustain me as a job. If I could never have a 9-to-5 job, and making a living doing this, it'd just be incredible.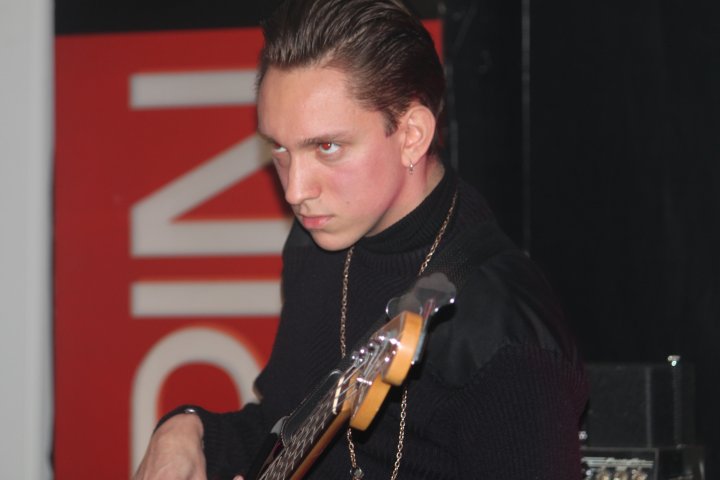 Photos/Jon Chattman
SUBSCRIBE TO & FOLLOW ENTERTAINMENT
HuffPost Entertainment is your one-stop shop for celebrity news, hilarious late-night bits, industry and awards coverage and more — sent right to your inbox six days a week. Learn more