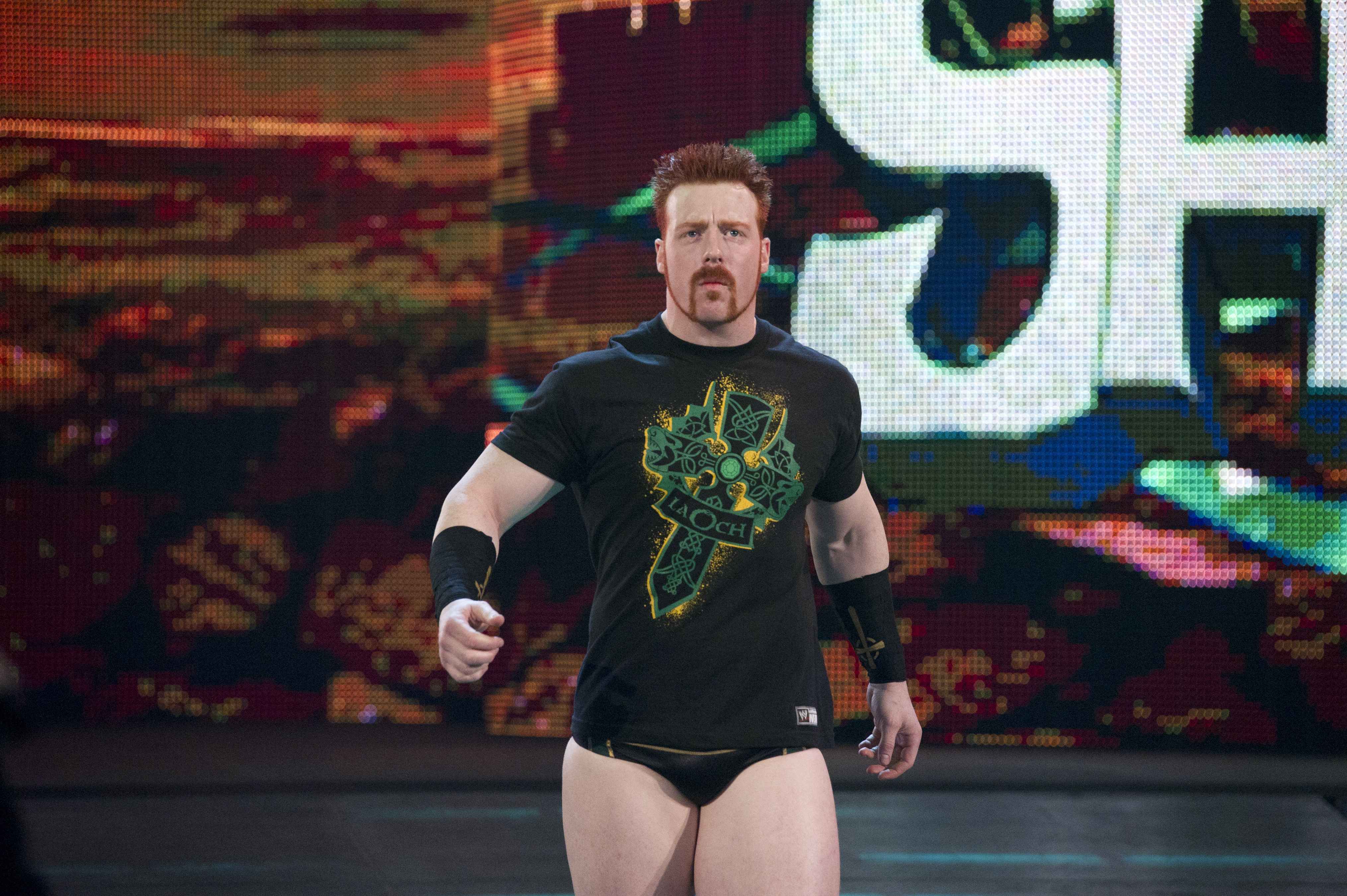 Photo courtesy of WWE, Inc.
He towers over his opponents by almost a foot in some cases and is intimidating to look at with his pale white, muscular skin and ferocious facial hair. With that said, it's hard to believe there was a time when someone picked on WWE's Superstar Sheamus. But he was.
Before he became the "Celtic Warrior," won the WWE Championship, and became 2010's "King of the Ring," Sheamus was an ordinary, chubby kid from Ireland. On Aug. 3, the grappler talked about bullying at an Aug. 3 appearance at the Hall Neighborhood House in Bridgeport, CT. There, he discussed the "be a STAR" Alliance anti-bullying initiative. Be a STAR, a partnership with The Creative Coalition, was created in partnership with The National Education Association (NEA) and True Educator, Inc.
I spoke with the big-red superstar about the initiative, his upcoming Summerslam match against "World's Strongest Man" Mark Henry, and living the dream.

JC: How's your summer going so far?
S: It's good. I'm managing to stay out of the sun.

JC: I'd think you'd burn really bad....
S: Oh yes, three minutes, I'd combust into flames. I think my ancestors must've lived in the snow. I don't tan. I just burn so I don't bother.

JC: You're here today for a special event. Did you ever get bullied as a kid?
S: I'm not ashamed to admit it. As a young kid , I was small for my height and chubby. It was a tough period for me. I'm excited to be a part of this because during that time, I didn't know who to turn to. People chipping away at you can make your life misery. I was lucky enough to have gotten through it on my own and with a few people who stood behind me. I know people who weren't that fortunate. They suffer from serious depression. This is something that needs to be addressed.
It's important for people to realize that bullying isn't cool and if they see someone at the school grounds, it's important kids come together and say this is not going to be tolerated. There's strength in numbers.
JC: Anti-bullying initiatives like "It Gets Better" have been fully supported by the entertainment industry. Do you think WWE behind this helps raise awareness to a different audience?
S: We are a family product. There are kids everywhere at our arena. It's what drives our business. We've moved away from the "Attitude" era. We try to be a positive image as best we can. What we do in the ring and with storylines is entertainment, but outside the ring, that's the real world and we want to give back.

JC: So many wrestlers went into the business because they dreamed of being a superstar. Is that what it was like with you, too?
S: I always loved WWE. I would stay with my granddad a lot and watch British wrestling -- the natural progression was WWE when it came into Ireland. It was always in the back of my mind to do this as a living. I have a college diploma but I never gave anything else 110 percent. In 2004 and 2005, I started training, and gave everything to [wrestling]. I'm just lucky to be where I am now. It's the best job in the world.

JC: Who were your heroes growing up?
S: I was a huge Macho Man Randy Savage fan. He was so charismatic and entertaining, and moved around so well. There was also Bret Hart, Million Dollar Man, Mr. Perfect, and then later on, Triple H, Stone Cold Steve Austin, and The Undertaker. They were my inspiration from the very beginning. I was never really a fan of the good guys. The villains are more entertaining.

JC: Shifting gears, Summerslam is a big Pay-Per-View event for the WWE Universe. Are you psyched for you match?
S: I'm really excited -- it's the second biggest Pay-Per-View of the year next to WrestleMania. For a long time, the role for Mark Henry was a well-liked personality with a big smile. Something snapped. I guess over ten years of never having been World Champion, he feels he hasn't been respected. I've seen how aggressive he is in the ring, and it's not going to be a pretty sight. I'm always up for the challenge.

JC: Do you favor being a "heel" or "face"?
S: I don't touch people's babies or slap kids' hands. I think in sports entertainment, the fans themselves decide who they like or who they don't. Randy Orton never changed who he was. He's still the same guy but fans knew he was so good, so they just started cheering for him. Everything we do for the WWE Universe if for the fans. They make our show.

JC: In terms of character development, it must be nice being cheered or booed every couple of months, no?
S: Here's the thing, when I first came to WWE, all I did was be myself. You won't find me doing moonsaults or flipping off the top. I'm not the most gracious so I take my strengths and hit people as hard as I can. When I first came here, people would tell me that I had to pay my dues but I went for the biggest dog in the park: John Cena. In a couple of months, I became champion. I always tell people that paying dues are for losers. I wasn't ready to wait in line.
JC: Last question -- you sport a rocking mustache or facial hair. Is this deliberate with your character?
S: Listen, the mustache and semi-beard is important. Without it, I'd probably be as intimidating as Beeker from The Muppets.

SUBSCRIBE TO & FOLLOW ENTERTAINMENT
HuffPost Entertainment is your one-stop shop for celebrity news, hilarious late-night bits, industry and awards coverage and more — sent right to your inbox six days a week. Learn more