Jonathan Adler, interior designer, potter, TV personality and bon viveur fields your decorating dilemmas.
I have just moved to the East Coast from L.A. We have a beach house in Quogue with a ratty backyard that I'm about to redo. All my neighbors have hydrangeas and traditional plantings. I'm not feeling it.
Something has gone terribly wrong on the East Coast. Everybody has some bizarre fantasy that they're living in a Ralph Lauren ad and they landscape accordingly. This is a major bummer. The Hamptons used to be about sun and fun and simplicity and MODERNISM.
When my Simon and I bought our pad on Shelter Island (the grooviest and most untouched area in the Hamptons) we wanted to channel the fun of California living. Our bible? SUNSET MAGAZINE!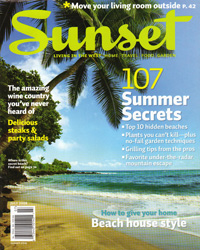 Our landscape designer? The brilliant Vicki Cardaro from Buttercup Farms on Shelter Island, who totally knows how to rock Californian optimism in an Eastern climate. Vicki filled our backyard with bamboo, blood grass, and hardy bananas from the Himalayas. We added pots with succulents - they get taken inside in the winter - and created a California feeling.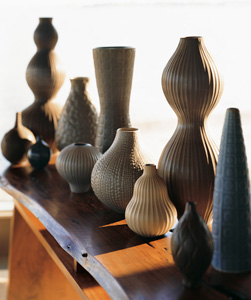 Add a couple of hanging chairs from IKEA: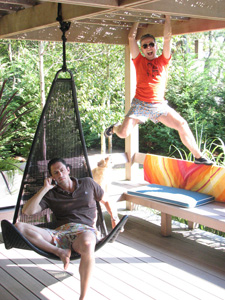 Photo courtesy of Tim Street Porter
and you have a little slice of Silverlake on the East coast.
Smallest apartment on earth dreams of looking larger
This month I am moving to my first East Village apartment and would like your advice on how to make it appear less like a closet. As NY apartments go, it is a one-bedroom, converted into two, with the smallest living room on earth / faux kitchen area. The room I will be living in doesn't have a door (I guess we need to fashion one in some creative way), and there are only 2 windows total (basement apartment), so there is minimal light. My roommate and I are thinking we will buy most of our room furniture from Ikea, then splurge on a comfortable cute (miniature) couch somewhere nice. We would love to hear any suggestions on how to liven up our place while on a budget. My maltipoo Lil' Pope and I would be forever in your debt.
There is one and only one sure-fire way to make a small space seem huge: a mirror. Mirror everything - mirror your doors, mirror your walls, mirrored furniture, hang mirrors on mirrors, make mirror tops for your tables. MIRROR!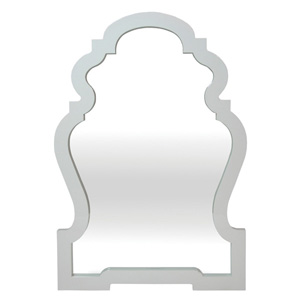 The added bonus of mirror is that it seems kinda' louche and Halstonish and makes you seem like an up-for-anything funstress who could break out some lines of coke at any minute. This is important if you're going to live in the East Village and need some street cred which you obviously do.
I'm worried that your new East Village neighbors will dismiss you as street-cred-free because you have a maltipoo instead of a bad-ass punk rock pit bull.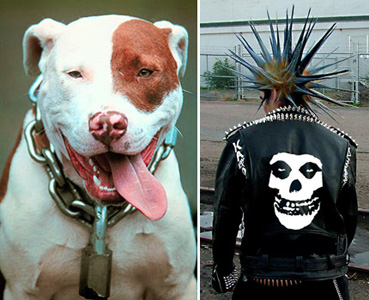 I too am totally deficient in the street cred department (my window dresser husband and I have a Norwich terrier called Liberace and we are early-to-bed teetotalers). So, I use decorating to show just how real I am (I'm not really very real, but you might not know that if you saw my pad - then again, you might).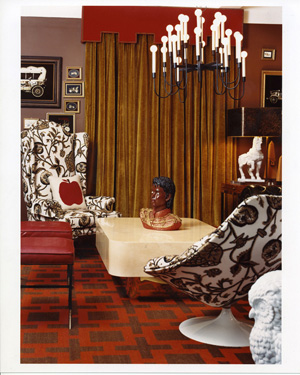 P.S. Totally digging your name. Greek like La Huffington I assume?
Have your own question for Jonathan? E-mail it to dearjonathan@jonathanadler.com
Please put the below information in small type at the end of the blog:
*By submitting this email to dearjonathan@jonathanadler.com you acknowledge that your email address may be added to a contact database and that the Jonathan Adler Company may send you promotional materials involving Jonathan Adler products. Your information will not be sold or distributed to any other organization, public or private and you may opt out of receiving our correspondence by adding your name to the unsubscribe list here.
SUBSCRIBE TO & FOLLOW LIFESTYLE
HuffPost Lifestyle is a daily newsletter that will make you happier and healthier — one email at a time. Learn more