A recent lawsuit rocked the software industry. Waste Management sued SAP for the "complete failure" of an ERP implementation, seeking $100 million in damages. In the documents filed with the court, Waste Management's complaints were very much focused on SAP's behavior during the sales process.
SAP fraudulently induced Waste Management to license an 'United States applicable' Waste and Recycling Software solution. This software was represented to be 'a waste industry standard solution with no customization required.' SAP further represented that the software was an 'integrated end-to-end solution.' Unknown to Waste Management, this 'United States' version was undeveloped, untested and defective. (emphasis added).
In a particularly damning passage, the plaintiff wrote:
Waste Management has discovered- and, in internal documents, SAP has admitted -- that the pre-contract demonstrations were in fact nothing more than fake, mock-up simulations that did not use the software ultimately licensed to Waste Management. SAP's senior executives, including its president, Bill McDermott, participated in these fake product demonstrations, which were rigged and manipulated." (emphasis added).
A customized sales demo is a mainstay of the software selling process, and observers have noted that occasionally, sales reps engage in dodgy practices. Sometimes they will 'hack' the demo so that it doesn't actually process data, but rather just shows a final output screen. Other times, the standard demo will be manipulated to show off some new untested features. Sales reps are frequently instructed to only click in the 'safe' areas to avoid crashes and embarrassing errors.
In one incredible story, a vendor was pitching an application that didn't really exist. They sent a sales rep to a prospect in the Netherlands to stall, by pretending to run into 'technical difficulties'. Meanwhile, back home, a team feverishly built out the application. A few months later, the client purchased a full license and deployed the application around the globe.
Natalie Petouhoff, a senior analyst for Forrester Research wrote:
I think the software industry is kind of dirty. The people who are buying the software may only see this kind of dog-and-pony show one or two times in their careers. They don't know that the demo is rigged. They think this is how the software actually works.
Most vendors start with honest intentions and don't plan on deceiving customers. But competition is fierce, and in a fragmented market, some firms will do anything for a sale. "A vendor who does an honest warts-and-all demo risks losing that sale to another vendor that promises the moon."
In a fascinating and brazen book, Doug Mitchell wrote about the 7 lies often told during the sales process, the book is noteworthy for its title and cover, a slickly dressed salesman with 2 fingers crossed behind his back.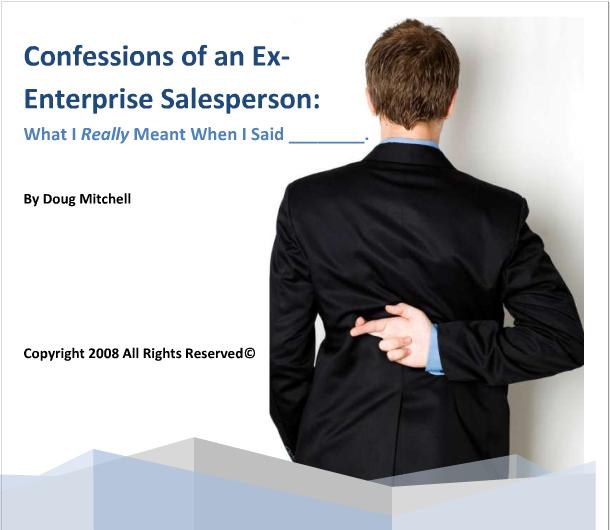 He confessed to many of the falsehoods that some fear are 'industry standard'. Every marketplace has it's share of honest salesmen, and it's share of swindlers. So buyers are responsible for their own purchases. But aggressive software tactics create industry conditions that plant the seeds of IT failure down the road.
Jonathan Ezer is the author of an upcoming book called "Business Culture and IT Failure"
This Blogger's Books and Other Items from...
FOLLOW HUFFPOST