My wife recently came home appalled by an ad she saw in a newspaper. The ad was for Ashley Madison, a dating website that encourages and assists marital infidelity.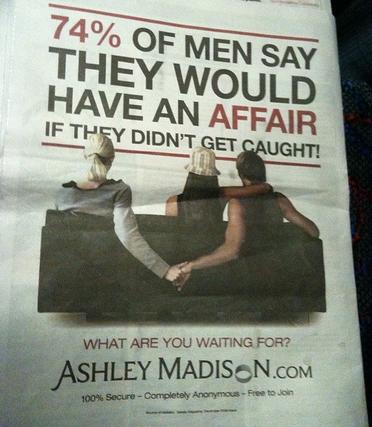 Their slogan, "Life is Short. Have an Affair" has generated a lot of attention. The site was profiled last year in
The Los Angeles Times
, and it was recently discussed on The View
CEO Noel Biderman insists he's doing nothing wrong. He argues that infidelity has been around a lot longer than Ashley Madison. He even goes so far as to claim that he's providing an important service.
Lots of things are hazardous to your health, like visiting prostitutes or having an affair in the workplace. A service like ours can help arrange a successful dalliance.
On the Ashley Madison FAQ page, there is the following entry
Q: Does Ashley Madison encourage infidelity?.

A: No, Ashley Madison does not encourage anyone to stray. In fact, if you are having difficulty with your relationship, you should seek counseling. However, if you still feel that you will seek a person other than your partner to fill your unmet needs, then we truly believe that our service is the best place to start.
But this claim is in sharp contrast with their slogan "Life is Short. Have an Affair" which blatantly encourages infidelity. Their TV commercials are obviously designed to be titillating.
Undoubtedly, Biderman's customers are all consenting adults, living in a free country. And while some may consider adultery a sin, it is certainly not a crime. According to Biderman, the site boasts equal numbers of men and women. In fact, the number of female newlyweds has recently skyrocketed. Ashley Madison has been so successful that Biderman now guarantees an affair or your money back.
Yet, not everyone approves. Ashley Madison was in discussions to buy advertising on 'The Marriage Ref', Jerry Seinfeld's new show on NBC, but the network nixed the deal. Bill Muehlenberg, a columnist with Christian Today wrote,
This clown is simply getting rich off the destruction of other people's marriages.
Ashley Madison now boasts 5.7 million users, and that number is set to grow with multi-million dollar marketing campaigns starting soon in the U.K, Germany and Brazil.
Is Ashley Madison immoral? Or is profiting from adultery fair-game?
This Blogger's Books and Other Items from...
FOLLOW HUFFPOST