Parag Gupta, Waste Ventures Founder/CEO, a featured Skoll Foundation Social Edge blogger and 2010 Opportunity Collaboration Fellow, knows his conferences. "The plenary is dead. Long live the plenary! I mean really? Why would I fly hundreds or thousands of miles to see someone speak on a subject when I could YouTube or Google video them? Most plenary speakers have the same canned schtick anyways and the content won't be drastically different," he writes in Trash Talking.
Every anti-poverty leader grouses about conference fatigue. In theory, meetings are necessary to collect new ideas, establish collegial working relationships and sweet talk funders. In reality, most conferences are talkfests or trade fairs.
The most common casualty is candor. The conference promoters are hawking a theory of social change, a pre-determined set of solutions or a policy agenda. Likewise, audience members are intently networking their organization or themselves, hyping a social investment or touting the importance of this or that "unique" vision or mission. Everyone is talking, few are listening.
Whatever the nominal conference registration fee, the collateral damage in wasted management time and distraction, in wearying travel and disappointment, is expensive. A more useful conference model exists, a delegate-centric event, which is not dependent upon or driven by external funding, corporate or foundation underwriting, association politics, a hidden policy agenda or political correctness.
At the Opportunity Collaboration -- now famously noted for its "no plenary, no panels, no powerpoints" rule -- every delegate is both a learner and a contributor. A working business meeting of anti-poverty leaders, the Opportunity Collaboration's animating purpose is laser-focused on the nitty-gritty of rolling up our sleeves to get things done. And, not just getting to work, but also working more efficiently and more impactfully.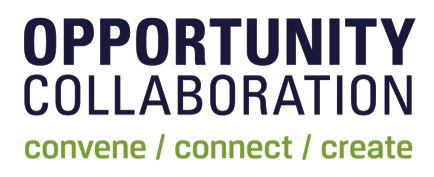 The Opportunity Collaboration is based on the powerful idea that out of fragmentation can come collaboration, from diversity can come unity and from cross-fertilization can come innovation. The power of collaboration does not presume a single outcome. It draws its power from the conviction that people of good will forge their own solutions, directions and alliances and uncover new ways to combine and leverage resources.
Collaboration is not just a matter of playing nicely with others. It is an essential structural reform fundamental to ending dysfunctional and myopic organizational hubris. Institutional silos block creative solutions and pragmatic problem-solving. Human beings partner with colleagues whom we trust, whose values we share and when the mission is more important than who gets the credit for achieving it.
The poor live and suffer under multi-disciplinary burdens, so multi-disciplinary solutions are required. Poverty is a collaborative problem that needs collaborative solutions.
If your work and mission seriously commits you to ending the scourge of poverty and if you aren't afraid to leave your ego at airport customs, check out the Opportunity Collaboration's confirmed 2010 Delegate Roster, review the Delegate criteria, listen to the voices from past Delegates, and then decide if you should join us.
SUBSCRIBE TO & FOLLOW MUST READS
The internet's best stories, and interviews with the people who tell them. Learn more