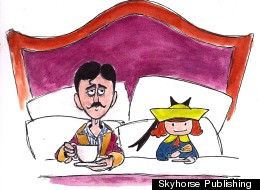 Like corporations, fictional characters are people too, my friend, as we realized when we discovered we were related to two of them. Josiah (Jeb) Bartlett, the president-hero of The West Wing, is descended from our New Hampshire ancestor of the same name who signed the Declaration of Independence. And in an episode of Scooby-Doo, Shaggy goes back to his roots, the Rogers family of Plymouth, MA, which is also our family. With this discovery came the revelation that there was no reason why fictional characters had to stick within the confines of their own books. Perhaps, like the Internet, they wanted to be free.
So in our new novel, Nick & Jake (Arcade Publishing), we gave Nick (The Great Gatsby) Carraway and Jake (The Sun Also Rises) Barnes the freedom to reach middle age, and to meet and become friends in 1953, at the height of the McCarthy Era. They also cross paths with Larry Darrell (The Razor's Edge), Thomas Fowler and Alden Pyle (The Quiet American), Irving Sheinbloom (A Mighty Wind), Lamont Cranston (The Shadow) and Mary Richards (The Mary Tyler Moore Show). But while it's not widely known, there have been many other such friendships between liberated fictional characters. Here are a few:
Fiction Characters Who Would Be Friends
Max Bialystock, while searching for the worst idea ever for a musical, is introduced to a young man named John Galt, who has a plan for calling all the world's most greedy capitalists, the real producers of our society, out on strike. Convinced that no one could ever swallow such an unrealistic premise, Max puts the play, Springtime for Objectivism, into rehearsal, and brings it to the Kennedy Center in Washington. Sure enough, the opening night audience walks out in disgust, but one attendee – the President of the United States, Paul Ryan – holds a press conference announcing that Springtime for Objectivism is the greatest work of genius he has ever seen. Suddenly the play is a smash hit, and corporate CEOs across America go on strike. Unfortunately, this leads to takeover of all American industries by China, and Ryan is replaced in a coup by Kim Jong-un.

John Beckwith's thing with Claire didn't work out, so he and Jeremy Grey find themselves back to their old round of crashing wedding receptions, but by this time, their game is getting a little old. They've become too well known, and event planners are hiring security to watch out for them. The planner for the wedding of the year, between Jeremy's cousin Christian and Anastasia Steele, decides to kill two birds with one stone (perhaps an unfortunate choice of phrase, but this is the 50 Shades of Grey nuptials, after all). He hires this Ancient Mariner who's been hanging around weddings bothering the single guys, and sets him to buttonhole John and Jeremy and tell them a story that will stretch on through the whole reception. As it turns out, the plot succeeds beautifully. The Crashers fall under the spell of the Mariner, and they all retire from the wedding crashing business to open a bird sanctuary.

After a tragic incident in which he inadvertently breaks a young woman's neck, Lennie Small and George Milton flee east. In Pennsylvania they meet and befriend Harry "Rabbit" Angstrom, a former high school basketball star. Rabbit is dissatisfied with his home life; the two drifters are searching for a home. Together, they decide to buy a small farm in western Pennsylvania, but sadly, their best-laid plans gang agley. Rabbit insists on putting a basketball hoop over the garage. He teaches the two farm workers to play, but in a game of one-on-one, Lenny inadvertently breaks Rabbit's neck.

Nero Wolfe and Hannibal Lecter meet on one of Wolfe's rare nights out for a dinner at Rusterman's. At first, the two men seem to have a great deal in common: both intellectuals, both widely read and fond of good conversation, both gourmets with wide-ranging and adventurous palates. But alas, the friendship is destined not to last, as Dr. Lecter's palate proves wider-ranging and more adventurous than most. It finally comes to a cropper when Lecter kills and eats Wolfe's assistant, Archie Goodwin, with a side dish of several of Wolfe's prize orchids, with a sauce of blended Bhutanese cheeses, sea salt and chilies over brown rice, and a nice Chianti. Stirred to action, Wolfe must leave his townhouse and hunt his friend down.

Shaggy, on his return to Plymouth, is caught in a time vortex (an occupational hazard for cartoon characters), and he and Scooby find themselves transported back to colonial Plymouth, where they meet Hester Prynne, branded with a scarlet letter and outcasted from society. Shaggy, laid-back, amiable guy that he is, befriends the shunned Hester. The two of them form a detective agency, and travel to Salem, where they've heard of a rumored infestation of witches. They prove that the real villain is creepy old Cotton Mather, who snarls as he's being led off that he would have gotten away with it except for those heretic kids. Shaggy falls for Hester, but she meets handsome John Alden who steals her away from him, and he and Scooby are left hitchhiking for Rhode Island and a new beginning.

Phileas Fogg, in the middle of his journey around the world in 80 days, is offered a ride by a young American named Dean Moriarty. Before long, Fogg discovers that they are riding in a stolen car, but by this time he has fallen so under the spell of the charismatic young Dean (who has also seduced him) that he is unable to summon up his strict Victorian morality. Fogg and Dean journey to Denver, die in Denver, come back to Denver & wait in vain, watch over Denver & brood & lone in Denver and finally go away to find out the Time, & discover that Fogg's 80 days have run out.

When an epidemic of mysterious vampire attacks on Union troops threatens to tip the balance of the Civil War, Abe Lincoln turns to his mentor, noble vampire Henry Sturgess. Sturgess quickly moves to help Lincoln establish a cabinet-level position of Vampire Security, and suggests Beowulf, a monster-slayer he's worked with for many years. Lincoln and Beowulf discover they have a great deal in common. Both have been mother-dominated: Lincoln by his own, Beowulf by Grendel's. Working as a team at night, Lincoln and Beowulf slip behind Southern lines and hunt down and kill the vampires who are threatening to destroy the Union. All except one: the last vampire, John Wilkes Booth. When Beowulf learns of his plan to assassinate Lincoln, he races to Ford's Theater, but arrives too late to prevent the tragedy. In a thrilling climax, Beowulf destroys Ford's theater with his battleaxe in his epic rage over the loss of his friend. The story is related in the first person in Old English by the great Anglo-Saxon warrior.

In the waiting room of their shrink's office, young Holden Caulfield meets fellow patient Alexander Portnoy, a man in his twenties. They begin a cautious conversation. Holden at first thinks Portnoy is a phony, but soon begins to realize that Portnoy has not yet been corrupted by materialism and is, in his own way, trying to deal with the angst and alienation of the modern world (well, not so much with the alienation). Portnoy, for his part, realizes that Holden doesn't need therapy so much as he needs to get laid. He immediately takes the lad to Zabar's for a nice cut of liver, and Holden's education begins.

Marcel, given to spending most of his life in bed, and hoping for something to summonthe memories he wants to write about, looks for a chaste companion to bring him inspiration. Through correspondence with a Miss Clavell, cousin of the family housekeeper Francoise, he hears of a young girl in her boarding school who has been hospitalized with appendicitis. He arranges for her to share her convalescence with him. She proves to be a godsend. Her way of seeing shapes in the cracks on the ceiling, her boldness in facing down the tiger in zoo, the toys and the dollhouse she brings with her, all begin to trigger his imagination. She even gets him down to the kitchen and teaches him to bake a little shell-shaped almond sponge cake, which he insists on naming after her. When she leaves, Marcel is animated. He begins writing. And if his memory flags, all he has to do is conjure up her name...Madeline.

When Huck Finn lights out for the territories, his plan is to get as far away from all civilizing influences as possible, particularly the civilizing influence of women. He's seen what Becky Thatcher did to his pal Tom, and what the Widow Douglas plans to do to him. But of course, things don't work out that way. He meets 14-year old Mattie Ross, who may be a girl, but she still impresses Huck with her true grit, and the fact that she's gotten a raw deal. Huck helps her track down the killer of her father, and in the process falls in love with her. They marry, and by the time Oklahoma is admitted to the union, Huck becomes one of the new state's first senators. The story ends happily for everyone except John Wayne, because a century later, when they come to make the movie of Mattie's life, there's no part in it for him.

Katniss Everdeen, seeking a safe place to hide out and plan her next strategy, takes a strange turn, finds herself in a desolate field, and sees a young woman digging with her fingers in the hope of finding a stray carrot. She approaches her cautiously, and tells her that she comes from a different time, a time when people who used to be neighbors now kill each other for sport. "Fiddle-dee-dee," says her new friend, Scarlett. "That's no different from this time. But let the men do the killing. We women have to stick together." "We do?" It's a new concept for Katniss, but she likes it. She teaches Scarlett to hunt for small game with a bow and arrow; Scarlett teaches her the genteel manners of antebellum society. She decides that she likes them, and resolves to stay and help Scarlett rebuild her plantation. "As God is my witness," she tells Scarlett, "I'll never do Hunger Games again."
Follow Jonathan Richards on Twitter: www.twitter.com/criticalcartoon