For 30 years, President Jimmy Carter and his wife Rosalynn have led an annual build with Habitat for Humanity to create a beautiful mosaic of homes, communities, and hope across the United States and around the world. We are grateful to the Carters for their commitment to affordable housing and to the thousands of volunteers who have joined us for Jimmy & Rosalynn Carter Work Projects in locations like South Africa, Southeast Asia, Mexico, Hungary, and Detroit.
Each year, Habitat for Humanity engages more than a million volunteers during special events like the Carter Project, on Global Village trips to another part of the world, and in local communities. It has been gratifying to see over the last several years how this community of volunteers is moving online to connect with one another and to share their personal Habitat stories with their families and friends.
For example, in 2011 and 2012, Habitat for Humanity's Carter Work Projects were held in Haiti to help families recovering from the January 2010 earthquake that devastated the country. Over the two years, not only did volunteers build more than 200 homes in partnership with families living in makeshift shelters, but they also shared their experiences and the ongoing need in Haiti with their contacts around the world. Thousands upon thousands of social media messages were shared with millions of people creating vital awareness for a country that is still on the road to recovery.
That ability to share, in real time, the ongoing recovery work in Haiti, cannot be underestimated. The constant messaging shed a light on poverty and illustrated what's possible if we choose to invest in humankind and open our hearts and hands to service.
This year, the 30th annual Jimmy & Rosalynn Carter Work Project is taking place in California, Colorado, New York, and New Jersey. Volunteers will once again share their experiences and connect with one other in an online community that will help Habitat to build even more communities.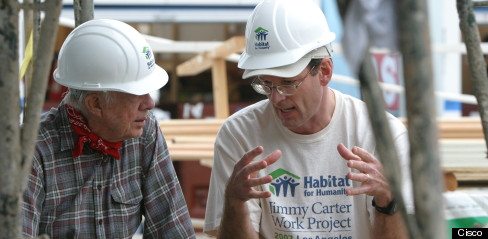 You can follow the work of this year's project using the hashtag #HabitatCWP to see how technology helps Habitat draw closer to a world where everyone has a decent place to live.