In the one of the most symbolically significant games of his young career, Colts quarterback Andrew Luck out-dueled Peyton Manning, now of the Denver Broncos, in the latter's first appearance in Indianapolis in an opponent's uniform.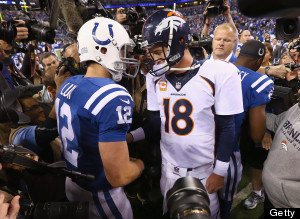 Andrew Luck and Peyton Manning after Indy's 39-33 win Sunday night. (Getty Images)
Here's the thing about Luck: He doesn't care about any of the personal drama or the sentimentality. As he's said time and time again, he doesn't care about having to follow in Manning's footsteps -- he is here just to win football games. Nothing else matters. In the modern age of gaudy statistics and fantasy football, that attitude sounds oddly cliche, but that is precisely the beauty of Luck.
For the Indianapolis Colts, Sunday's 39-33 win over Denver gave them their third victory of the season against an elite opponent, on top of defeating Seattle and San Francisco. With the entire nation watching, Luck accounted for four touchdowns and no interceptions.
"What's great about him is there's no situation that's too big for Andrew," Colts guard Mike McGlynn told ESPN.com. "He's got so much poise, the most poise I've ever played with a quarterback. He's a special player, man. He's going to take us as far as we can go."
Both Manning and Luck were the top pick in their NFL Draft class. For Manning, at 37 years old, his legacy as one of the all-time greats is already cemented, although he may very well get another ring or two. Few, if any, have played the quarterback position better. Luck often talks about watching Manning as a kid. With his career just underway, Luck's performance on Sunday suggests that he could be just as good.
And while it may be too soon to set the careers of No. 12 and No. 18 against each other, it's a good bet those comparisons will never subside. But Luck is fast building his own legacy, one strong enough to stand on its own.
Email me at jordan.schultz@huffingtonpost.com or ask me questions about anything sports-related at @Schultz_Report. Also, be sure and catch my NBC Sports Radio show, Kup and Schultz, which airs Sunday mornings from 9-12 ET, right here.
SUBSCRIBE AND FOLLOW
Get top stories and blog posts emailed to me each day. Newsletters may offer personalized content or advertisements.
Learn more