It takes intense focus, training and hard work to mold raw athletic talent into an instrument that can succeed in the NFL. It also takes some mental discipline, constancy and self-control. Somewhere along the way in his football career, Dallas Cowboys receiver Dez Bryant forgot to do the second part. Or maybe he never understood it. As his petulant, childish antics during Sunday's 31-30 loss to Detroit demonstrated, this is not a guy who gets it.
Bryant talked all week about how he was as good as Lions superstar receiver Calvin Johnson, and how he is his own player. And certainly no one is going to dispute the latter. Yet, as Megatron came within 7 yards of the all-time, single-game receiving record with his 329 yards -- and did so without pitching a fit -- Bryant wilted away amid a Dallas-sized temper tantrum.
Twice on Sunday, Bryant was seen blowing up on the sideline: first at quarterback Tony Romo, then at tight end Jason Witten as the offense was trying to devise a play to answer the Lions, who had taken the lead with 12 seconds left. After the game, both Romo and Witten took the high road and talked about the respective incidents as symptoms of Bryant's desire to win. But because they stepped up and acted like adults in the aftermath doesn't disguise the fact that Bryant was acting like a brat to begin with.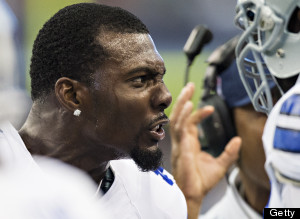 Bryant's childish antics are poised to become a gigantic issue for the Cowboys. (Getty Images)
At 24 years old, Bryant is a sensational talent who is capable of turning around a game in an instant. But he also clearly has some problems keeping his emotions in check. The warning signs were there before Dallas took him in the first round of the 2010 draft. He had eligibility issues with the NCAA at Oklahoma State; and during his brief professional career, he has been sued by two different jewelers for failing to make payments and was arrested on a domestic violence charge last year, which was dropped in exchange for his attending anger management classes. From his behavior on Sunday (although demonstrably not on the same level as domestic violence), it's clear that the lessons he's learning in his classes are not being applied in his professional life.
"[The intensity's] going to forever remain the same," he said, ESPN reported. "It started in Pop Warner, went to middle school, went to high school, went to college, and it's here. It's going to stay that way. It won't change."
Not only does Bryant refuse to change behavior that is clearly causing friction with his teammates, he refuses to acknowledge that it is anything other than positive. Even though a professional athlete of 24 might reasonably be expected to behave with a little more maturity than a kid in Pop Warner.
"The only people who have a problem with me are the people that don't understand what's happening out there," Bryant added.
All of his potential greatness is arguably canceled out by Bryant's berating of teammates and coaches on the sideline in crucial moments. It's happened before and it is likely to happen again. Bryant seems to think that the passion to win trumps his responsibilities as a teammate and a leader.
It's behavior that the Cowboys franchise seems to encourage, or at least doesn't discourage. Owner Jerry Jones even said, "Not in any way did [Bryant's behavior] concern me. It's not a negative for our team. Matter of fact, when he started that, as I saw timing-wise, we started playing better on our offense, and the defense didn't hear it. They were out on the field. It's not an issue."
Despite the damage control mounted by his teammates and the organization, Bryant's temper, if it's not an issue now, it very soon could be -- and a very big one at that. The Cowboys are a disappointing 4-4, and remain as undisciplined as ever.
Since by his own admission he has no intention of changing -- and no one in the organization seems inclined to penalize him for it -- one can only expect the situation to get worse. Bryant, whatever his talent or production, is a monumental liability, and the wide receiver whose reputation he's challenging is not Johnson's, but another former Cowboy: Terrell Owens.
Email me at jordan.schultz@huffingtonpost.com or ask me questions about anything sports-related at @Schultz_Report. Also, be sure and catch my NBC Sports Radio show, Kup and Schultz, which airs Sunday mornings from 9-12 ET, right here.