During an NFL era of inflated offensive statistics and elite quarterbacking play, Drew Brees is on a level so dominant and special that it can almost be baffling to watch. The New Orleans Saints are not unlike most of the league in that they give a vast amount of responsibility to the quarterback. What Brees does from there though is beyond words.
Monday night, against Miami -- another undefeated team and stout defense -- Brees showed off his intelligence as well as his arm. In the first half, with the Dolphins consistently double- and even triple-teaming All-Pro tight end Jimmy Graham, Brees found Darren Sproles for 114 yards and a back-breaking touchdown before intermission. In the second half, he threw a gorgeous slant-and-go (sluggo) pattern to Graham for 38 yards and a score, Graham's second of the game. These are the decisions and the throws that Brees makes time and time again. His understanding and total grasp of what the defense is trying to do to him is off the charts.
When The Huffington Post
spoke with the 34-year-old
last week, Brees mentioned that while he's glad his coach has returned, he consistently anticipates his play-calling. Payton, after all, is not merely the head coach, but he's also considered the mastermind of the Saints highly potent offense. His play-calling is equal parts aggressive and effective and he was clearly missed during last year's 7-9 disappointment.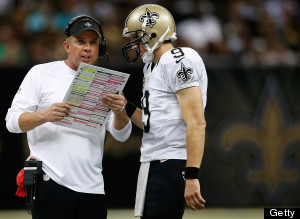 Drew Brees told HuffPost that "it's great to have [coach Sean Payton] back." (Getty Images)
"He's our lead man," Brees said after the 38-17 win. "I tell you what, from the moment he stepped back in the facility in April, he's been locked in. He's never let an opportunity go by without communicating a message. He has not let anything go unsaid."
Whether or not the Saints continue to score at such a robust pace remains to be seen but through four games this season -- all wins -- they have looked eerily similar to the 2010 Super Bowl team -- which by the way, although it wasn't a dominant defensive unit, capitalized on timely turnovers and big plays. If you haven't yet noticed, newly minted defensive coordinator Rob Ryan has turned around what was a historically awful unit last year. In fact, the Saints have allowed just 48 total points through 16 quarters, and they are both a top-five yards-against unit, and also plus-five in turnover ratio.
Balance, of course, is key for any contending NFL team, and New Orleans has it. Brees puts together one Herculean performance after another because he is not just in control but taking control. He currently holds the league's all-time record for the most consecutive games with a touchdown pass, and we would be foolish to think he will slow down.
Email me at jordan.schultz@huffingtonpost.com or ask me questions about anything sports-related at @Schultz_Report. Also, be sure and catch my NBC Sports Radio show, Kup and Schultz, which airs Sunday mornings from 9-12 ET, right here.