The chants of "RG3" from the capacity crowd in Landover, Md., went dead quiet for about five minutes on a chilly January day. Washington Redskins quarterback Robert Griffin III, who had been playing on a severely sprained knee, had torn his ACL and ICL as his entire knee buckled near the Redskins goal line in the playoffs against the Seattle Seahawks. It was nothing short of awful.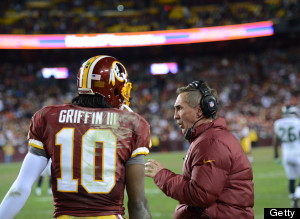 Was Mike Shanahan considering Griffin's longevity during the playoffs? (Getty Images)
Seven months later, Griffin is still on the sideline, locked in a public feud with head coach Mike Shanahan, who has yet to let him enter into live preseason action. Shanahan cites the obvious reason: that he does not want to risk further injury to his budding superstar, who is still just 23 years old.
Yet when the season was on the line against Dallas last winter, Shanahan started a gimpy Griffin to clinch a postseason bid. Then Shanahan started Griffin against the Seahawks. If Shanahan really cared about his young quarterback's future, he would never have let him see the field in January.
Do not forget that Shanahan has preached a five-year plan to ownership. Shanahan owns three Super Bowl rings (one as an offensive coordinator) and surely is destined for the Hall of Fame. If he has a big ego, it's one he has earned. But he also knows that during Daniel Snyder's 14 years as owner, seven predecessors have come through the revolving door of the head coach position.
The drama has recently intensified with Griffin clamoring for preseason snaps and telling reporters that he doesn't actually know the plan: "No, I don't like it. I don't understand all of it."
What I don't understand is how, after starting Griffin against Seattle, Shanahan can justify keeping him in the game after his right knee had buckled in the first quarter, forcing him to limp around the field until it finally went out.
On Sept. 9, Washington opens the season with an appearance on Monday Night Football against arch-rival Philadelphia. Griffin has made it abundantly clear that he will be on the field, which his coach supports so long as there is no setback.
But Shanahan's talk about Griffin's long-term health continues to raise questions about whether that was foremost in his mind in the minutes before Griffin was injured in the first place.
Email me at jordan.schultz@huffingtonpost.com or ask me questions about anything sports-related at @Schultz_Report. Also, be sure and catch my NBC Sports Radio show, Kup and Schultz, which airs Sunday mornings from 9-12 ET, right here.