If you had told SEC fans at the start of the college season that the 2013 conference title game wouldn't feature Alabama, LSU, Georgia or Texas A&M, they would have laughed. But they would have broken into hysterics if you had said that Auburn -- a three-win team a year ago -- would be ranked third, with a chance to beat Missouri and possibly play in the BCS National Championship.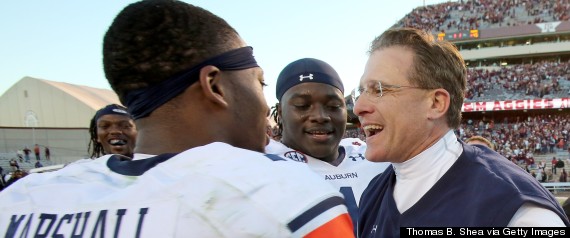 For Auburn (11-1), you might as well say it's destiny. After a miraculous Hail Mary to beat Georgia, it pulled off its greatest Houdini act yet on Saturday with a 109-yard return off a missed field goal from 'Bama.
The key to the Tigers' offensive attack is the running game. Junior Tre Mason has amassed 18 rushing touchdowns, making him a major threat to handle on defense and also the main reason why this team leads the league in rushing. Just how committed is this team to the run? Consider that it runs the ball 39 percent of the time on passing downs. Then again, head coach Gus Malzahn is extremely crafty with his play-calling and isn't afraid to use gadget plays at any juncture in the game. Wide receiver Sammie Coates is a major vertical threat who averages over 23 yards per catch.
But fifth-ranked Mizzou (11-1) -- who went 5-7 in 2012 during its first year in the SEC -- has a senior quarterback in James Franklin who has quietly put together a terrific season, compiling a 67 percent completion percentage with just four interceptions. Like Auburn's Nick Marshall, he will tuck it and run, though Marshall -- who averages 8.3 yards per carry -- has the superior speed and breakaway ability that Franklin lacks. Missouri has long been a quarterback factory under head coach Gary Pinkel, who coached Brad Smith, Chase Daniel and Blaine Gabbert -- all in the NFL -- and loves to throw the ball.
Count on Franklin to make good use of receivers L'Damian Washington and Dorial Green-Beckham, both of whom have 10 touchdown catches. Green-Beckham, just a sophomore, was the No. 1 overall recruit coming out of high school. At 6-foot-6 with speed, he is a highly coveted pro prospect, in the mold of a Calvin Johnson.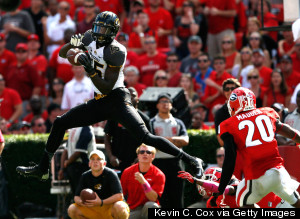 Missouri receiver Dorial Green-Beckham has 10 touchdown catches this season. (Getty Images)
When we think about the SEC, aside from 'Bama and LSU, we also think about power defenses. Both Missouri and Auburn have stout defensive units (14th and 31st in points against, respectively). Mizzou, even with the loss of first-round draft pick Sheldon Richardson, has an elite defensive line and more talent across the board. Most impressively, it held Johnny Manziel to under 200 yards and a lone touchdown during last week's 28-21 victory over the Aggies. The key for Mizzou is to bottle up Auburn's rushing game, or at least contain it. Otherwise, Malzahn will control tempo to keep Franklin off the field and the powerful Mizzou offense in neutral.
The SEC has won seven straight national championships, and the winner of this tilt may get a chance at the eighth. And so, despite not having its typical brand-name programs duking it out, the SEC conference title game is the can't-miss matchup on the docket.
Email me at jordan.schultz@huffingtonpost.com or ask me questions about anything sports-related at @Schultz_Report and follow me on Instagram @Schultz_Report. Also, be sure and catch my NBC Sports Radio show, Kup and Schultz, which airs Sunday mornings from 9-12 ET, right here.
Follow Jordan Schultz on Twitter: www.twitter.com/Schultz_Report