Tory Class has my dream job. She handles all social media for Michael Bublé while he is on tour. This includes tweeting and writing a blog on his fan club Bungalow-B. His tour is pretty much nonstop throughout the year and Michael is a serious business as he was ranked in Forbes right behind Lady Gaga and one of the top-earning musicians. Besides touring, he is coming out with a Christmas album and an illustrated memoir in October.
Tory not only gets to travel the world but she does it in support of an artist who is genuinely a lovely guy and extremely talented. While the tour schedule is grueling, Tory is a lovely person who manages to make her hectic schedule look graceful. I recently met up with Tory in Albany before the 140th Show of the
Crazy Love
tour.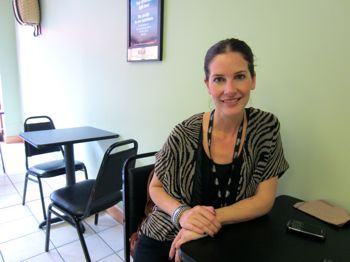 Jordana Zizmor: Do you love your job?
Tory Class: I love my job. I have a great job. I know lots of people who want my job. I get tweets about it all the time.
JZ: What is your routine every day?
TC: I travel with the band. We travel separately from the rest of the crew. We will usually leave the venue earlier because the crew has to load out. We will do our drive either to the next venue or the next city and check into a hotel. Sometimes we check in really early around three or four in the morning. It's a different mindset and you really have to get your head in a different place to be staying up till three in the morning or having a nap then waking up at three and checking into a hotel.
Then we come to the venue in the afternoon. Since I do sponsorship and social media I start doing that as soon as I wake up. With any of the sponsorships we have banners and many miscellaneous things that need to get done. That's part of what I love about my job so much. All of this stuff is still free for his fans. Sometimes with other tours things like that cost money. You know with sound check parties and photo opportunities. Many artists these days market that and sell it as a package. I love that Michael still keeps it accessible to all different kinds of people and there is no dollar amount attached. I love that I get to interact with fans and make people happy. It's a great part of my job.
JZ: Do you think an artist must be completely engaged in social media to be successful?
TC: I don't know if they need to do it to be successful. It is an integral part of tour marketing right now. I don't think the artist himself has to be online. The tour should have an online presence.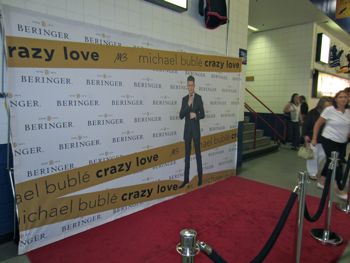 JZ: Are you the first person to have your job for Michael Bublé? Did someone do it before you?
TC: It's a created position. Michael already has a Facebook and a Twitter page that's driven by management. They focus on things like albums and ticket sales that everyone wants to know about but isn't really personal. That's why we created the @toryontour twitter. It's not like it's someone pretending to be Michael. When people pretend to be the artist it doesn't transfer and just isn't genuine. I tweet about what we are doing everyday and throughout the show. Fans really enjoy that because they feel like they are part of the show even thought they are at home. If they have already seen the show it helps recreate the show memories for them. For the fans that haven't seen the show it helps build their enthusiasm for seeing the concert. A lot of people still don't understand what twitter can do for an artist on the road.

JZ: What did you do before this job?
TC: I used to work for Live Nation, which is on the concert promoting side. I worked for House of Blues about 10 years ago and started with them. Live Nation purchased House of Blues. Live Nation was great. I toured as a promoter rep for a variety of artists across Canada. My market was Vancouver to Winnipeg, so I have done a lot of touring in Canada. I've toured with Rihanna, Snoop Dog, Sum 41 and a bunch of different artists. Just before the Olympics I was on the road with Jann Arden who is a Canadian singer and songwriter. She has the same management as Michael and they were hiring for his tour and it was just kismet and worked out.
JZ: What surprised you the most about touring with Michael Bublé?
TC: I had worked with Michael in Vancouver a few times so I knew he was down to earth. I was just really surprised at what a wonderful and lovely person he is. He's passionate about what he does and very caring about his fans.
JZ: What do you know now that you wish you knew when you started?
TC: Sometimes I struggle because I can't follow everyone and answer every question and people take it personally. I wish there was a way with this job that this could be done without people feeling left out. That's the last thing I would want. I want people to realize that every fan that Michael has is important. Anyone that participates in his career in any way is important to him and important to us.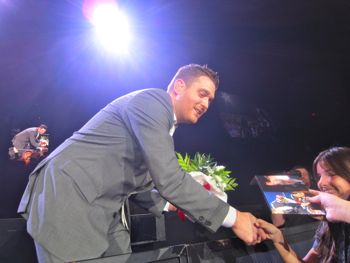 JZ: How do you cope with the tour schedule?
TC: I try to get as much sleep as I can when I have the opportunity. It's hard because we have become such a family. Today is our 140th show on the Crazy Love tour and it's only been a year and a half. You become so close on the road that you end up wanting to hang out and then you look at your watch and you realize it's 5 am and you have to go to sleep. I take lots of vitamins and drink lots of water. I try to eat well and take care of myself in the areas that I can.
JZ: What's been your favorite stop on the tour?
TC: One of the most memorable shows was probably in Ireland when we played the Aviva. It was 45,000 people each night and we played two nights back to back. I also loved Australia and Portugal.
JZ: You have my dream job. Does it ever get tedious?
TC: It really doesn't. The only challenge is that I don't want it to be boring for other people. It can be challenging to keep the tweets relevant and funny when it's the same thing over and over.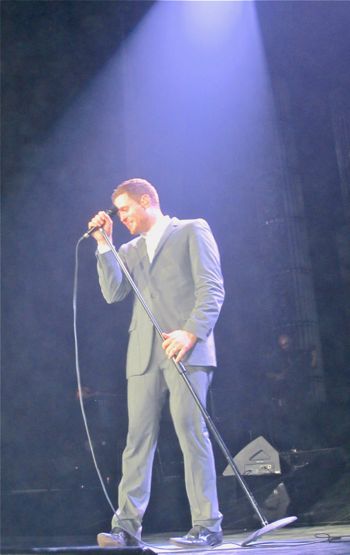 SUBSCRIBE TO & FOLLOW ENTERTAINMENT
THE spot for your favorite fan theories and the best Netflix recs. Learn more